Healthy Eating in the Workplace
Hear from Helena Gibson-Moore, Nutrition Scientist, about how you can eat well at work this Healthy Eating Week! Click the video to the right to find out more.
Here are some activity ideas for Healthy Eating Week 2023. You could choose 1 a day throughout the Week to encourage you or your team to join in or just choose a couple for the Week.
Print and display our Healthy Eating Week posters around your office or canteen.

---

Tune in to our on-demand Eating well in the Workplace Webinar from our Nutrition Scientist, Helena Gibson-Moore. This will be an engaging 15-20-minute talk available throughout the Week. A link to access the talk is available on this page NOW.

---

Get some inspiration and tips on how to:
Treat yourself and/or your team to a selection of healthy fruit and vegetable in the office, the ingredients to create a fibre packed snack or a salad bar lunch, or set up a simple yet effective hydration station (with a sign).

---

Test your knowledge with our food waste quiz – a great team activity too!

---

Browse and share our Healthy Eating Week recipes for some weekend or dinner inspiration.


---

Don't forget to share what you're up to on social media using #HEW23 #ForEveryone and tag us on Twitter @NutritionOrgUK. Our social media pack contains some visuals and example posts that you can use.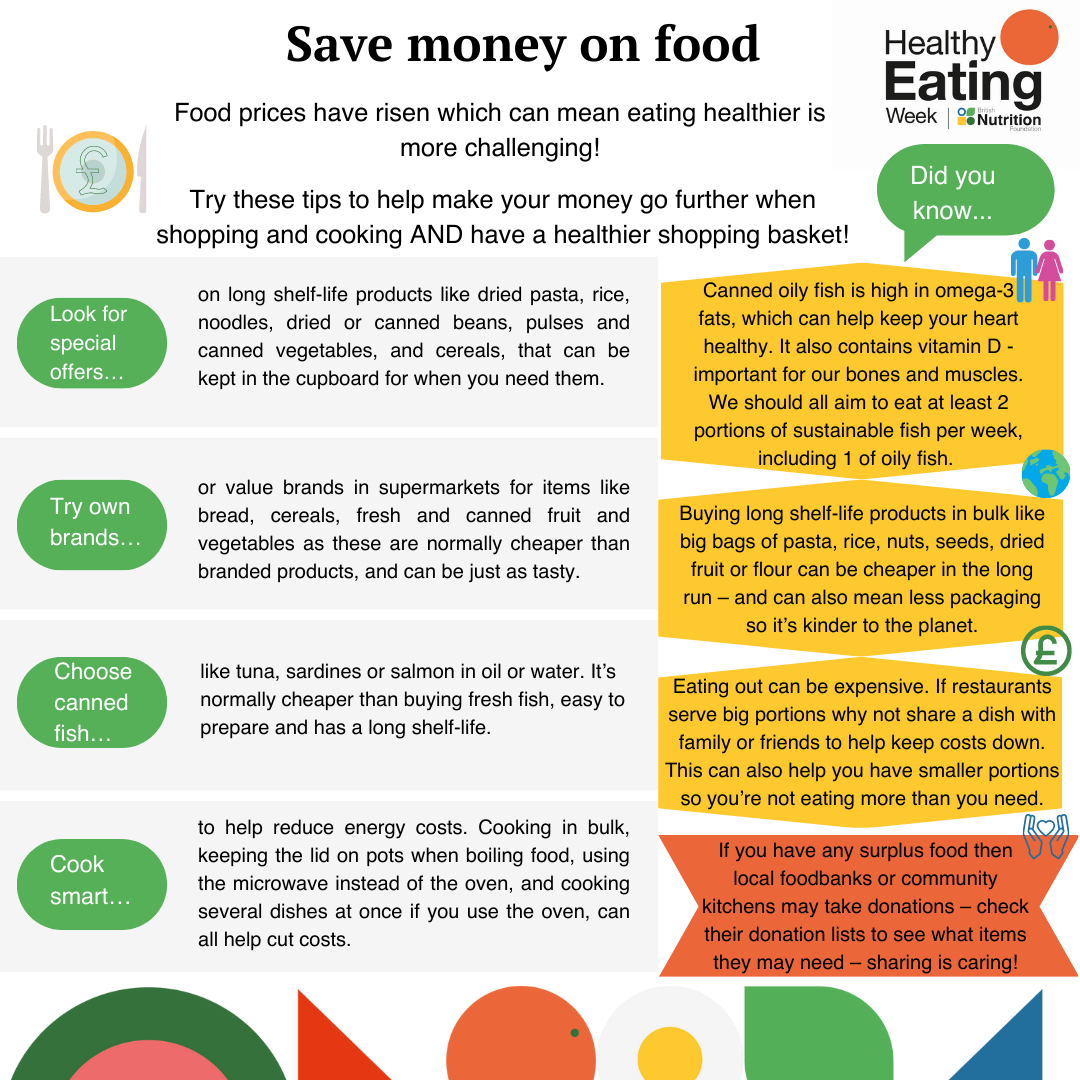 Example of our inspiration sheets
Healthy Eating Week recipes
Help us improve
---
We'd love to hear your thoughts about this page below.
If you have a more general query, please contact us.
Please note that advice provided on our website about nutrition and health is general in nature. We do not provide any personal advice on prevention, treatment and management for patients or their family members.