As a nation we are living longer, but not healthier. From infancy to later life, what we eat is linked to many aspects of our health and wellbeing, from cognitive function, weight related illness, through to osteoporosis in later life.
To raise awareness of the impact that nutrition has on the mind and body, the British Nutrition Foundation have partnered with ITN Business to create 'Nutrition for Life'. This news-style programme will be hosted by presenter Louise Minchin in ITN's London Studio and will explore the importance of nutrition for healthier ageing with a lens on cognitive health, musculoskeletal health and maintaining a healthy weight at every stage in life.  The programme will look at innovation and scientific advances in food and nutrition.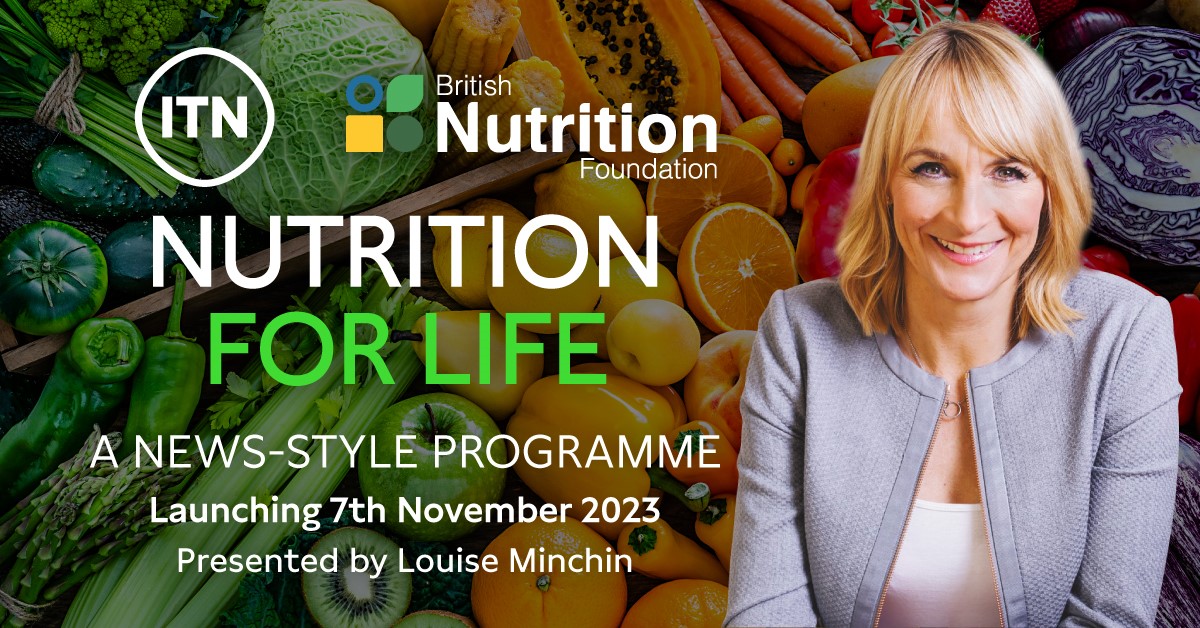 'Nutrition for Life' will also look to our communities and will study the healthy eating initiatives that are supporting the most vulnerable in society, from foodbanks to free school meals. The programme will feature case studies, health professionals and thought leaders to showcase the benefits of nutrition to increase life span as well as health span.
With rising food costs, many members of society are worrying about where their next meal will come from. This programme aims to showcase the solutions being implemented throughout industry to reduce the risk of low-income families becoming disproportionately affected by lifestyle related health issues.
Elaine Hindal, CEO of the British Nutrition Foundation said: "Good nutrition plays a pivotal role in healthy ageing, and finding the right diet throughout the key periods in life doesn't need to be complicated. At the British Nutrition Foundation, we believe that everyone should be able to enjoy a healthy, sustainable diet throughout their lives. For the past 57 years, we have worked with government, industry and other stakeholders to improve access to evidence-based information and provide practical ideas about how to find the optimal diet for health and wellbeing. We're delighted to be working in partnership with ITN Business to create a programme to amplify the importance of nutrition at every stage of our life for our healthspan and not just our lifespan, helping to share practical ideas of how to age well."
Nina Harrison-Bell, Head of ITN Business said: "From growth in the early years, through puberty, pregnancy, and into later life, nutrition is our ally. This programme with the British Nutrition Foundation is a great opportunity to highlight to everyone, of all ages, the importance of nutrition for their physical and mental health, prevent disease, maintaining a good quality of life, and aging with dignity and independence."
'Nutrition For Life' will feature sponsored editorial profiles from leading organisations working at the forefront of health and nutrition.  The programme will launch on the 7th November 2023, supported by an advertising campaign. The programme will also be hosted and promoted on NewScientist.com.
For further information or if your organization has a story to share, please contact ITN Business' Programming Directors, Tamsin Luck at Tamsin.Luck@itn.co.uk and Jamie Connolly at Jamie.Connolly@itn.co.uk.
- Ends - 
About the British Nutrition Foundation
Connecting people, food and science for better nutrition and healthier lives
The British Nutrition Foundation is a registered charity that provides impartial, evidence-based information about food and nutrition. We translate nutrition science in engaging and actionable ways, working extensively with people in academia, health care, education, communications and the food system, for public benefit.
We safeguard our independence through robust governance, with an independent Board supported by an Advisory Committee and a Scientific Committee, both of which draw upon a board range of experts from academia, government, industry, and public life. Our governance is weighted towards the scientific community, universities, and research institutes, and those from education, finance, media, communications, and HR backgrounds.
Funding for the British Nutrition Foundation is from membership subscriptions; donations; project grants from food producers and manufacturers, retailers and food service companies; conferences; publications; training; trusts, and foundations. The British Nutrition Foundation is not a lobbying organisation, nor does it endorse any products or engage in food advertising campaigns. More details about the British Nutrition Foundation's work, funding and governance can be found at: nutrition.org.uk/our-work/who-we-are/.
About ITN Business 
Building on its decades of experience in B2B and corporate communications, ITN Business works with organisations, businesses, and brands to create a deeper, more authentic connection with their people, customers, partners, investors, or the wider world. Our broadcast news-style programming and bespoke digital campaigns for sectors, charities, and industries, share stories of innovation, best practice and thought leadership, to connect with the audiences that matter to our clients, and to ensure longer-term impact.  
For more information visit:  itn.co.uk/business 
Help us improve
---
We'd love to hear your thoughts about this page below.
If you have a more general query, please contact us.
Please note that advice provided on our website about nutrition and health is general in nature. We do not provide any personal advice on prevention, treatment and management for patients or their family members.