On Thursday March 23 2023 the British Nutrition Foundation curated a panel discussion chaired by Sarah Mukherjee MBE, CEO of Institute of Environment Management & Assessment (IEMA) & former BBC Environment Correspondent.
Keynote speaker Henry Dimbleby MBE, former lead non-exec board member at DEFRA, author of the National Food Strategy & co-founder of Leon was joined by panel members, Barbara Bray MBE, Food Safety & Nutrition Consultant, Emma Revie, CEO of The Trussell Trust and Tanya Steele CBE, CEO of WWF-UK.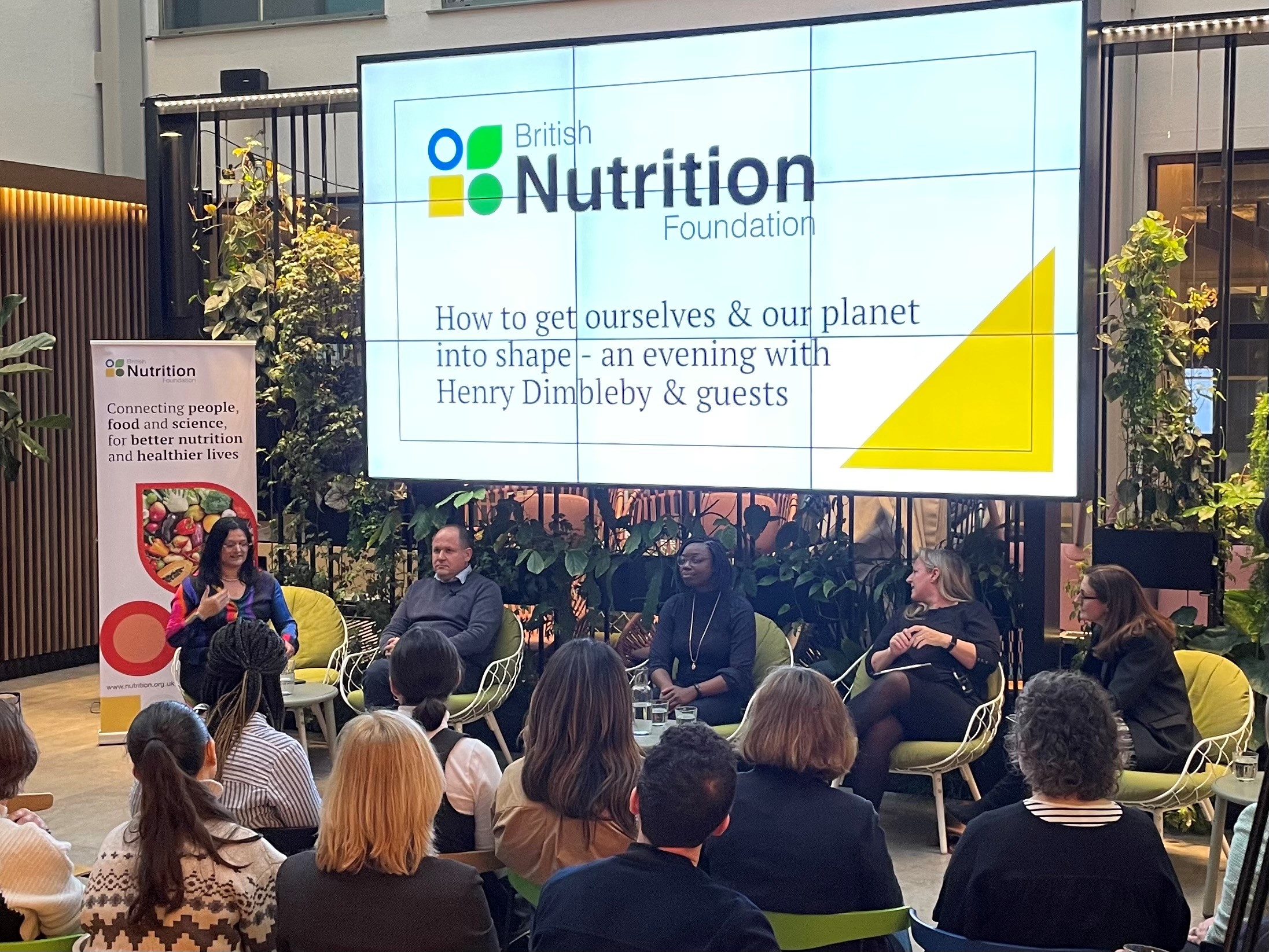 Elaine Hindal, Chief Executive of the British Nutrition Foundation opened discussions with a vision for, and the barriers to, achieving a future where everyone has access to a healthy, sustainable diet.
The panel engaged directly with practical ideas of how to overcome key barriers including affordability; an environment that fails to promote healthier, more sustainable options; and poor food and health literacy.
The key conclusion of the discussion and audience interaction included:
In the face of significant challenge, it has never been more important to bring together interdisciplinary experts in this field, to share ideas and insight about how we take practical action together.
Considering diet and sustainability as separate issues is no longer credible. Tanya Steele, CEO of WWF-UK highlighted the intimate connection between choices about what we eat – with the impact and increasing pace of biodiversity loss.
Cross sector collaboration with industry to advance the process of behavioural and dietary change is critical to unlock progress. Specifically, the scale and impact of change possible within the out of home sector was noted as an important area where collaboration is required.
Ultimately, the urgency of the collective challenge was underlined by Henry Dimbleby who described a failure to engage with how we produce and consume food to be quite simply an existential threat. Indeed, how we feed our planet and our continued success as a species is the subject of his new book, RAVENOUS, How To Get Ourselves And Our Planet Into Shape (Henry Dimbleby with Jemima Lewis, Profile Books, 2023).
"Diet-related disease is now the biggest cause of preventable illness and death in the developed world - far greater than smoking. Food production is responsible for a third of global carbon emissions and is the single biggest cause of biodiversity collapse, deforestation and water pollution. The way we eat is so damaging to our planet that it actually threatens our survival as a species."
The panel concluded with unanimous agreement that the UK has a leading role to play in demonstrating the positive impact of dietary change, and the clear urgency required.
- Ends –  
For further information on the work we do at the British Nutrition Foundation please contact Eisha Sharma at pressoffice@nutrition.org.uk or call 020 7557 7930. 
Notes for the Editor 
About the British Nutrition Foundation 
Connecting people, food and science for better nutrition and healthier lives 
The British Nutrition Foundation is a registered charity that provides impartial, evidence-based information about food and nutrition. We translate nutrition science in engaging and actionable ways, working extensively with people in academia, health care, education, communications and the food system, for public benefit. 
We safeguard our independence through robust governance, with an independent Board supported by an Advisory Committee and a Scientific Committee, both of which draw upon a board range of experts from academia, government, industry, and public life. Our governance is weighted towards the scientific community, universities, and research institutes, and those from education, finance, media, communications, and HR backgrounds. 
Funding for the British Nutrition Foundation is from membership subscriptions; donations; project grants from food producers and manufacturers, retailers and food service companies; conferences; publications; training; trusts, and foundations. The British Nutrition Foundation is not a lobbying organisation, nor does it endorse any products or engage in food advertising campaigns. More details about the British Nutrition Foundation's work, funding and governance can be found at: nutrition.org.uk/our-work/who-we-are/. 
Help us improve
---
We'd love to hear your thoughts about this page below.
If you have a more general query, please contact us.
Please note that advice provided on our website about nutrition and health is general in nature. We do not provide any personal advice on prevention, treatment and management for patients or their family members.