March 2023
The March 2023 issue of Nutrition Bulletin is available online.
Articles featured include:
Editorial
Why do health professionals need to know about the nutrition and health claims regulation? Summary of an Academy of Nutrition Sciences' Position Paper – M Ashwell, S Stanner, C Williams *FREE ACCESS*
Review
A critical review of children's culinary nutrition interventions, the methodologies used and their impact on dietary, psychosocial and wellbeing outcomes – F Lavelle *OPEN ACCESS*
The impact of genetic variability on the relationship between caffeine and cardiometabolic outcomes: A systematic review – L Pilic, J Virgili, P Motitis, G Julal, Y Mavrommatis
The role of diet in managing menopausal symptoms: a narrative review - S Yelland, S Steenson, A Creedon and S Stanner
Original Research
Nutritional content and quality of processed foods and beverages advertised near schools in three cities in the north of Spain – R Martín-Payo, M del Mar Fernandez-Alvarez, E Zabaleta-del-Olmo, J Cachero-Rodriguez *OPEN ACCESS*
Nutrition knowledge and influence on diet in the carer-client relationship in residential care settings for people with intellectual disabilities – B Ellahi, A Ozdemir, R Hall, A Lovell *OPEN ACCESS*
Knowledge and perceptions of nutrition assistance programs among young adult students – M Perry, A Ashley, L Hood, R Hagedorn-Hatfield *OPEN ACCESS*
Prevalence of nutritional inadequacy in children aged 12-36 months: EPACI Portugal 2012 – M Nazareth, E Pinto, M Severo, P Graça, C Lopes, C Rêgo *OPEN ACCESS*
Using social norms in supermarket shopping trolleys to increase fruit and vegetable purchases – G McGrath
Emerging Research
The Food4Years Ageing Network: Improving foods and diets as a strategy for supporting quality of life, independence, and health-span in older adults – M Clegg, L Methven, S Lanham-New, M Green, N Duggal, M Hetherington *OPEN ACCESS*
'Raising the Pulse': The environmental, nutritional and health benefits of pulse-enhanced foods – J Lovegrove, D O'Sullivan, P Tosi, E Millan, L Todman, J Bishop, A Chatzifragkou, M Clegg, J Hammond, K Jackson, P Jones, S Lignou, A Macready, Y McMeel, J Parker, J Rodriguez-Garcia, P Sharp, L Shaw, L Smith, M Tebbit *OPEN ACCESS*
News and Views
Proceedings of a round table event 'Workplace Diet and Health – priorities for researchers and practitioners – R Gibson, J Lewis, A Hilberink, E Philippou, D Wilson, H Theobald, K Sum, D David, J Alawfi, H Roper, F Makinwa, G Lessons, A Clark, N Maynard, L Viner, W Hall
Full details of all the journal articles in this and past issues of Nutrition Bulletin (back to 1968) can be found on the journal website.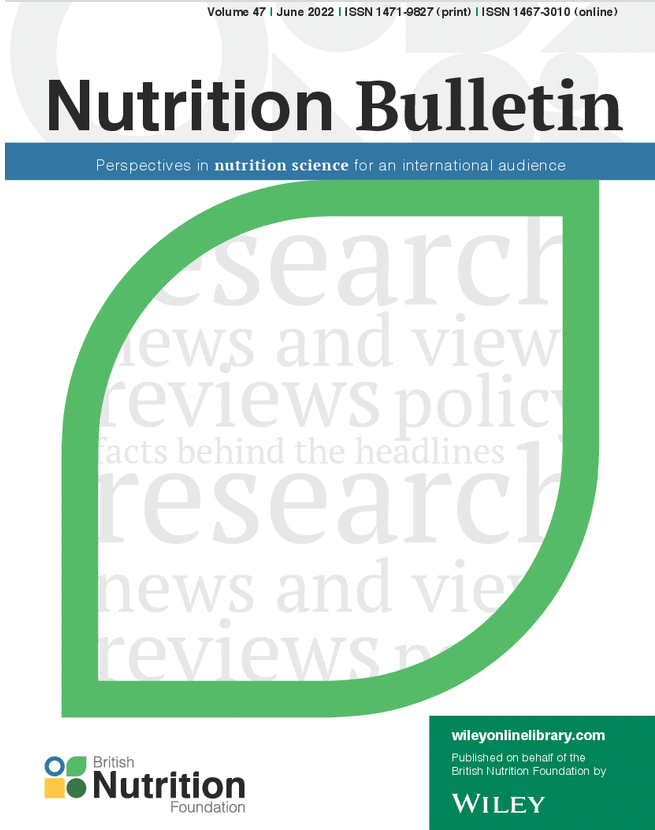 Help us improve
---
We'd love to hear your thoughts about this page below.
If you have a more general query, please contact us.
Please note that advice provided on our website about nutrition and health is general in nature. We do not provide any personal advice on prevention, treatment and management for patients or their family members.