Portion size and appetite control
Nutrition Bulletin has published (January 2019) a Virtual Issue on 'Portion size and appetite control', to coincide with the launch of the British Nutrition Foundation's practical guide on portion sizes 'Find Your Balance', which complements the UK government's Eatwell Guide. The Virtual Issue comprises nine papers by leading scientists and explores current knowledge about how appetite sensations and portion size choices influence energy (calorie) intake.
To access the Virtual Issue, please visit the Nutrition Bulletin website here.
Editorial: Size matters: Developing portion size guidance for consumers – B Benelam & M Wiseman *FREE ACCESS*
The portion size effect and overconsumption – towards downsizing solutions for children and adolescents - M. M. Hetherington & P. Blundell‐Birtill *OPEN ACCESS*
The contribution of behavioural science to nutrition: Appetite control - J. E. Blundell
Dietary energy density: Applying behavioural science to weight management - B. J. Rolls
Connecting biology with psychology to make sense of appetite control - P. J. Rogers, D. Ferriday, S. A. Jebb & J. M. Brunstrom *OPEN ACCESS*
Food texture and the satiety cascade – L. Chambers *FREE ACCESS*
Parents, portions and potential distortions: Unpicking children's meal size - K. McCrickerd & C. G. Forde
Cued satiety: How consumer expectations modify responses to ingested nutrients – M. Yeomans *FREE ACCESS*
Satiation, satiety and their effects on eating behaviour - B. Benelam *FREE ACCESS*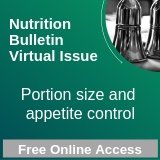 Help us improve
---
We'd love to hear your thoughts about this page below.
If you have a more general query, please contact us.
Please note that advice provided on our website about nutrition and health is general in nature. We do not provide any personal advice on prevention, treatment and management for patients or their family members.