Healthy eating on a budget
Eating a healthy, varied diet does not mean that you need to buy the most expensive foods. There are plenty of cheap, nutritious and delicious foods available, that you can make healthy meals from. By planning your meals you will be able to cut down on waste and save money. Here are a few tips to help make your money go further:
Look for special offers on long shelf-life products like dried pasta, rice and noodles, dried or tinned beans and pulses, tinned tomatoes, passata, tomato concentrate and cereals. These can be used to bulk up your meals and make them go further. It is worth checking if there are any food co-ops in your area; these are run on a not-for-profit basis and may have cheap store cupboard ingredients.
Buy cheaper cuts of meat such as chicken thighs or drumsticks instead of chicken breast. A whole chicken can be good value, especially if you use it for more than one meal. Mince is also a popular ingredient, versatile and inexpensive – just remember to drain the fat off before adding other ingredients! Asking the butcher for cuts like shin of beef, lamb neck or pork chump can also save you money compared to the more expensive cuts. Cheaper cuts of meat tend to need longer cooking times but can also be the tastiest! If there are special offers on buying extra you could keep any meat that you are not going to use straight away in the freezer for another time.
Canned oily fish such as sardines and salmon can be cheaper than buying fresh fish. They are high in omega-3 fats which can help to keep the heart healthy, plus they are easy to prepare and have a long shelf-life. Opt for ones in spring water to keep the salt content to a minimum. Frozen fish is often very good value and can be added to a range of dishes. If there are special offers on fresh fish, you could also take advantage of these and freeze any that you are not going to use straight away. See our tips in the cooking ideas section.
Check the frozen and canned fruit and vegetable section for cheaper items. Frozen vegetables tend to be cheaper than fresh varieties, they count towards your 5 A DAY and freezing preserves nutrients so that some frozen vegetables provide more of certain nutrients than fresh versions. You can use them when you want without them going off, which cuts down on waste. Remember to check supermarket own brand and economy ranges – these are often cheaper than branded items.
Top tip: Watch out for canned fruits and vegetables which have added sugar or salt and opt for those in fruit juice or water instead.
Fresh fruit and vegetables can be cheaper if you buy them from the local market rather than supermarkets. If you do buy from the supermarket, consider buying loose fruits and vegetables, which can be much cheaper than pre-packaged ones. Fresh fruit and vegetables in season are often cheaper as well and can taste great!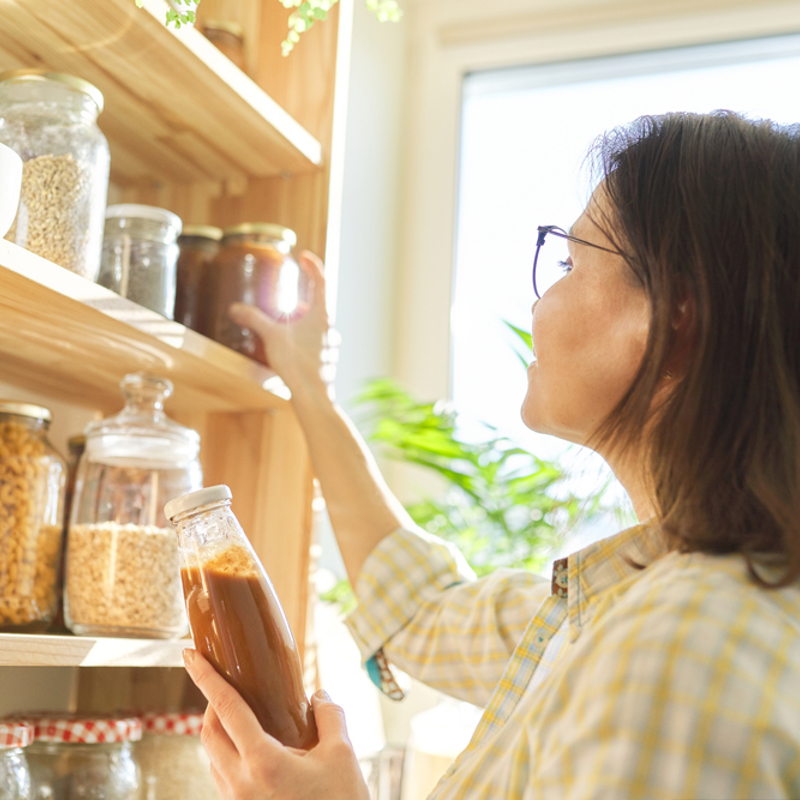 Potatoes, bread, rice, pasta or other starchy carbohydrates

Cheaper options  

Economy ranges for bread, dried pasta, rice and noodles are usually much cheaper and there may not always be much difference in taste.
Remember to cook foods like pasta and rice in unsalted water. Buying in bulk will save money and these foods last a long time as long as they are kept dry. Bread can be kept in the freezer to keep it fresh for longer.

Cooking tips and ideas 

Avoid frying in lots of oil or butter, as this will add a lot of calories to the dish. Instead opt for tomato sauces for pasta (which can be made cheaply from tinned chopped tomatoes) and bake potatoes or wedges instead of chips.

Fruit and vegetables

Cheaper options

Tinned, frozen and dried fruits and vegetables are often cheaper than fresh.
Seasonal fruits and vegetables are often cheaper too and can taste great! By shopping seasonally you can also make sure you eat a variety of fruit and vegetables over the course of a year.

Cooking tips and ideas

Try pureeing fruit that needs using up to make a breakfast smoothie or add the puree to your porridge or breakfast cereal.
Save money and get more of your 5 A DAY by substituting some of the meat with vegetables or pulses in meat dishes. This can make dishes go further and will fill you up for less.
Aim to use at least two different vegetables with your dinner. If cooking for fussy eaters grate carrots or add some frozen vegetables to sauces and blend!
Buying pre-prepared fruit and vegetable can be expensive. For meals and snacks on the go, you can save a lot and eat healthily by preparing your own salads or fruit salads to have as side dishes or desserts when you are at work or out and about.

Dairy and alternatives

Cheaper options

Economy ranges for low-fat natural yogurt are usually great value.
Products like milk and cheese can be frozen so you can take advantage of special offers and store any extra you buy in the freezer.

Cooking tips and ideas

Low-fat natural yogurt is a great alternative to cream and can be used in savoury dishes such as curries, pasta sauces and also for making your own dips and pâtés.
It can also be used in desserts or blended with ripe bananas and any other leftover fruits for a delicious smoothie!

Beans, pulses, fish, eggs, meat and other proteins

Cheaper options

Cheaper cuts of meat such as chicken thighs and drumsticks, mince, beef brisket or skirt (these can be found in butchers and can be cheaper than the supermarket), shoulder of lamb and pork belly can all save you money.
Tinned fish, eggs, beans and lentils are all relatively low cost ingredients and can be even cheaper when bought in bulk!

Cooking tips and ideas

Remember to cut off any visible fat from meats and remove the skin from poultry to reduce your saturated fat intake. 
Bulk up recipes with beans and lentils which count as one of your 5 A DAY, are low in fat and high in fibre!
Cooking and meal ideas
Remember to eat breakfast! Breakfast is an important source of energy and many ready-to-eat breakfast cereals, and breads are cheap and contain B vitamins and iron. Look for those with less or no added sugar and salt and choose wholegrain varieties as much as possible as these are a better source of fibre.
Porridge is also a cheap and healthy breakfast and plain versions have no added sugar or salt. Try adding some frozen, dried or fresh fruits to help you meet your 5 A DAY. Supermarket own brand dried and tinned fruits are usually great value.
Vegetables, eggs, beans and lentils tend to cost less than meat, so try adding more of these foods to your meat-containing meals. The meat will go further, saving you money and it will help to keep the saturated fat content of the dish down too. Alternatively, leave the meat out altogether and use these foods as substitutes for a tasty vegetarian dish.
Top tips:
Why not try omelettes or frittatas to use up eggs and any leftover vegetables or a vegetarian bolognaise made with lentils.
Alternatively, try some bean recipes such as bean-based stews, vegetarian chilli, bean burgers or Mexican-style bean wraps. These are all delicious ways of incorporating low cost pulses and lentils into your diet.
Beans and pulses fit into the non-dairy sources of protein group - the same group as meat and fish!
Three heaped tablespoons of beans and pulses also count as one of your 5 A DAY; are low in fat and a source of protein and dietary fibre!
Back to basics!
When it comes to eating on a budget, staple foods like bread, potatoes, rice and pasta are generally very good value for money and are a nutritious part of a healthy diet. Baked potatoes are great as a cheap, healthy and filling meal and you can experiment with your favourite toppings – perhaps to use up leftover pasta sauce or stew. If baking potatoes in the oven, then you could make the most of having the oven on and add some extra potatoes. These can then be kept for a couple of days in the fridge (or longer in the freezer) and microwaved for a quick meal another time. Rice and pasta are great, economical store cupboard ingredients and can be served warm with sauces, curries and stews or used cold as the base for a salad, which can be a good way of using up any leftover pasta or rice you have cooked. Leftover starchy foods can also be added to soups to thicken them and make them more filling.
Reducing waste
Understanding food labels: 'use by' and 'best before' dates.
You will see 'use by' dates on food that goes off quickly, such as meat products and ready-prepared salads. Do not use foods or drinks after the 'use by' date on the label, even if it looks and smells fine. Using it after this date could put your health at risk. Remember the 'use by' date relies on you storing the food properly, as described on the food label. If you do not follow these instructions, the food will spoil more quickly, and you may risk food poisoning.
'Use by' dates do not always mean 'eat by'. If a food can be frozen then its life can be extended beyond the 'use by' date. Follow the instructions on the packaging carefully such as 'freeze on the day of purchase' 'defrost thoroughly before use and use within 24 hours' or 'cook from frozen'.
Best before' dates appear on a wide range of frozen, dried, tinned and other foods. The 'best before' dates are more about food quality than food safety. When the date runs out it does not mean that the food will be harmful, but it might begin to lose its flavour and texture. Always store the foods as described on the food packaging. Eggs are an exception for the 'best before' date. They should be eaten within a couple of days of their best before date.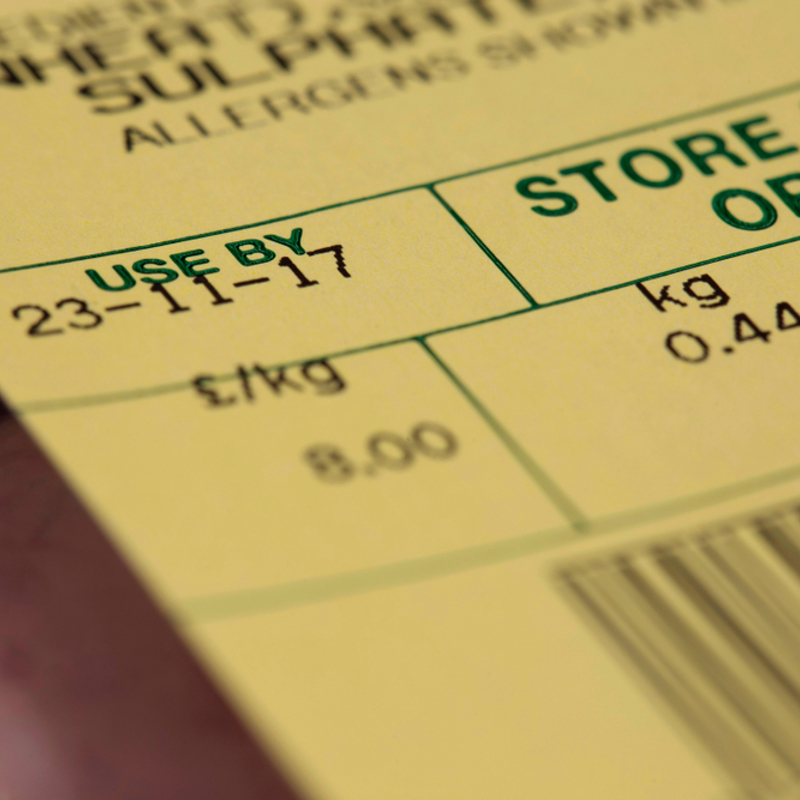 Frequently wasted foods and how to use them up
In the UK we waste on average 7 million tonnes of food and drink from our homes every year, the majority of which could have been eaten. For an average family household this is equivalent to throwing away £470 worth of food each year! Many of us do not realise we are doing it, but there are many ways to reduce your food waste. The foods most often wasted include bread and bakery products, vegetables and salad, fruit, drinks, dairy products and eggs, meat and fish products and pre-prepared meals. Using up your leftovers may seem boring and unappetising but there are plenty of delicious meals and snacks that can be made from even the smallest portion of leftovers and save you money too!
Use leftover vegetables to make soup. When you make your own soup, you can add as many vegetables as you like and control the amount of other ingredients, such as salt, stock and fat that you add. Other ways to use leftover vegetables include finely chopping and adding them to pasta, couscous and rice, or adding them to a tin of beans (any beans will work including baked beans, kidney beans, butter beans or pinto beans) and serving with bread, wraps or pittas. Leftover vegetables and potatoes from a Sunday roast can be used for bubble and squeak or incorporated into your own fishcakes.
Overripe fruits? Why not add to milk, yogurt or fruit juice and blend with some frozen fruits to make a delicious smoothie. Alternatively, use them for baking a cake or add some to stews or casseroles, to add a naturally sweet flavour to dishes.
Use up your potatoes in a potato pie, cheesy potato gratin, homemade fish cake, curry, bubble and squeak or try mashing with other root vegetables such as carrots, sweet potatoes and swede. Alternatively, mix in some green vegetables like leeks, peas or spring onion and serve with chopped chives. Other delicious ways to use up potatoes include savoury potato skins, breakfast potato served with grilled sausage, cherry tomatoes and mushrooms or thinly sliced potatoes in a Spanish omelette.
Leftover bread starting to go stale? Try making your own breadcrumbs and use for coating fish or chicken, or for a delicious crispy topping on a pasta bake. Alternatively freeze those breadcrumbs for later and use for a homemade stuffing with your Sunday roast.
If you have a fresh loaf which is only just starting to dry out, then try sprinkling on some water and bake in the oven for a few minutes – it will taste like a freshly cooked loaf again! If you fancy something sweet, you could use the leftover bread for a bread and butter pudding.
Top tip: If you do not use bread that often and you have space in your freezer, why not freeze on the day of purchase and take a few slices out as and when you need them to avoid waste.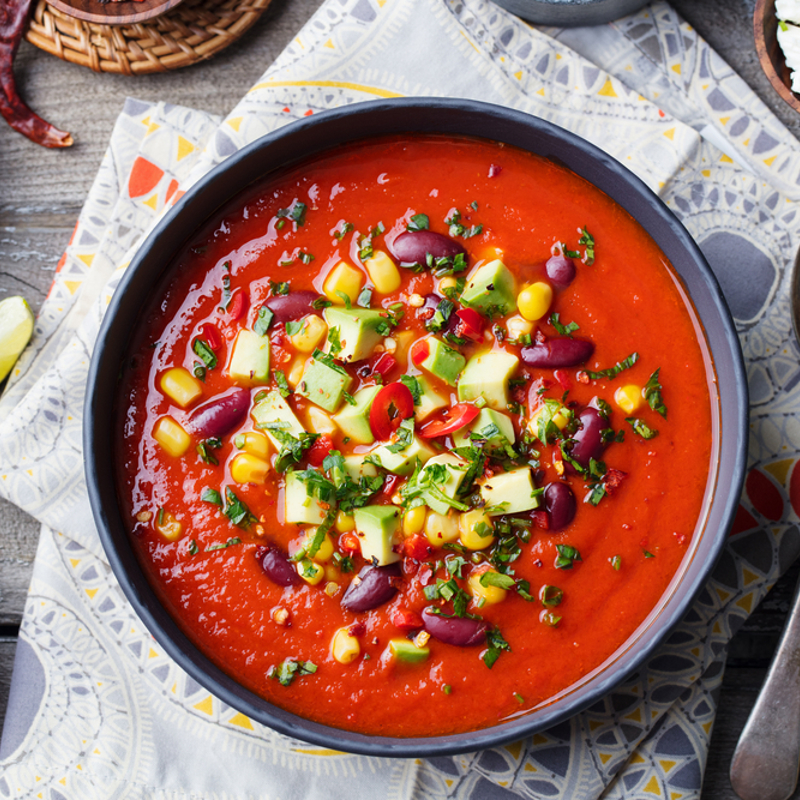 More ways to reduce your waste
Make your own frozen meals by doubling your usual recipes and freezing half. Put chilli, cottage pies, soups and stews in freezer and microwave safe containers, for quick lunches and dinners for those days when you do not have the time to cook. Soups made with added pasta, rice, beans, lentils or root vegetables such as sweet potatoes, parsnips, turnips and carrots are tasty, filling and cheap. This may also help reduce gas /electricity bills compared to cooking each recipe from scratch.
Keep an eye on your portion sizes and try not to cook more than you need. Measure out foods like pasta and rice before you cook rather than guessing portions. Not only will it help you to save money but can stop you from over-eating.
Limit eating out. It is often easier to grab meals on the go but remember that you will pay extra for that convenience and risk wasting food you have already bought for the week. If you want to save money and eat healthily, consider bringing your own lunch a few times per week and cut back on dining out when possible.
Making your own healthy packed lunch will help to save money, control the amount of fat, saturated fat, salt and sugar you are eating and use up any leftovers. Leftovers make delicious, cheap and healthy alternatives to sandwiches, soups or salads, can help you reduce food waste and save you money! For more ideas see our healthy packed lunch page for more ideas.
Keep a supply of frozen and tinned fruit and vegetables. These have a long shelf life so you can use them as and when you need them, without them going off.
Try using cookery websites for recipe ideas, based on what you have left in the cupboards – great for those last few days before you go shopping again. You will be surprised at what you can make with even just a few ingredients!
For more on reducing food waste visit the Love Food Hate Waste website http://www.lovefoodhatewaste.com/
Help us improve
---
We'd love to hear your thoughts about this page below.
If you have a more general query, please contact us.
Please note that advice provided on our website about nutrition and health is general in nature. We do not provide any personal advice on prevention, treatment and management for patients or their family members.