Protein is a macronutrient – macronutrients (sometimes called 'macros') are the nutrients we need in relatively larger amounts that provide us with calories. Macronutrients include protein, carbohydrates and fat. Protein provides 4kcal per gram.
We need protein to help the body grow and repair itself.
Amino acids are the building blocks of protein. When we digest proteins, they are broken down to amino acids, which the body uses to make new proteins. Some can be produced by the human body whereas others we can only get from the diet. These are known as essential amino acids.
Proteins are found in every cell of the body and are needed for many of the important functions that make our body work properly. They are important for helping children's bones to grow and to keep our bones and muscles healthy throughout our lives.
In the UK, on average, we are eating enough protein, for example the recommended amount for adult women is 45g of protein per day (based having 0.75g protein per kg bodyweight for a woman weighing 60kg) and, on average, women are consuming about 67g of protein per day.
Protein is found in a wide range of different foods. We can divide food sources of protein into two groups: animal protein sources such as meat, dairy, fish and eggs and plant protein sources such as beans, lentils, nuts and seeds. These are both included in healthy eating guidelines like the UK's Eatwell Guide.
It is a good idea to get protein from a variety of foods and the Government recommend we eat more pulses like beans, lentils, chickpeas that are naturally low in fat and high in fibre.
A common misconception is that those who do not eat any meat or fish will not get enough protein. However, studies show that vegans and vegetarians typically do get enough protein from their diet.
There is a lot of interest in protein supplements in sports and exercise. For most active people, protein supplements are not needed, and it is better if a variety of foods containing protein are consumed as part of meals or snacks and spread throughout the day. However, there may be situations when a protein supplement is convenient, for example for athletes who are travelling to compete.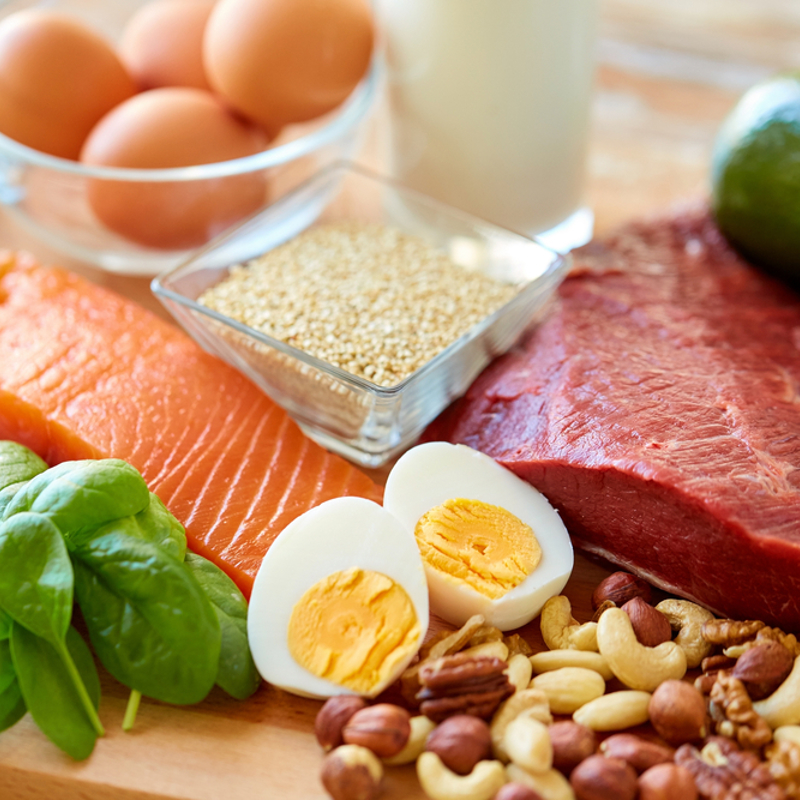 A table of common foods and how much protein they provide.
Quick facts
Consumer
Health professional
pdf
Beans, pulses, fish, eggs, meat and other proteins
A guide to the 'Beans, pulses, fish, eggs, meat and other proteins' food group
pdf
A guide to the 'Dairy and alternatives' food group
pdf
Help us improve
---
We'd love to hear your thoughts about this page below.
If you have a more general query, please contact us.
Please note that advice provided on our website about nutrition and health is general in nature. We do not provide any personal advice on prevention, treatment and management for patients or their family members.