June 2022
The June 2022 issue of Nutrition Bulletin is available online.
Articles featured include:
Editorial
First steps towards transforming nutrition and health research in the UK - J.C. Mathers *FREE ACCESS*
Reviews
Can sprouting reduce phytate and improve the nutritional composition and nutrient bioaccessibility in cereals and legumes? - H. Elliott, P. Woods, B.D. Green, A.P. Nugent *OPEN ACCESS*
Do ancient wheats contain less gluten than modern bread wheat, in favour of better health? - F. Brouns, S. Geisslitz, C. Guzman, T.M. Ikeda, A. Arzani, G. Latella, S. Simsek, M. Colomba, A. Gregorini, V. Zevallos, V. Lullien-Pellerin, D. Jonkers, P.R. Shewry *OPEN ACCESS*
Mindful eating: what we know so far - K. Tapper *OPEN ACCESS*
Do gluten peptides stimulate weight gain in humans? - F. Brouns, P.R. Shewry *OPEN ACCESS*
Original Research
Healthy plant-based diets and their short-term effects on weight loss, nutrient intake and serum cholesterol levels - L. Brown, K. Rose, A. Campbell *OPEN ACCESS*

The protective effect of peanuts, pine nuts and almonds on gastric intestinal metaplasia in Korean men - S. K. Park, C-M. Oh, J-H. Ryoo, J. Y. Jung
Emerging Research
Encouraging healthier grocery purchases online: A randomised controlled trial and lessons learned - A. Bunten, B. Shute, S.E. Golding, C. Charlton, L. Porter, Z. Willis, N. Gold, A. Saei, B. Tempest, N. Sritharan, R. Arambepola, A. Yau, T. Chadborn *OPEN ACCESS*
News and Views 
Changes and differences in school food standards (2010–2021) and free school meal provision during COVID-19 across the UK: Potential implications for children's diets - R.L. McIntyre, A.J. Adamson, M. Nelson, J. Woodside, S. Beattie, S. Spence *OPEN ACCESS*
UK Nutrition Research Partnership 'Hot Topic' workshop: Vitamin D—A multi-disciplinary approach to (1) elucidate its role in human health and (2) develop strategies to improve vitamin D status in the UK population - S.A. Lanham-New, J.L. Buttriss, H. Gibson-Moore, K.A. Staines, A.R. Webb, K.D. Cashman, M. Hewison, A.R. Martineau, C.P. Smith, G. Butler-Laporte, R. Bouillon
In perspective
Plenty more fish in the sea? – is there a place for seafood within a healthier and more sustainable diet? - S. Steenson, A. Creedon *FREE TO READ*
Full details of all the journal articles in this and past issues of Nutrition Bulletin (back to 1968) can be found on the journal website.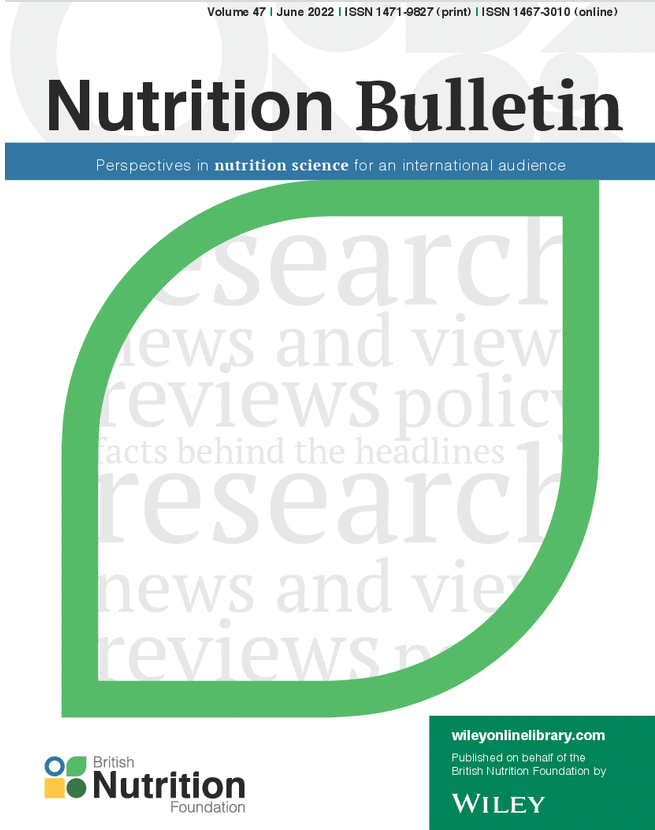 Help us improve
---
We'd love to hear your thoughts about this page below.
If you have a more general query, please contact us.
Please note that advice provided on our website about nutrition and health is general in nature. We do not provide any personal advice on prevention, treatment and management for patients or their family members.