The March 2022 issue of Nutrition Bulletin is available online.
Articles featured include:
Editorial
Bridging gaps in food labelling - M. De Bauw, L. Vranken, C. Matthys *FREE ACCESS*
Reviews
The effects of whey proteins, their peptides and amino acids on vascular function - D. Price, K. G. Jackson, J. A. Lovegrove, D. I. Givens *OPEN ACCESS*
Association between vegetarian and vegan diets and depression: A systematic review - R. Jain, P. Larsuphrom, A. Degremont, G. O. Latunde-Dada, E. Philippou *OPEN ACCESS*
Original Research
Association of maternal and umbilical cord blood asprosin with excessive gestational weight gain - F. Behrasi, M. Karajibani, S. Khayat, H. Fanaei, F. Montazerifar

The higher adherence to healthy lifestyle factors is associated with a decreased risk of metabolic syndrome in Iranian adults - P. Mirmiran, H. Farhadnejad, F. Teymoori, K. Parastouei, F. Azizi

Age at menarche and its association with overweight including obesity and socio-economic conditions of Brazilian schoolgirls: A time-trend analysis - L. H. Matsuo, F. Adami, L. J. Pereira, D. A. S. Silva, F. de A. G. de Vasconcelos, G. Z. Longo, F. G. K. Vieira, P. de F. Hinnig

Most meal and snack patterns are stable over a 3-year period in schoolchildren in southern Brazil - D. M. T. Roberto, E. Kupek, M. A. A. de Assis, A. S. Lobo, A. L. L. Belchor, M. W. Spanholi, V. G. Cezimbra, M. T. de Oliveira, L. J. Pereira, F. G. K. Vieira, P. de F. Hinnig

COVID-19 pandemic and food poverty conversations: Social network analysis of Twitter data - F. Eskandari, A. A. Lake, M. Butler *OPEN ACCESS*
Emerging Research
Transformations to regenerative food systems—An outline of the FixOurFood project - B. Doherty, M. Bryant, K. Denby, I. Fazey, S. Bridle, C. Hawkes, M. Cain, S. Banwart, L. Collins, K. Pickett, M. Allen, P. Ball, G. Gardner, E. Carmen, M. Sinclair, A. Kluczkovski, U. Ehgartner, B. Morris, A. James, C. Yap, E. S. Om, A. Connolly *OPEN ACCESS*
News and Views 
UK Nutrition Research Partnership 'Hot Topic' workshop report: A 'game changer' for dietary health – addressing the implications of sport sponsorship by food businesses through an innovative interdisciplinary collaboration - N. Gokani, A. Garde, M. Philpott, R. Ireland, R. Owens, E. Boyland
UK Nutrition Research Partnership workshop: Nutrition and frailty—opportunities for prevention and treatment - M. Ni Lochlainn, S. Robinson *OPEN ACCESS*
Full details of all the journal articles in this and past issues of Nutrition Bulletin (back to 1968) can be found on the journal website.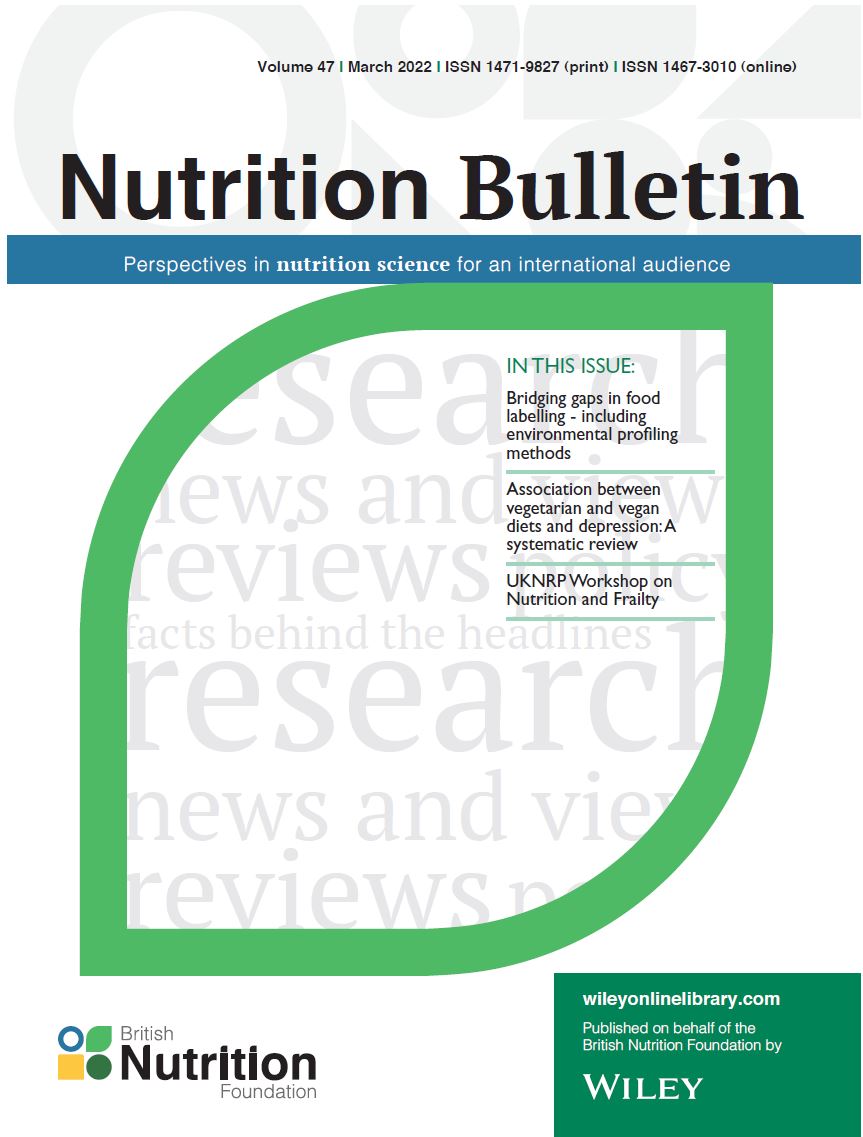 Help us improve
---
We'd love to hear your thoughts about this page below.
If you have a more general query, please contact us.
Please note that advice provided on our website about nutrition and health is general in nature. We do not provide any personal advice on prevention, treatment and management for patients or their family members.