Our 'Best of 2019' Spotlight makes available the six most popular papers of 2019. We have used two metrics to assess popularity – the three papers published in 2019 with the highest Altmetric score and the three papers, published at any time, which were the most downloaded. These papers illustrate both the new and emerging areas of research and the topics which are of enduring interest.
The three papers published in 2019 which caused the biggest buzz reflect areas of nutrition research where knowledge is expanding rapidly – the benefits of exercise, the role of the gut microbiota and the benefits of rapid weight loss – and these papers give an easily accessible overview of recent advances in knowledge. On the other hand, the three most downloaded papers in 2019 were similar to the most downloaded papers of 2018 and reflect topics of perennial interest to Nutrition Bulletin readers such as the impact of caffeine and the effects of resistant starch, as well as a topic which entered the top 3 downloads in 2019 and is bound to become increasingly relevant – the use of insects as food and feed.
The Nutrition Bulletin Spotlight 'Best of 2019' can be accessed here.
The impact of caffeine on mood, cognitive function, performance and hydration: a review of benefits and risks - C.H.S. Ruxton
Opportunities and hurdles of edible insects for food and feed - D. Dobermann, J. A. Swift, L. M. Field *OPEN ACCESS*
Health effects of resistant starch - S. Lockyer and A. P. Nugent
Mobilising vitamin D from adipose tissue: The potential impact of exercise - A. Hengist, O. Perkin, J. T. Gonzalez, J. A. Betts, M. Hewison, K. N. Manolopoulos, K. S. Jones, A. Koulman, D. Thompson *OPEN ACCESS*
Diet‐derived microbial metabolites in health and disease - H. M. Roager and L. O. Dragsted
Very low‐energy and low‐energy formula diets: Effects on weight loss, obesity co‐morbidities and type 2 diabetes remission – an update on the evidence for their use in clinical practice - A. Brown and A. R. Leeds *OPEN ACCESS*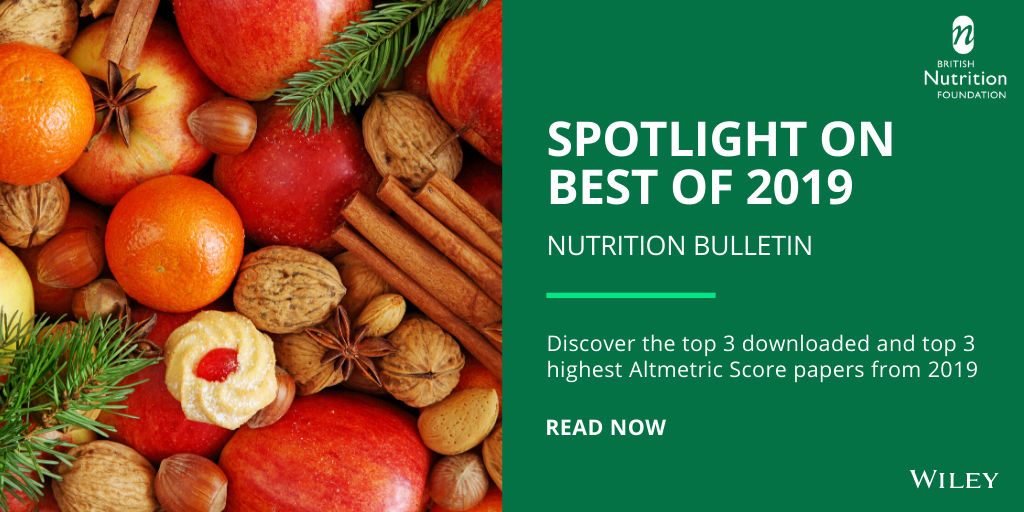 Help us improve
---
We'd love to hear your thoughts about this page below.
If you have a more general query, please contact us.
Please note that advice provided on our website about nutrition and health is general in nature. We do not provide any personal advice on prevention, treatment and management for patients or their family members.