Vegetables and Plant Proteins
While fruit consumption in the UK has increased over the last few decades, our overall consumption of vegetables has remained unchanged. Furthermore, less than a third of adults eat at least 5 portions of fruit and vegetables a day, despite the widespread familiarity of the 5-A-DAY message. There is increasing recognition that more attention needs to be given to increasing vegetable consumption, especially amongst children and teenagers, as well as encouraging a switch from animal to plant-derived proteins.
Nutrition Bulletin published a Spotlight (April 2021) on Vegetables and Plant Proteins, which brings together articles recently published in Nutrition Bulletin which highlight the issues above. Haydon et al. (2020) argue that a food systems approach to eating more vegetables is required and describe the Peas Please Pledge which encourages organisations to commit to helping everyone in the UK to eat an extra portion of vegetables a day. Hartwell et al. (2020) summarise their findings on different behavioural approaches to encouraging greater vegetable consumption in the out-of-home sector, while Dulay et al. (2020) describe the use of interactive, personalised picture books to encourage vegetable consumption amongst young children. Finally, Lonnie and Johnstone (2020) discuss how to best promote plant proteins as part of a healthy and more sustainable diet, with Loveday (2020) discussing some novel plant protein ingredients.
The Nutrition Bulletin Spotlight on Vegetables and Plant Proteins can be accessed here.
Peas Please: Making a pledge for more veg - P. Haydon R. Tobi G. Bridge I. Gurung C. Scott *OPEN ACCESS*
Increasing vegetable consumption out‐of‐home: VeggiEAT and Veg+projects - H. Hartwell J. Bray N. Lavrushkina V. Rodrigues L. Saulais A. Giboreau F. J. A. Perez‐Cueto E. Monteleone L. Depezay K. M. Appleton *OPEN ACCESS*
Me and my veggies: The use of interactive, personalised picture books in healthy eating interventions - K. M. Dulay N. A. Masento K. Harvey D. J. Messer C. Houston‐Price
The public health rationale for promoting plant protein as an important part of a sustainable and healthy diet - M. Lonnie A. M. Johnstone *OPEN ACCESS*
Plant protein ingredients with food functionality potential - S. M. Loveday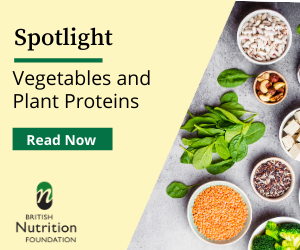 Help us improve
---
We'd love to hear your thoughts about this page below.
If you have a more general query, please contact us.
Please note that advice provided on our website about nutrition and health is general in nature. We do not provide any personal advice on prevention, treatment and management for patients or their family members.