Hydration in a healthy diet
We lose water in urine, in sweat and also small amounts when we breathe and through the skin. So, the body loses water throughout the day and to keep hydrated we need fluids from food and drinks.  'Fluid' includes not only water from the tap or in a bottle, but also other drinks such as tea, coffee, milk, fruit juices and soft drinks. We get water from the food we eat as well, especially food like fruit and vegetables, yogurt or soups – on average it is estimated that we get about one fifth of our water from food.
What happens when we get dehydrated?
If we do not drink enough fluids, over time we get dehydrated. Studies have shown that even low levels of dehydration (1-4%) can cause symptoms like  headaches and poor concentration. When we are dehydrated, the kidneys reduce how much water we lose in the urine. This means that the colour of the urine becomes darker and our urine colour can give us an idea of whether we are well hydrated. If we are drinking enough, our urine should be a straw or pale-yellow colour.  If it is darker then we probably need more fluid. Thirst kicks in when the body is already a little dehydrated, so it is important to drink when we are thirsty. However, in older adults the thirst response may be weaker and young children may not be able tell others they are thirsty and so these groups need support to drink regularly and to stay well hydrated.

How much fluid do we need?
The amount of fluid we need depends on many things including the weather, how much physical activity we do and our age, but it is recommended we drink 6-8 glasses of fluid per day. If the weather is hot or we are exercising, we may need to drink more. We can get water from nearly all fluid that we drink, although alcoholic drinks don't count towards your fluid intake as they can make you urinate more than usual.
Can we drink too much water?
It is possible, although very rare, to drink so much water the body cannot get rid of the excess quickly enough and sodium levels in the blood become dangerously low. This can have serious health consequences and is unlikely but can happen when people drink excessive amounts of fluid during endurance exercise and also those following extreme detoxing regimes.

Do we need sports drinks when exercising?
Physical activity increases the amount of fluid we need to replace the water we lose as sweat. The extra fluid we need depends on how long we are active, how intense the activity is and whether it's hot and humid. It is a good idea to start any physical activity well hydrated and to drink at intervals during activity. Water is fine for rehydrating after moderate exercise and the majority of active people do not need special sports drinks to stay hydrated. However, for high intensity exercise that lasts more than 1 hour or so, drinks that contain some sugars and sodium (salt), such as sports drinks or homemade versions, may be better at replacing the extra fluid lost as sweat.
Does it matter which drinks we choose?
All non-alcoholic drinks can hydrate us and drinks such as fruit juices and milk also contain essential vitamins and minerals. However, many drinks, such as soft drinks and fruit juices are high in sugars and so contain calories. Higher consumption of sugary drinks is linked with risk of type 2 diabetes and with weight gain in children.
It is also important to look after our teeth, and consuming sugary drinks too often can potentially harm our teeth. Some drinks, such as fizzy drinks and fruit juices are acidic and that this can cause dental erosion (damage to tooth enamel) if they are consumed frequently.
Drinking water is a great choice because it hydrates without calories or sugars that can potentially damage teeth. 
Tea or coffee can count towards our fluid intake Although the caffeine found in tea and coffee can make us produce more urine, consuming moderate amounts does not seem to affect our hydration. Pregnant women are advised to consume no more than 200mg or caffeine a day. This is equivalent to about two mugs of instant coffee or about two and a half mugs of tea. Other hot drinks such as herbal teas, hot chocolates and malted drinks can provide water but if they are sweetened with sugar it increases their calorie content. Sugar in hot drinks may damage teeth.
Milk contains essential nutrients such as protein, B vitamins, iodine and calcium. However, it can also contain saturated fat and so it is a good idea for adults and older children to choose semi-skimmed, 1% or skimmed milks. For children between the ages of one and two years, whole milk is recommended. From two years onwards semi-skimmed milk can be introduced gradually. Skimmed and 1% milks are not suitable for children until they are at least five years old because they have less vitamin A and are lower in calories. If you choose plant-based milk alternatives (e.g. oat, soya or almond drinks), go for those that are lower in sugar and that are fortified with calcium and ideally other nutrients, such as B vitamins, vitamin D and iodine.  For children, fortified dairy alternatives can be offered from 1 year, with the exception of rice milk, which is not suitable for children under 5.
Fruit juices and smoothies provide some vitamins and minerals. But they contain sugar (and therefore calories) and can be acidic, so they can potentially harm teeth and it is best to have them with a meal. Fruit juices and smoothies should be kept one small glass (150ml) per day – this can count as a maximum of one portion of our 5 A DAY but not more than this. This is because they do not contain the fibre that is found in whole fruits and vegetables.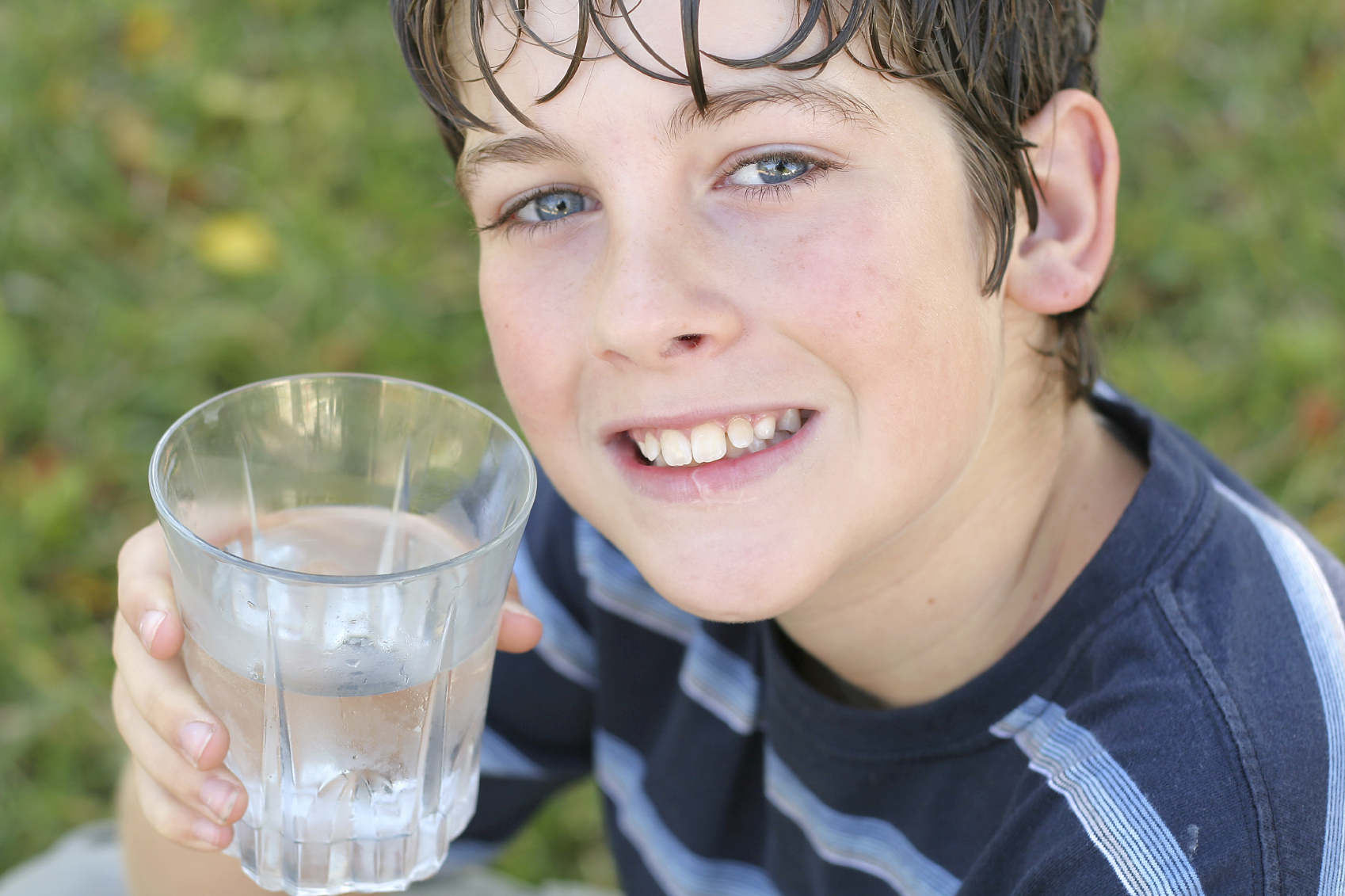 Sugary drinks, such as fizzy drinks, squashes, juice drinks and flavoured waters can contain a lot of sugar and generally provide few nutrients. The sugar adds to our calorie intake and can potentially damage teeth if the drinks are consumed frequently. It is a good idea to limit or avoid consumption of sugary drinks and swap them for diet, sugar free or no added sugar versions.
Sports drinks usually contain some carbohydrate and electrolytes (generally sodium but sometimes others). These can help the fluid from the drink be absorbed into the body more quickly, replace some of the sodium that may be lost when sweating and will also provide some calories. However, these are only really needed when we are training at a high level, e.g. in endurance sports where sweat losses are higher and we may need some extra energy.  If we are doing moderate exercise then water can replenish fluid losses and any sodium lost in sweat will be replaced when foods are eaten. The carbohydrates in the drink will add calories, which we may not need, especially if part of the reason for being active is for weight control. The sugars in sports drinks can also increase the risk of tooth decay.
Energy drinks can be high in sugars and also contain caffeine and other stimulants. They can contain high levels of caffeine and so are not suitable for children.
Alcoholic drinks have a diuretic effect, that is, they make us lose more water in urine, so drinking alcohol may lead to dehydration.  It is important to keep alcohol consumption within the recommended limits (no more than 14 units per week for both men and women). Alcoholic drinks contain calories so it's important to be aware that these will contribute to our calorie intake, for example, a standard (175ml) glass of 12% wine contains about 126kcal and a pint of 5% lager contains about 215kcal.
Food - it may be a surprise to learn that we get on average a fifth  of our total water intake from food! Some foods have a high water content, especially fruits and vegetables, which are usually more than 80% water. Foods like soups and stews, which have lots of water added during preparation, also are a source of water. So food can provide extra water, on top of the 6-8 glasses of fluid we should drink a day.
Hydration for children (up to 11 years)
Infants and young children have a higher proportion of body water than adults. They are also less heat tolerant and may be more likely to get dehydrated, especially when being physically active and in hot climates. Encouraging children to drink fluids regularly is important as children may not remember to have a drink by themselves. 
Our healthy hydration guides for children aged 1-4 years and  5-11 years is available to download  below.
It's a good idea for anyone caring for children to make sure that drinks, particularly water, are available regularly through the day and that children are encouraged to drink plenty of fluids.
Breastfeeding
Babies that are fully breastfed get all the fluid they need from breastmilk. Formula-fed babies may need some extra water in hot weather – note that water for babies under 6 months should be boiled and cooled first. Children aged 1-2 years will be getting most of the nutrients the need from solid foods but breastfeeding can continue alongside this. The World Health Organisation (WHO) recommends breastfeeding alongside appropriate complementary foods up to two years of age or beyond.
Cups for young children
Once children are 12 months old it is best not to have a feeding bottle for drinks. A free-flow cup can be used and, as soon as they are ready, they can move on to an open-lidded cup
How much fluid do children need?
The amount of fluid a child needs depends on many factors including their age, their sex, the weather and how much physical activity they do but generally they should aim to drink about 6-8 glasses of fluid per day (on top of the water provided by food in their diet). We don't have specific recommendations in the UK for how much fluid children should get in a day, but, based on guidance from the EU,  younger children need relatively smaller drinks (e.g. 120–150 ml serving) and older children need larger drinks (e.g. 250–300 ml serving).
What are the best drinks for children?
Water and milk are the best drinks for children as they do not contain free sugars. Higher consumption of sugary drinks has been linked with weight gain in children.  Some drinks like milk and fruit juice provide vitamins and minerals. In the case of fruit juice this also contains free sugars and so they should not be consumed in large amounts.
Drinking sugary drinks too often can also lead to tooth decay, especially if consumed frequently between meals or if teeth are not brushed regularly with fluoride toothpaste.
Some drinks, such as fruit juice, fizzy drinks and squash are acidic, and this can cause dental erosion if they are drunk often. Some drinks such as tea, coffee and some soft drinks may also contain caffeine which is a mild stimulant. Children, especially younger children, should generally have less caffeine than adults due to their smaller size. Caffeine may affect children's sleep if consumed close to bedtime.
For more information about drinks for children see our hydration guides for 1-4 years and 5-11 years.
Practical tips to keep children hydrated
Ensure children have a drink before school i.e. with breakfast, and during breaks/playtime.
Parents, teachers and guardians should offer drinks regularly, especially in hot weather.
Remember that many foods have a high water content and can also contribute to fluid intake. i.e. fruit, vegetables, soup, yogurt.
Always pack a water bottle in a school bag or lunchbox for children heading off to school/outings/other activities. In warm weather this could be frozen to act as an ice pack in a lunchbox.
Healthy hydration for older adults with poor appetites.
Keeping well hydrated is important but if you have a poor appetite or are worried about losing weight you may also want to choose drinks that provide energy and nutrients as well.
Good hydration is important because it can help prevent constipation, urine infections and falls and as we get older our sense of thirst may reduce so it is especially important to drink regularly throughout the day. 
If you are caring for an older person who is in poor health and/or has mobility issues then it's important to make sure drinks are readily available at all times and to provide help with drinking if needed.  The fear of incontinence can mean that people restrict their fluid intakes but this isn't the best solution and may actually make things worse. 
A variety of drinks, both hot and cold can help keep you hydrated, although alcoholic drinks do not count.  Our healthy hydration guide for older adults with poor appetites is available to download by clicking on the link below and outlines the pros and cons of different drinks. 
For more information, see our article on dehydration in the elderly.
These resources provide key information about healthy hydration at different life stages.
Help us improve
---
We'd love to hear your thoughts about this page below.
If you have a more general query, please contact us.
Please note that advice provided on our website about nutrition and health is general in nature. We do not provide any personal advice on prevention, treatment and management for patients or their family members.