Ideas to make healthy eating easy for new parents
There are lots of healthy meals and snacks that you can make that are quick and easy to prepare.
Healthy meal ideas
Try to base your meals on a starchy food, choosing wholegrains or higher fibre varieties where possible, such as potatoes with their skins, wholegrain breads, brown rice or wholewheat pasta, and then add different vegetables and a source of protein (such as beans, pulses, fish, eggs or lean meat). Keep a list of healthy meal ideas that you like. This will make it easier when you shop. If you are struggling to find time to go to the supermarket, why not try shopping online?
Here are some healthy meal ideas to get you started:
Chicken and vegetable stir-fry with reduced salt soya sauce, and boiled brown rice or wholewheat noodles. Why not add garlic, ginger and plain cashew nuts?
Grilled or steamed fish with lemon and some pepper. Serve with steamed potatoes and vegetables.
Lentil and vegetable soup, served with crusty bread.
Spaghetti bolognese with added vegetables and lentils in the sauce (see recipe below).
Fishcakes made with mashed potatoes, tinned salmon and herby low-fat cream cheese (to save time you could use fresh ready-made mash). Serve with peas and sweetcorn.
Baked potato with baked beans and a small portion of grated cheese, with a side salad.
Eggs, scrambled with chopped onion, peppers and mushrooms, on wholemeal toast.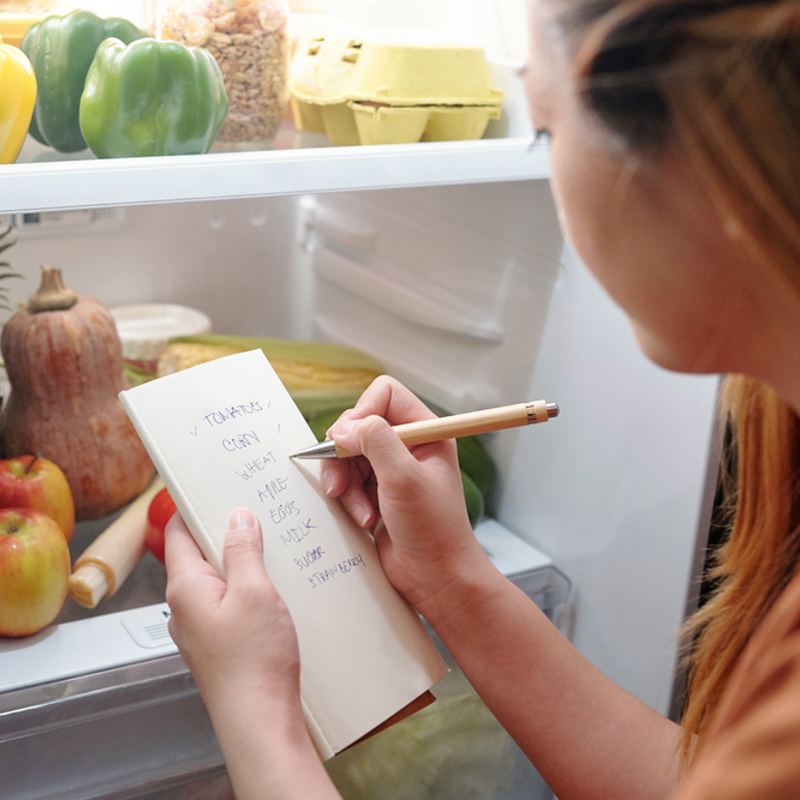 When it feels like you do not have any time between feeds and nappy changes to think about cooking, here are some tips to make healthy eating easier:
Frozen fruit and vegetables can contain just as many nutrients as fresh varieties and are quick and easy to prepare. They can also be good low-cost alternatives and can help to reduce waste as you tend to only use what you need. You can add frozen vegetables to pasta sauces, soups, stews, stir fries and curries, and use frozen fruit in smoothies (maximum of 150ml of smoothie a day) or defrost them to use on top of plain yogurt or porridge.
Try steaming vegetables and fish for a quick and healthy way to cook.
Some meals (such as cottage or fish pie, and bolognese sauce) freeze well, so when you do have time consider doubling recipes and freezing them in meal-sized packs for a quick meal at dinner time.
Invest in a slow cooker – a slow cooker is a great way to save time and still prepare a healthy meal. Prepare the ingredients in the morning when your baby is having a nap, put it in the slow cooker, and at the end of the day, dinner is ready.
Recipe idea for new parents
Although your baby will not be trying solid foods until they are about 6 months, here is a favourite recipe for you and your family to try:
Spaghetti bolognese with lentils
Spaghetti bolognese is a popular dish. This recipe includes extra vegetables to count towards your 5 A DAY, and some of the meat is replaced with lentils to help increase the fibre content and reduce the saturated fat content. What's also great is that it is easy to make in bulk and freezes well – perfect for a quick meal when time is short.
This recipe makes 4 servings – you can double the recipe up and freeze what you do not eat in meal-sized packs.
Ingredients:
1 tablespoon of rapeseed or olive oil
2 medium onion
3 cloves of garlic
2 carrots
6 mushrooms
1 red pepper
2 teaspoons dried oregano
2 teaspoons of dried basil
250g of cooked lentils (you can use canned lentils)
250g lean beef mince
3 tablespoons of tomato puree
2 x 400g cans of chopped tomatoes
Grated parmesan (optional)
400g of wholewheat or fibre enriched spaghetti
Method:
Peel and finely chop the onions and garlic.
Chop the other vegetables into small cubes.
Heat the oil in a heavy base pan and slowly soften the onions.
Add the garlic, carrots, mushrooms, pepper and dried herbs. Cook for about 5 minutes.
Stir in the tomato puree and cook for another couple of minutes, stirring constantly.
Add the mince and continue to cook until the mince is evenly browned and well combined.
Stir in the lentils and chopped tomatoes, bring to the boil, then reduce the heat and simmer for at least 15 minutes to allow the flavours to fuse.
Whilst the sauce is simmering, bring a large pan of water to the boil and cook the spaghetti according to the instructions on pack.
Serve out and top with the sauce, add grated parmesan if desired, and serve with a crunchy side salad.
Adapted from Pasta with lentils and beef recipe 
| | | |
| --- | --- | --- |
|   | Amount (% of the Reference intake) | Reference intake |
| Energy | 567kcal (28%) | 2000kcal |
| Fat | 13g (19%) | 70g  |
| of which saturates | 4g (20%) | 20g |
| Carbohydrates | 82g (36%) | 230g |
| of which sugars | 20 (22%) | 90g |
| Fibre | 14g (46%) | 30g |
| Protein | 35g (64%) | 55g* |
| Salt | 1g (13%) | 6g |
 *amount for breastfeeding women (45g for women who are not breastfeeding)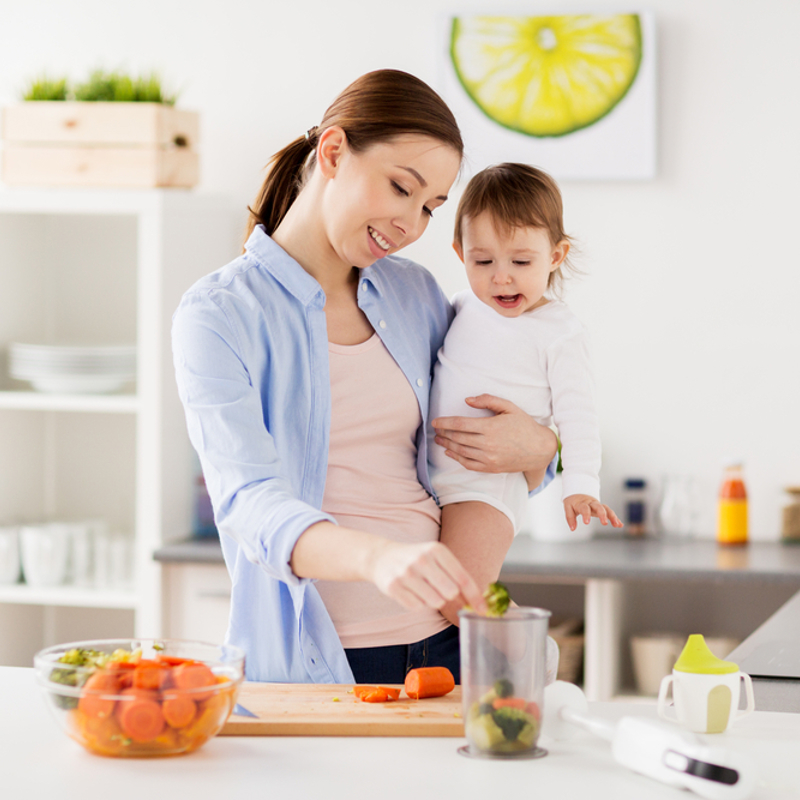 Healthy snacks
Try not to grab sweet snacks like biscuits, chocolate, cakes and pastries, or salty snacks like fried crisps or salted nuts. These foods can be high in fat, sugar and/or salt, so try to have healthier snacks on hand instead.
Examples include:
fresh fruit
fruit yogurt or plain yogurt sweetened with fruit
small wholemeal pitta or wrap with an oily fish dip (made with canned oily fish, low-fat cream cheese, lemon and pepper) and lettuce leaves
wholewheat crackers/crispbreads/oatcakes and reduced fat cheese
rice cakes with peanut butter
breadsticks or carrots/red pepper/cucumber batons with houmous
smoothies – made with plain yogurt/milk, banana and frozen berries (maximum of 150ml of smoothie a day)
plain nuts and seeds (without added salt)
Information reviewed November 2016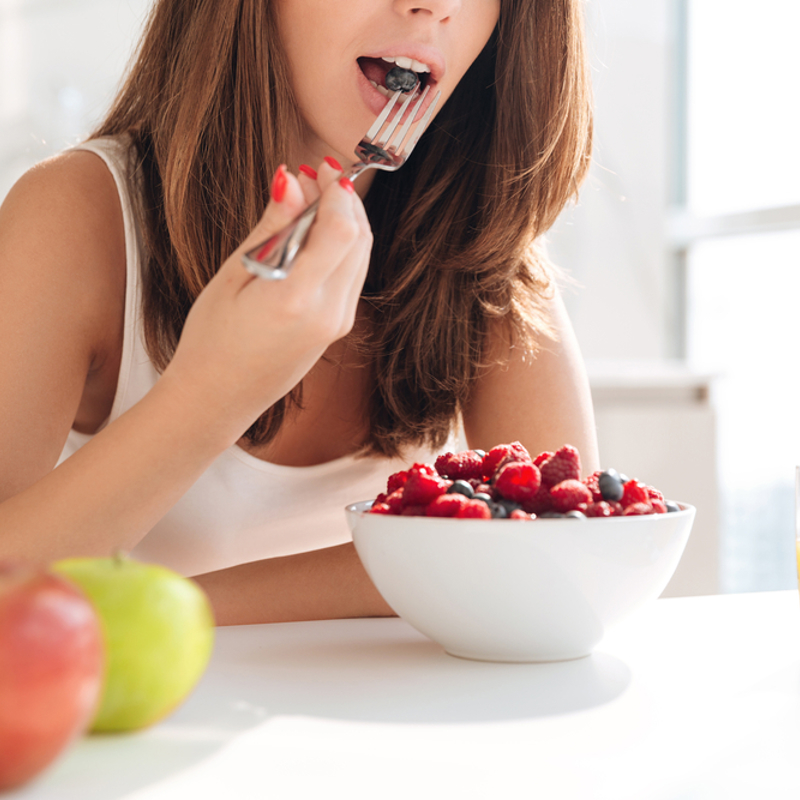 Help us improve
---
We'd love to hear your thoughts about this page below.
If you have a more general query, please contact us.
Please note that advice provided on our website about nutrition and health is general in nature. We do not provide any personal advice on prevention, treatment and management for patients or their family members.