Male fertility, eating disorder and body image
Male fertility, eating disorder and body image
Diet can affect male fertility - eating a healthy, balanced diet with variety and reducing alcohol intake can improve sperm quality and increase the chances of you and your partner conceiving.
Healthy weight
Being underweight or overweight can reduce your chances of conceiving therefore ideally, men should try to maintain a healthy body weight. Even if you don't lose enough weight to have a BMI of 25 or less, losing some weight and increasing your activity levels is likely to be beneficial for your health.
Nutrients that can influence fertility
Certain nutrients are known to influence fertility in men. A healthy, balanced and varied diet will help ensure you get a wide variety of nutrients needed for male fertility. It is better to eat a healthy balanced diet overall rather than just focusing on individual foods.
Selenium - Selenium is needed for normal sperm production and development. Including foods such as Brazil nuts, fish, meat, poultry and eggs in the diet should provide enough selenium without the need for supplements.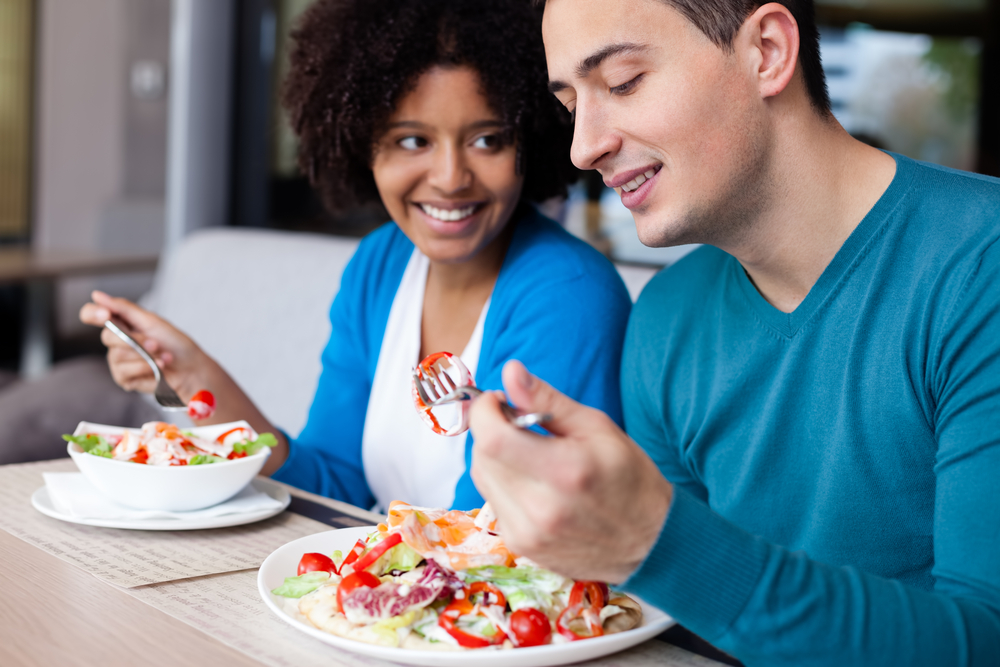 Zinc - Low levels of zinc have also been linked to a low sperm count and reduced testosterone levels. Men can help keep their zinc levels topped up by including meat, dairy products, shellfish (such as oysters), wholegrain cereals and nuts in their diet.
Is there any evidence behind aphrodisiacs?
Not really – but it's interesting that shellfish like oysters are rich in zinc and selenium that contribute to healthy sperm!
Change your lifestyle habits
Excess alcohol can affect sperm quality. Men should not drink more than 14 units of alcohol a week (one unit is equivalent to half a pint of normal strength lager, or a 25ml measure of spirits, a standard glass (175 ml) of wine is around 2 units). 
No of units =
strength (ABV) x volume (ml) ÷ 1,000
multiply the ABV measured as a percentage by the amount of the drink in ml and divide the result by 1000
For example, to work out the number of units in a pint (568ml) of cider (ABV 5.2%):
5.2 (%) x 568 (ml) ÷ 1,000 = 2.95 units
It is best to spread your units over the week rather than having one or two heavy drinking sessions.
Other lifestyle factors, such as smoking, can also influence fertility. Smoking has been linked to low sperm count and sperm motility therefore it's recommended that you should quit smoking if trying for a baby. It will also help your partner give up if she is a smoker too.
If you're thinking about trying for a baby, you can find out more useful information for you and your partner here.
Eating disorders and body image
Eating disorders are often described as a female issue, and there is very little good quality data on how many men are affected by an eating disorder. A survey conducted in 2007 for The NHS Information Centre for health and social care confirmed that although cases of possible eating disorder are concentrated among women, it also showed that a quarter of cases among young people were found in men.
Types of eating disorders include anorexia nervosa, bulimia and binge eating disorder. These types of conditions are complex, with many potential causes and risk factors including:
low self-esteem,

a family history of eating disorders,

depression or substance misuse,

being criticised/bullied for body shape or weight,

being overly concerned with being slim or having a particular body image.

 
The Royal College of Psychiatrists have looked at eating disorders in men and report that:
Eating disorders do seem to have become more common in boys and men.

It may be that men are now seeking help for eating disorders rather than keeping quiet about them.

Eating disorders are more common in occupations which demand a low body weight (or low body fat). These include horse riding, body building, wrestling, boxing, dancing, swimming, athletics, and rowing.
For more information about eating disorders and to seek help visit www.b-eat.co.uk.
Information reviewed September 2018
Help us improve
---
We'd love to hear your thoughts about this page below.
If you have a more general query, please contact us.
Please note that advice provided on our website about nutrition and health is general in nature. We do not provide any personal advice on prevention, treatment and management for patients or their family members.