Breast cancer
Breast cancer is the most common cancer in women in the UK. Around 1 in 8 women will be diagnosed with breast cancer in their lifetime and 1 in 5 of those diagnosed will be below the age of 50.
How to help reduce your risk
Body weight
If you are post-menopausal and are overweight or obese, you may be at greater risk of developing breast cancer.
You should try to maintain a healthy weight. To find out if you have a healthy body weight and for tips on healthy weight loss, click here.
Alcohol
There is strong evidence that drinking alcohol can increase your risk of breast cancer. It's estimated that 22% of breast cancer cases could be prevented by not drinking alcohol. If you do drink, limit your intake to no more than 14 units a week and it is best to spread this evenly over 3 days or more.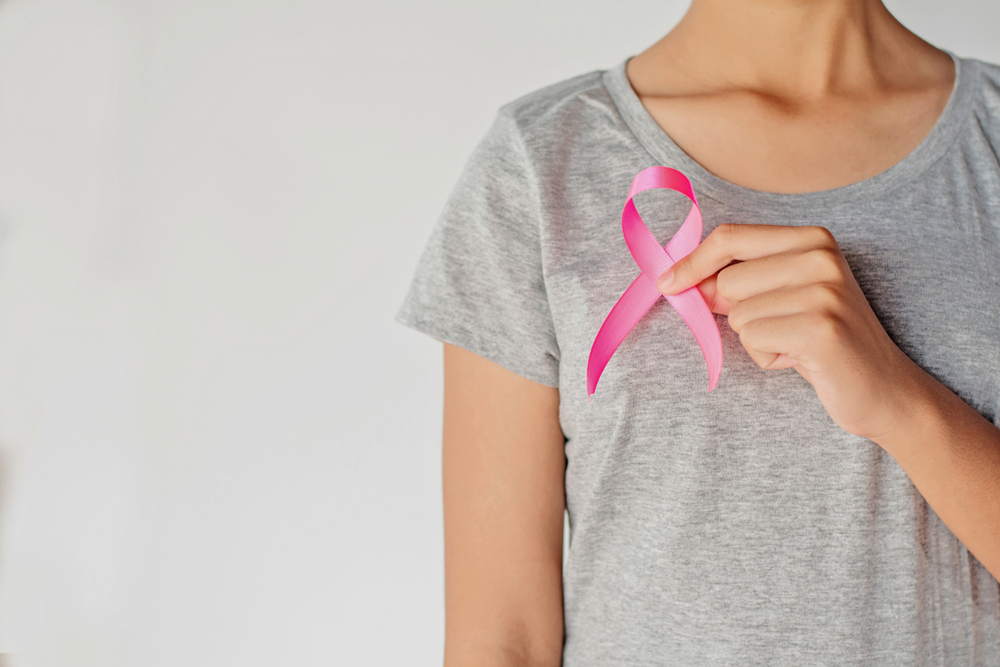 Physical activity
Being physically active can help to reduce your risk of breast cancer. Aim for at least 30 minutes each day. Many types of activity can count towards your daily target. For more information on getting active, click here.
Breastfeeding
If you are a new mum, breastfeeding is not only good for your baby's health; it can also help reduce your risk of breast cancer.
Diet and breast cancer
Although experts agree the food we eat can affect our risk of cancer, it is more difficult to show that single foods or nutrients increase the risk of cancer or help in prevention. This is because our diets include many different foods, and those foods consist of many different nutrients and chemicals that could affect the risk of cancer.
Fact or fiction?
Below we take a look at some of the myths around breast cancer and diet
Dairy foods and breast cancer
There is a lower incidence of breast cancer in most Asian countries, compared to the UK and other Western countries. One factor which has received a lot of attention is the type and quantity of dairy foods consumed. Some people think the high level of milk and milk products consumed in Western countries is contributing to the higher incidence of breast cancer and that the hormones found in milk are to blame.
However there are many differences in the diets and lifestyles of women living in Asian compared to Western countries.
What does the science tell us?
The World Cancer Research Fund, who look at all the evidence between diet and cancer, have not listed dairy foods as a factor that may increase your risk of breast cancer. They list overweight and obesity (postmenopausal), lack of physical activity and alcohol consumption as the main dietary related factors that may increase your risk of breast cancer. Cancer Research UK states that current research does not support a strong link between breast cancer risk and intake of milk and dairy products.
Contrary to common belief, in the EU, cows are not injected with hormones to increase their milk production and the very low levels of hormones that milk naturally contains are unlikely to contribute to the development of breast cancer.
Soy and breast cancer
The messages around soy and breast cancer can be confusing with some claims of increased and other claims of decreased risk.
What does the science tell us?
Soy naturally contains plant-based compounds called phytoestrogens, which are similar in structure to the female hormone, oestrogen. Oestrogen can attach to the cells of some types of breast cancers (oestrogen-receptor positive or ER positive breast cancers), encouraging them to multiply. A high level of oestrogen has been linked to increased breast cancer risk. So it has been suggested that eating soy as part of our diet may increase oestrogen levels in humans but this is not the case. What is interesting is that soy phytoestrogens may actually block oestrogen from attaching to some breast cancer cells helping to slow down their growth.
Although some research does suggest that soy intake is associated with a modest reduction in breast cancer risk, it's too soon to suggest eating more will protect you from breast cancer.
Superfoods and breast cancer
You may have seen stories in the media about certain foods that are supposed to decrease the risk of cancer. These foods are often termed 'superfoods'.
What does the science tell us?
There is no official definition of a 'superfood' and under current EU laws the term can't be used in the marketing of foods and drinks. No single food contains all the components the body needs to be healthy and function efficiently. And while certain nutrients and components may have health benefits, much of the available evidence comes from experiments in animals or cells grown in a lab, making any findings not as relevant to the average person. Studying whether a chemical found in goji berries may kill cancer cells in a dish in the lab doesn't mean that eating lots of goji berries will prevent you from getting cancer.
Even when research is conducted in people, superfood research tends to be limited as it often tests chemicals and extracts in concentrations not found in nature and that are not reflective of intake in our diet.
Also, if we stick with only a narrow range of fruits and vegetables, or consume large quantities of one, we are likely to miss out on the potential benefits of a wide range of nutrients and plant-based compounds.
The idea of a superfood may also let people believe that they can somehow balance out other unhealthy habits. No single food in isolation can compensate for an unhealthy eating pattern. Including a superfood does not combat a diet high in calories, saturated fat, sugars, salt and alcohol, or being overweight and having low levels of activity.
Last reviewed December 2016. 
Help us improve
---
We'd love to hear your thoughts about this page below.
If you have a more general query, please contact us.
Please note that advice provided on our website about nutrition and health is general in nature. We do not provide any personal advice on prevention, treatment and management for patients or their family members.