Healthy eating and the menopause
Healthy eating and the menopause
The general advice to eat a healthy, varied diet, based on starchy foods and plenty of fruit and vegetables, and low in saturated fat, sugar and salt, applies to women of all ages regardless of their life-stage. You can find more information on eating healthily here.
For menopausal and post-menopausal women there are aspects of the diet that are especially important, in order to reduce the risk of developing cardiovascular disease and osteoporosis and to help with day-to-day menopausal symptoms associated with lower levels of oestrogen.
Diet and bone health
To help to maintain bone strength and density and prevent osteoporosis, you should look out for two nutrients that are associated with bone health: calcium and vitamin D.
Calcium
The recommended intake of calcium is 700 mg per day for adults. You should be able to get all the calcium you need from your diet. Important sources of calcium are:
dairy products, such as milk, yogurt or cheese (go for the lower fat options);
products fortified with calcium, such as bread (most bread flour is fortified with calcium), breakfast cereals and dairy alternatives (e.g. soya drinks);
some green leafy vegetables such as watercress and kale (but not spinach);
sesame seeds;
dried figs;
and fish that is eaten with bones (such as sardines).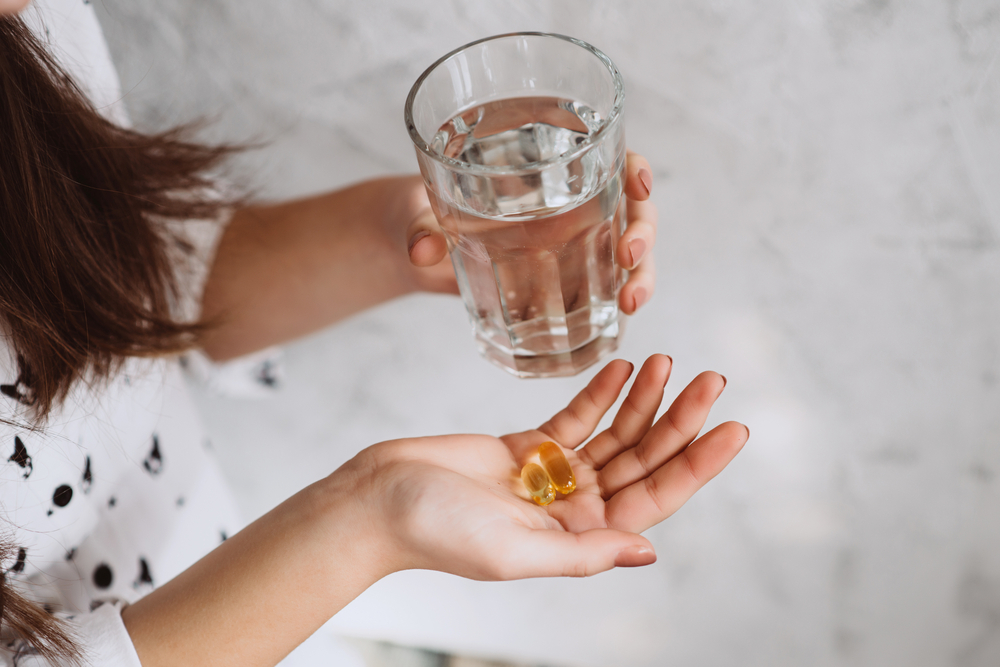 Vitamin D
Vitamin D is also important for bone health as it helps the absorption of calcium from foods. Vitamin D is produced in our skin when we are exposed to sunlight.
Between April and September, you will usually get sufficient amounts of vitamin D from exposure to sunlight through time spent outdoors and from dietary sources. Between October and March, the sunlight is not strong enough to produce vitamin D in our skin and we have to rely on dietary sources. Important dietary vitamin D sources are:
oily fish;
eggs;
red meat;
and foods fortified with vitamin D by the manufacturer, such as fat spreads, breakfast cereals and dairy products.
As vitamin D is found in only a small number of foods, it might be difficult to get enough from foods that naturally contain vitamin D and/or fortified foods alone. So it is recommended that everyone takes a daily supplement containing 10 μg of vitamin D during this period. People who have limited exposure to the sun (e.g. those who cover their skin or stay indoors most of the time) and those from ethnic minority groups with dark skin are recommended to take a daily supplement containing 10 μg of vitamin D all year round as they are at an increased risk of vitamin D deficiency.
For women at risk of osteoporosis, high intakes of vitamin A may have a negative effect on bone health. If you regularly eat liver and liver products you should avoid taking supplements containing more than 1.5 mg of vitamin A per day. Watch out for fish liver oil supplements as they are also often high in vitamin A.
Diet and heart health
Women who are post-menopausal have an increased risk of cardiovascular disease and so it is important to make sure you are eating foods that help to protect your heart. Lots of information on heart health can be found here.
Top dietary tips for a healthy heart include:
Cut down on saturated fat and replace with unsaturated fats – for example swap butter and coconut oil for rapeseed, olive and sunflower oils and spreads made from these.
Have fish twice a week – once should be an oily type (such as mackerel, salmon or sardines).
Watch your salt intake – aim for less than 6 g a day. Check the nutrition label on foods and don't add salt in cooking or at the table.
Include high-fibre and wholegrain foods in your diet, such as wholegrain breakfast cereals, wholewheat pasta and pulses (e.g. lentils and beans). Fruit and vegetables are good fibre providers too.
Don't drink alcohol to excess – adults should drink no more than 14 units a week, with several alcohol-free days each week.
Some women may put on weight after the menopause due to physiological and lifestyle changes associated with this stage of life. Excess weight gain increases your risk of developing certain diseases, such as cardiovascular disease, cancer and type 2 diabetes (see here for further information).
As post-menopausal women have an increased risk of cardiovascular disease, it is important to make sure that lifestyle factors, such as weight gain, are managed so they do not contribute further to the risk of developing this condition. A healthy, varied diet and regular exercise can help you lose weight gradually and keep it off. Tips on healthy weight loss can be found here.
To find out if you are overweight ask your GP to measure your BMI (body mass index) - a healthy BMI is 18.5-25 kg/m2 - or use the NHS online calculator.
Waist circumference (size) can also be used to assess your risk of obesity-related diseases (i.e. cardiovascular disease, type 2 diabetes and cancer) as these conditions are affected by where your body fat is stored, as well as by your weight. To assess your waist circumference, measure around your middle at a point half-way between your lower rib and top of your hips. Women with a waist circumference of 80 cm and over are at an increased risk of obesity related diseases; those with a waist circumference of 88 cm and over are at a very high risk.
Diet, supplements and menopausal symptoms
A number of dietary factors, supplements and herbal remedies have been suggested to be of benefit in relieving symptoms of the menopause. In particular there has been a lot of interest in the role of phytoestrogens (the two main types are isoflavones and lignans) as they are similar in structure to oestrogen and therefore may help to alleviate some of the symptoms of low oestrogen levels associated with the menopause. These substances are found in plants.
Dietary sources of isoflavones include soyabeans, legumes, lentils and chickpeas and foods made from these such as texturised vegetable protein, tofu and soya drinks.
Dietary sources of lignans include cereals, linseeds and fruit and vegetables.
There is some evidence that consuming isoflavones in foods or as supplements can help to reduce the menopausal symptoms of hot flushes and vaginal dryness. However, more studies are needed to confirm whether isoflavone supplements are safe and effective in reducing menopause symptoms.
There are a range of herbal remedies on the market claiming to combat menopausal symptoms but currently there is a lack of scientific studies on their safety and effectiveness. Speak with your GP before taking any of these as they may have side effects or interact with other medications.
Information reviewed November 2016
Help us improve
---
We'd love to hear your thoughts about this page below.
If you have a more general query, please contact us.
Please note that advice provided on our website about nutrition and health is general in nature. We do not provide any personal advice on prevention, treatment and management for patients or their family members.