Nearly a third of women are overweight and an additional quarter of women are obese.
Obesity can increase the risk of a number of serious health conditions, such as:
Type 2 diabetes
Heart disease and stroke
Some types of cancer, such as breast cancer and bowel cancer
Obesity can also increase the risk of back and joint pain, and is linked with psychological problems, such as depression and low self-esteem.
Obese women are more likely to have problems conceiving and are at greater risk of having complications during pregnancy, such as gestational diabetes (pregnancy diabetes), pre-eclampsia (high blood pressure), miscarriage and the need for a Caesarean delivery.
If you are overweight or obese, the best way to reduce your body weight is to eat a healthy diet, reducing the calories you eat and exercise regularly. For more information on healthy weight loss, click here.
You shouldn't try to lose weight whilst you are pregnant, as this may not be safe. For more information on body weight during pregnancy, click here.
Emotional or 'comfort' eating
Emotional eating is described as eating in response to negative feelings such as anger, anxiety or depression. It is possible that emotions can make us less sensitive, or respond less well, to hunger and fullness signals that usually act to help us decide how much we eat. It has been noted that this type of eating is more common in women, and it is also more common in obese than healthy weight individuals.
Emotional eating often leads to people choosing sweet, and often fatty, energy dense foods. Although people eating such foods may be doing so to relieve negative emotions, the lifting of mood after eating such foods seems to be short-lived.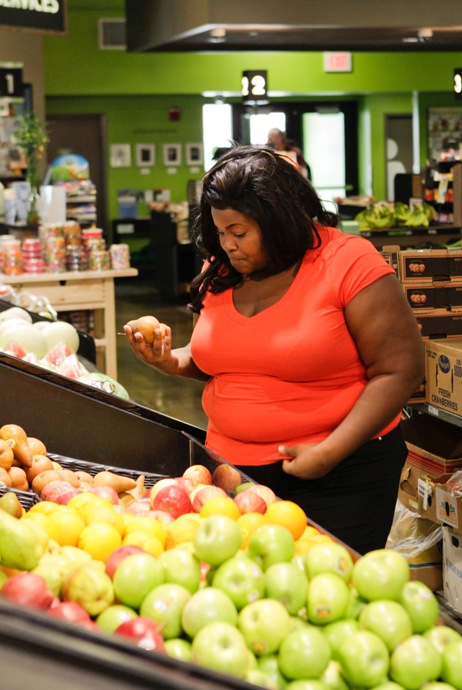 To try and prolong mood improvement, some individuals may start eating large quantities of these foods (binge eating). Consumption of energy dense foods over long periods of time (as may occur with comfort eating) is a risk factor for weight gain. Many studies associate comfort eating with greater risk of obesity.
Emotions, such as feeling angry, sad or stressed, can sometimes be hard to avoid but cognitive behavioural therapy (CBT) may be a way of helping you to manage your feelings by changing the way you think and behave. You can find more information on CBT on the NHS Choices website (click here).
If you're experiencing difficult feelings most of the time which is impacting on your life, seek advice from a healthcare professional.
Last reviewed December 2016. 
Help us improve
---
We'd love to hear your thoughts about this page below.
If you have a more general query, please contact us.
Please note that advice provided on our website about nutrition and health is general in nature. We do not provide any personal advice on prevention, treatment and management for patients or their family members.