Nutrition recommendations for women
How much should I be eating?
Recommendations for nutrients are a guideline, not a target, because everyone is individual and will vary in size and activity levels.
As a guide, the government dietary recommendations for adult women (per day) are:
| | |
| --- | --- |
| Energy | 2000 kcal |
| Fat | No more than 78 g (or 35% food energy) |
| Saturated fat | No more than 24 g (or 11% food energy) |
| Carbohydrate | At least 267 g (or 50% food energy) |
| Free sugars | No more than 27 g (or 5% of food energy) |
| Protein | 45 g |
| Fibre | 30 g |
| Salt | No more than 6 g |
The reference intake figures found on some food packaging (e.g. those that use traffic light labelling) can also be used as a guide. For more information on understanding food labels, click here.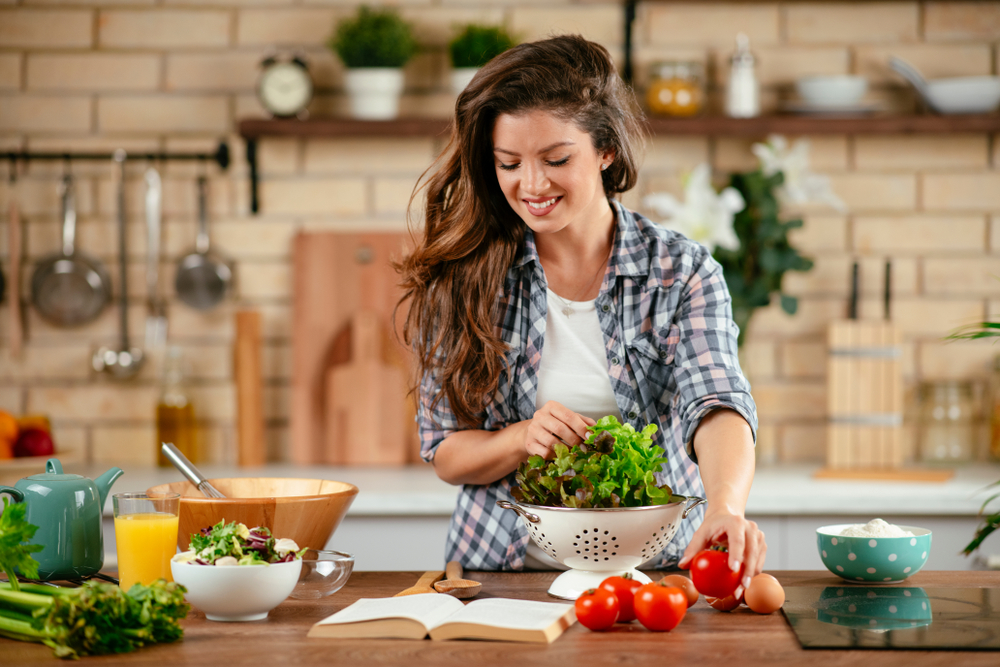 | | |
| --- | --- |
| Vitamin A | 600 µg/d |
| Thiamin | 0.8 mg/d |
| Riboflavin | 1.1 mg/d |
| Niacin | 13.2 mg/d |
| Vitamin B6 | 1.2 mg/d |
| Folate | 200 µg/d* |
| Vitamin B12 | 1.5 µg/d |
| Vitamin C | 40 mg/d |
| Vitamin D | 10 µg/d |
| Calcium | 700 mg/d |
| Phosphorus | 550 mg/d |
| Magnesium | 270 mg/d |
| Potassium | 3500 mg/d |
| Iron | 14.8 mg/d (19-50y) 8.7 mg/d (50+y) |
| Zinc | 7.0 mg/d |
| Copper | 1.2 mg/d |
| Selenium | 60 µg/d |
| Iodine | 140 µg/d |
*Folate: it is recommended that women of child bearing age take a 400µg folic acid supplement daily until the 12th week of pregnancy. This is to help prevent birth defects of the central nervous system, such as spina bifida, in the baby.
These values are known as Reference Nutrient Intakes (RNIs), the amount of a nutrient that is needed to ensure that the needs of nearly all of the population group (97.5%) are being met. RNIs are not recommendations for individual people, but estimates of the requirements for groups of people.
Some nutrient requirements are higher during pregnancy and breastfeeding. See our Nutrition for Pregnancy webpage.
Iron intakes
Iron is important for the development of red blood cells, which carry oxygen around the body. It also helps the immune system work as it should and can help to reduce tiredness.
Adult women aged 19-50 years have higher requirements for iron compared to men and older women. This is because menstruation (a woman's monthly period) can use up your iron reserve, especially if you have heavy periods or have a diet low in iron.
Over a quarter of women may have inadequate iron intakes. Low iron intake increases the risk of iron deficiency anaemia.
How to increase your iron intake
Iron can be found in offal (like liver and kidney), red meat, fish and shellfish (e.g. canned sardines, cockles and mussels), beans, pulses, nuts and seeds, quinoa, wholemeal bread and dried fruit.
Although liver is a good source of iron, you should avoid it if you are pregnant. This is because liver is also rich in vitamin A which, in large amounts, can harm your unborn baby.
Iron found in plant foods is less readily absorbed than that from animal products like meat and eggs. So if you are vegetarian or vegan you may need to be particularly careful to make sure you get enough iron in your diet. However, vitamin C can help your body to absorb iron from plant sources so try to combine foods or drinks high in vitamin C with those containing iron (e.g. adding broccoli into a bean casserole or red pepper to a tofu stir-fry).
Tea and coffee contain polyphenols (plant compounds) which can bind to iron and reduce how much of it is absorbed into the body so try to avoid drinking them with your meals.
For more information on healthy eating for vegetarians and vegans click here.
Calcium intakes

Around 1 in 10 adult women have intakes of calcium which are likely to be inadequate.
Try and make sure you have enough calcium in your diet. Calcium helps to maintain strong bones and teeth as well supporting the normal functioning of nerves and muscles.
Calcium is particularly important for women because, compared to men, they are at higher risk of osteoporosis (fragile bones) as they get older. You can find out more about osteoporosis on px of this article.
How to increase your calcium intake
Calcium is found in:
milk, cheese, yogurt, fromage frais
some green leafy vegetables (such as kale and rocket)
calcium-fortified dairy-alternatives such as soy drinks and yogurts (check the label)
canned fish (where soft bones are eaten)
breads (white, brown and wholegrain)
For more information on the dietary sources of calcium click here.
See Basics of nutrition for more information on what iron and calcium do in the body.
Information reviewed July 2018
Help us improve
---
We'd love to hear your thoughts about this page below.
If you have a more general query, please contact us.
Please note that advice provided on our website about nutrition and health is general in nature. We do not provide any personal advice on prevention, treatment and management for patients or their family members.