Guest blog - Elsie Widdowson and her blue plaque
Dr Elsie Widdowson BSc, PhD, CH, CBE, FRS was Head of Infant Nutrition Research at the Dunn Nutrition laboratory (1906 -2000) had a huge impact on nutritional research. As a past British Nutrition Foundation president (1986 to 1996), and a pioneer and inspirational force in the field of nutrition, we were delighted to support a blue plaque unveiled in June 2021 in her honour.
To celebrate Elsie's life and many achievements including the first food composition tables, testing of wartime rations and the mandated addition of vitamins and minerals to food, including the introduction of calcium to loaves of bread, we have invited her biographer and friend Dr Margaret Ashwell OBE, President of the Association for Nutrition, to share her blue plaque story in this guest blog.
Elsie Widdowson must be one of the most famous British nutrition scientists. She, and her scientific partner of 60 years Robert McCance, were responsible for the first comprehensive Tables of Food Composition and these continue to be well used to this day bearing their name. Their work encompassed much more. They studied body composition, mineral metabolism, normal and retarded growth and the physiology of the newborn amongst many other areas. Even after McCance's death in 1993, Elsie remained scientifically active until her own death in 2000.
I knew Elsie from the early 1970s. She was my great friend and mentor. A year after her death, I was sitting in her beautiful garden in Barrington, about 6 miles outside Cambridge, with Peter and Heather Allen, who bought Elsie's house. Peter (and his father before him) had helped Elsie to maintain this garden for many years. "Have you thought about getting a blue plaque for Elsie?", said Peter. What a great idea!  But hang on. Turns out the person has to be dead for 10 years before a plaque can be considered.
I'm ashamed to say that I forgot all about the idea until June 2019, when I paid another of my regular visits to Barrington. "Done anything about that plaque yet?", Peter questioned. Ok. Message taken. I contacted the Cambridge Past, Present and Future Committee and was told what to do. Getting the funding was fairly easy because Elsie was so well loved and had worked hard for so many organisations in our field. The British Nutrition Foundation, The British Dietetic Association, The Nutrition Society and The Royal Society quickly promised to support the project.
In Spring 2020 we had the first lockdown for COVID-19 pandemic. This was a good time to get the ball rolling. I contacted Ann Prentice and Alison Paul [1] to help me think about the location of the plaque and the words to go on it. Location was tricky. The rules are that it can be at the person's workplace or at their home. So, Cambridge or Barrington? Ann Prentice put it beautifully: "My head says Cambridge, but my heart says Barrington". So, Barrington it was, and this was when I made contact with the Chair of The Barrington Society, Jill Jones.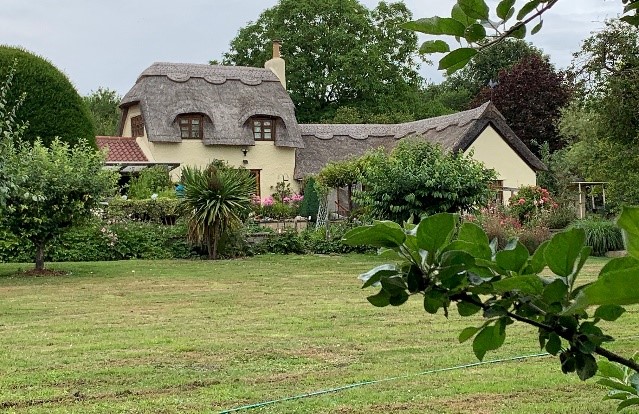 It would have been perfect to put the plaque on Elsie's beautiful house, but it is down a road that only leads to the River Rhee, which flows along the bottom of her garden. No one would see it. It was Jill, who knew quite a bit about Elsie and had mounted several displays about her in Barrington, who came up with a brilliant idea. "Let's put it on the house which formed part of the bakery that baked all the bread for Elsie's studies. It's right on the very large village green and will be seen by lots of people". Kate Wootton, who lives in this house was delighted. All plans were then put on hold for the rest of 2020 for obvious COVID-19 reasons.
However, Ann, Alison and I continued to work on the words to put on the plaque. How do you sum up all the work that Elsie did in just a few words? We would have liked to have been more comprehensive and included Elsie's work on the chemical composition of foods and all her other work mentioned above. In the end we went for words which would mean something to the general public. We focused on Elsie's work on developing and testing possible wartime rations and the need to fortify the flour for white bread.
Kate, Jill, and I got together on a cold January 2021 day to plan the unveiling ceremony. We shivered outside Kate's house due to Lockdown restrictions. Jill suggested June 27th would be a good date for the unveiling because that coincided with Barrington Open Gardens when lots of visitors to the village could be ensured and life might be back to normal.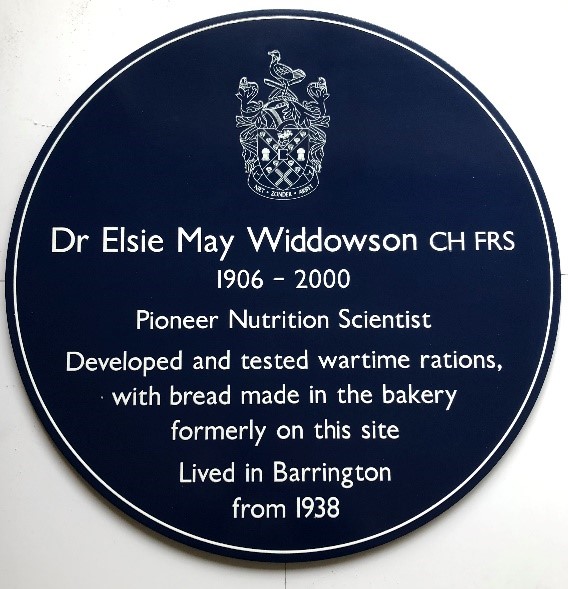 As Elsie was such a popular lady in Barrington, we needed to plan an event for the local community as well as the nutrition community. We decided to have two ceremonies. The first ceremony would be by invitation only and held inside the magnificent Barrington Hall. The second was to be on the village green and open to all. We could do this because the plaque is not unveiled 'in situ' but on an easel and put in place later. As it happened, the plaque was unveiled on three separate occasions. Because of ongoing COVID-19 restrictions, we had to have two ceremonies inside Barrington Hall plus the one on the village green. I wonder if any other plaque has had three unveiling ceremonies?
One of the delights of putting together the special invitees list was my success in locating some of Elsie's colleagues, friends, or their descendants. I managed to track down the McCance family and we had Robert McCance's grandson and great granddaughter with us in Barrington. David Lister had worked with McCance and Widdowson and it was good to have him and his son Richard, former BBC correspondent, with us. Peter Allen (who had given me the original idea for the project) did not escape lightly. We asked him to speak alongside me at the ceremony. Whereas I focused on Elsie's scientific contributions using my three props of an apple, a loaf of bread and a kitten, Peter was able to tell some light-hearted anecdotes about Elsie and Mac.
The event was attended by many Registered Nutritionists and Registered Dietitians. They asked about my next Elsie project. How's about a film?  Great idea. Any famous filmmakers out there or people with connections to one?
[1] Ann Prentice and Alison Paul both worked at MRC Dunn Nutrition Unit, Cambridge where Elsie Widdowson was Head of Infant Nutrition Research between1968–73. The Dunn Nutrition Unit further to restructuring became MRC Human Nutrition Research (HNR) and the HNR building was named The Elsie Widdowson Laboratory, with Ann Prentice as Director. Alison Paul was author of the 4th Edition of McCance and Widdowson's The Composition of Foods (1978)
Useful Links
Ashwell, M. ed., McCance and Widdowson: a scientific partnership of 60 years, 1933–1993 British Nutrition Foundation, 1993
If you want to hear more about Elsie, click on this link to hear Great Lives with Helen Sharman and Dr Margaret Ashwell  : https://www.bbc.co.uk/programmes/b092mbm2
Children might enjoy watching Absolute Genius about Elsie: https://www.youtube.com/watch?v=AFsIHG_7Ir4
Help us improve
---
We'd love to hear your thoughts about this page below.
If you have a more general query, please contact us.
Please note that advice provided on our website about nutrition and health is general in nature. We do not provide any personal advice on prevention, treatment and management for patients or their family members.