December 2022
The December 2022 issue of Nutrition Bulletin is available online.
Articles featured include:
Editorial
The BBSRC-DRINC Research Programme: Successes and future perspectives - J.L. Buttriss *FREE ACCESS*

Why nutrition education is essential for our future doctors - G. Jones, A. Jackson *FREE ACCESS*
Review
The development of wearable technologies and their potential for measuring nutrient intake: Towards precision nutrition - Z. Shi, X. Li, Y. Shuai, Y. Lu, Q. Liu *FREE ACCESS*
Saturated fats, dairy foods and cardiovascular health: No longer a curious paradox? - D.I. Givens *OPEN ACCESS*
Original Research
Nutritional intake and food sources in an adult urban Kenyan population - C. P de M. Vila-Real, A.S. Pimenta-Martins, C.N. Kunyanga, S.K. Mbugua, K. Katina, N.H. Maina, A.M.P. Gomes, E.C.B. Pinto *OPEN ACCESS*

Perception and knowledge of low- and no-calorie sweeteners in multidisciplinary stakeholders from Spain - A.I.L. García, M. de L. Samaniego-Vaesken, A.M. Puga, T. Partearroyo, G. Varela-Moreiras *OPEN ACCESS*

Snacking habits of Brazilian adolescents: Brazilian National Dietary Survey, 2017–2018 - L. Silva Monteiro, P.R. Melo Rodrigues, T. Meirelles de Vasconcelos, N. Sperandio, E.M. Yokoo, R. Sichieri, R. Alves Pereira

Underreporting of energy intake is not associated with the reported consumption of NOVA-classified food groups in socially vulnerable women - B.M.C. Santos, D.R.S. Praxedes, A.E. Silva-Junior, M. de Lima Macena, T.M. de Menezes Toledo Florêncio, N. Bezerra Bueno

Examining dietary behaviours, diet quality, motives and supplementation use in physically active individuals following vegetarian-based eating patterns - J.C. Craddock, E.P. Neale, G.E. Peoples, Y.C. Probst

Is breakfast consumption among Brazilian schoolchildren associated with an ultra-processed food dietary pattern? - A.L. Lages Belchor, M.A. Altenburg de Assis, V. Guimarães Cezimbra, L. Jeremias Pereira, D.M. Teixeira Roberto, S. de Castro Giacomelli, F.G. Kunradi Vieira, P.F. Di Pietro, P. de Fragas Hinnig

Attention to detail: A photo-elicitation study of salience and packaging design for portion control and healthy eating - R. Chu, T. Tang, M.M. Hetherington *OPEN ACCESS*
Emerging Research
An innovative food system approach to diversifying protein intake: Protein-I: Shared Island sustainable healthy nutrition - L. Brennan, A. O'Gorman, S. Barth, T. Cadden, M. Dean, F. Doohan, M. Henchion, R. McIvor, B. McNulty, C. O'Donoghue, S. O'Reilly, J. Rafferty, H.M. Roche, F. Thorne, M. Wallace, D. Wright, A.P. Nugent *OPEN ACCESS*

Approaches to nutrition intervention in plaque psoriasis, a multi-system inflammatory disease—The Diet and Psoriasis Project (DIEPP) - S. Zanesco, W. Hall, R. Gibson, C. Griffiths, T. Maruthappu *OPEN ACCESS*
News and Views 
Cooking at home to retain nutritional quality and minimise nutrient losses: A focus on vegetables, potatoes and pulses - S. Coe, A. Spiro *FREE TO READ*
Full details of all the journal articles in this and past issues of Nutrition Bulletin (back to 1968) can be found on the journal website.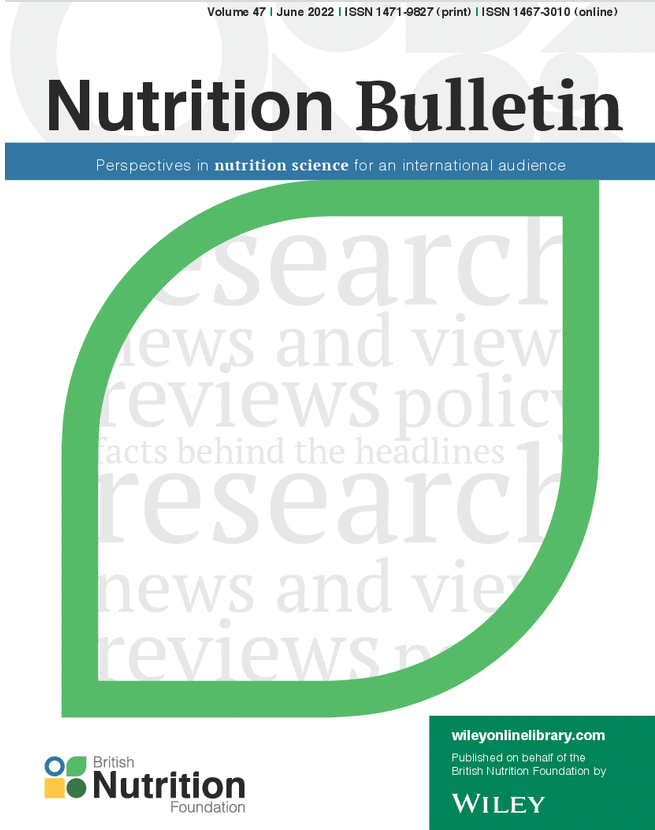 Help us improve
---
We'd love to hear your thoughts about this page below.
If you have a more general query, please contact us.
Please note that advice provided on our website about nutrition and health is general in nature. We do not provide any personal advice on prevention, treatment and management for patients or their family members.