June 2023
The June 2023 issue of Nutrition Bulletin is available online.
Articles featured include:
Editorial
Processing the evidence to evaluate mechanisms, costs and future solutions - Ciarán G. Forde *FREE ACCESS*
Review
Qualitative menu labelling in university restaurants and its influence on food choices: A systematic review and synthesis without meta-analysis - N Fogolari, A.D. Souza, G.L. Bernardo, P.L. Uggioni, R.C. Oliveira, V.M. Rodrigues, R.P.C. Proença, A.C. Fernandes
Original Research
The Mini Nutritional Assessment-Short Form is more effective in predicting clinical outcomes among hospitalised patients with overweight than the Nutritional Risk Screening-2002 - A.J. Pereira Bertini de Oliveira, C.R. de Goes, C. Gonçalo Domiciano, Nathália Luíza Ferreira, Lívia Garcia Ferreira
Impact of a daily legume-based meal on dietary and nutritional intake in a group of omnivorous adults - H. Ferreira, M. Vasconcelos, A.M. Gil, B. Oliveira, E. Varandas, E. Vilela, K. Say, J. Silveira, E. Pinto
Anaemia in adolescent women: A priority for the nutrition agenda in Mexico. A comparison of data from the ENSANUT 2012 and 2018–2019 surveys - F. Mejía-Rodríguez, E.Y. Kim-Herrera, A.D. Quezada-Sánchez, M. Venosa López, S. Pacheco-Miranda, T. Shamah-Levy, A. Bonvecchio Arenas, A. García Guerra, V. De la Cruz-Góngora
Dietitians' and nutritionists' knowledge and views on aspects of health claims regulation in the UK: Do we inadvertently shoot the messenger? - C. Ruxton, M. Ashwell
A comparison of diet quality and cardiovascular and inflammatory responses between aerobically trained male adults following either a long-term vegan or omnivorous dietary pattern - J.C. Craddock, Y.C. Probst, E.P. Neale, N. Geraghty, G.E. Peoples *OPEN ACCESS*
Dietary assessment of 101 para-athletes from team and individual sports - C.A.L. Sasaki, T.H.M. da Costa
Effects of antioxidant supplementation on bone mineral density, bone mineral content and bone structure in healthy men during 60 days of 6° head-down tilt bed rest: Results from a randomised controlled trial - K. Austermann, N. Baecker, S.R. Zwart, R. Fimmers, P. Stehle, S.M. Smith, M. Heer *OPEN ACCESS*
Emerging Research
Epigenetic effects of folate and related B vitamins on brain health throughout life: Scientific substantiation and translation of the evidence for health improvement strategies - A. Caffrey, Y. Lamers, M. M. Murphy, N. Letourneau, R. E. Irwin, K. Pentieva, M. Ward, A. Tan, A. Rojas-Gómez, L. A. Santos-Calderón, J. Canals-Sans, B. M. Y. Leung, R. Bell, G. F. Giesbrecht, D. Dewey, C. J. Field, M. Kobor, C. P. Walsh, H. McNulty *OPEN ACCESS*
News and Views
How do we differentiate not demonise – Is there a role for healthier processed foods in an age of food insecurity? Proceedings of a roundtable event - S. Lockyer, A. Spiro, S. Berry, J. He, S. Loth, A. Martinez-Inchausti, D. Mellor, M. Raats, M. Sokolović, S. Vijaykumar, S. Stanner *FREE ACCESS*
Annual Lecture
Tackling inequalities in diet: A 20-year perspective - A. Tedstone
Full details of all the journal articles in this and past issues of Nutrition Bulletin (back to 1968) can be found on the journal website.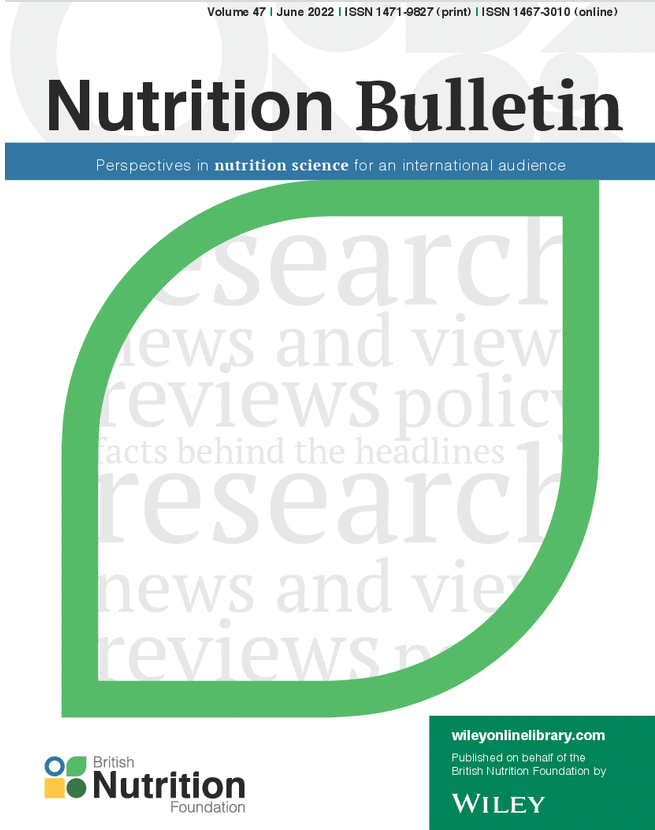 Help us improve
---
We'd love to hear your thoughts about this page below.
If you have a more general query, please contact us.
Please note that advice provided on our website about nutrition and health is general in nature. We do not provide any personal advice on prevention, treatment and management for patients or their family members.