September 2022
The September 2022 issue of Nutrition Bulletin is available online.
Articles featured include:
Editorial
Environmental drivers of obesity: Individual willpower versus societal responsibility - A.A. Lake, C. O'Malley, H. J. Moore *FREE ACCESS*

Vitamin D: One hundred years on - J. L. Buttriss, S. A. Lanham-New *FREE ACCESS*
Review
Time trends and disparities in combined overweight and obesity prevalence among children in China - L. Gao, Y. Wu, S. Chen, H. Zhou, L. Zhao, Y. Wang *FREE ACCESS*
Original Research
Barriers to a healthy diet and physical activity in Mexican adults: results from the Mexican Health and Nutrition Survey - G. A. Zavala, T. S. Ainscough, A. C. Jimenez-Moreno *OPEN ACCESS*

Interaction of polygenic variants specific for abdominal obesity risk with energy metabolism in large Korean cohorts - S. Park

Campus‐based programmes to address food insecurity vary in leadership, funding and evaluation strategies - R. L. Hagedorn-Hatfield, R. Richards, Z. Qamar, L. B. Hood, M. J. Landry, M. R. Savoie-Roskos, J. L. Vogelzang, S. S. Machado, K. OoNorasak, C. L. Cuite, E. Heying, M. M. Patton-López, A. M. Snelling *OPEN ACCESS*

Impact on purchasing behaviour of implementing 'junk free checkouts': A pre‐post study - A. Fildes, P. Lally, M. A. Morris, A. Dalton, H. Croker *OPEN ACCESS*

Associations among social engagement, meal‐related behaviour, satisfaction with food‐related life and wellbeing in Danish older adults living alone - I. Faber, T. Bjørner, T. Buch-Andersen, F. J. A. Perez-Cueto *OPEN ACCESS*
Emerging Research
PROtein enriched MEDiterranean diet to combat undernutrition and promote healthy neuroCOGnitive ageing in older adults: The PROMED‐COG consortium project - R. F. O'Neill, L. Brennan, F. Prinelli, G. Sergi, C. Trevisan, L. C. P. G. M. De Groot, D. Volkert, S. Maggi, M. Noale, S. Conti, F. Adorni, J. V. Woodside, M. C. McKinley, B. McGuinness, C. Cardwell, C. T. McEvoy *OPEN ACCESS*
News and Views 
EDESIA: Plants, Food and Health: A cross‐disciplinary PhD programme from crop to clinic - I. M. Clark, A. Cassidy, A. Heppleston, M. Bal, Y. Morgan, A. Nicklin, Y. Yue, A. Zardkoohi, C. Martin *OPEN ACCESS*
Obituary
Caroline Drummond MBE, Hon DSc, NSch, FRAgS, FIAgM, FRSA, FSB, CEnv, BSc (Hons) Agric
Full details of all the journal articles in this and past issues of Nutrition Bulletin (back to 1968) can be found on the journal website.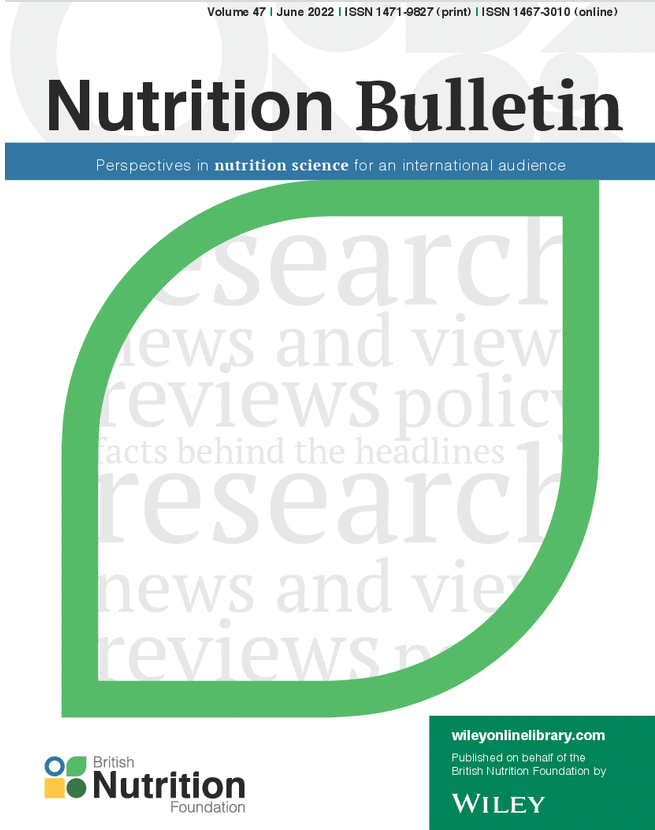 Help us improve
---
We'd love to hear your thoughts about this page below.
If you have a more general query, please contact us.
Please note that advice provided on our website about nutrition and health is general in nature. We do not provide any personal advice on prevention, treatment and management for patients or their family members.