Fashionable ingredients: The Facts
Public interest in food and nutrition remains high, but the specific diets, foods and ingredients that attract the most interest are constantly changing. Media coverage of the latest fashions in food and nutrition can sometimes lack detail and critical appraisal of the underpinning science.
Nutrition Bulletin published a Spotlight (April 2019) that provides detailed reviews of the scientific literature on four 'hot' food-based ingredients and their relationships with health: coconut oil (Lockyer 2016), edible insects (Dobermann et al. 2017), nutraceuticals (Spiro & Lockyer 2018) and probiotics (Sanders et al. 2018).
The Nutrition Bulletin Spotlight 'Fashionable ingredients: The facts' can be accessed here.
Nutraceuticals and skin appearance: Is there any evidence to support this growing trend? - A. Spiro and S. Lockyer 
Probiotics for human use - M. E. Sanders, D. Merenstein, C. A. Merrifield and R. Hutkins *OPEN ACCESS*
Opportunities and hurdles of edible insects for food and feed - D. Dobermann, J. A. Swift and L. M. Field *OPEN ACCESS*
Coconut oil – a nutty idea? - S. Lockyer and S. Stanner *FREE ACCESS*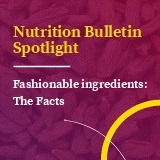 Help us improve
---
We'd love to hear your thoughts about this page below.
If you have a more general query, please contact us.
Please note that advice provided on our website about nutrition and health is general in nature. We do not provide any personal advice on prevention, treatment and management for patients or their family members.