Nutrition in Older People
There has been much talk recently about the increasing gap between lifespan and healthspan and the fact that while people are living longer, many of those extra years are spent living with serious health conditions. Furthermore, there is an 18-year gap in healthspan for those living in poorer communities compared with those from wealthier communities in the UK. Many of these health conditions can be prevented through healthier living.
This Spotlight on Nutrition in Older People brings together articles recently published in Nutrition Bulletin looking at different ways of increasing healthspan and of reducing the number of years lived with serious health conditions including cognitive decline, sarcopenia and frailty. An editorial by Baroness Sally Greengross of Notting Hill sets out the challenge in detail. Studies looking at the potential effects of plant protein and fibre, (Volkert et al, 2021), fish oils (Anthony et al, 2021), the Mediterranean Diet (O'Neill et al, 2022) and polyphenols (Angelino et al, 2020) are described. The importance of social engagement on eating behaviour is explored in a study by Faber et al, while research priorities for investigating the links between nutrition and frailty are discussed by Ni Lochlainn and Robinson. The role of nutrition and physical activity in counteracting sarcopenia is set out by Murphy and Roche and the advantages of personalising nutrition for older adults by Burton et al. Finally, Clegg et al outline the role of the Food4Years Ageing Network and describe how this network are furthering collaboration in this important area of research.
The Nutrition Bulletin Spotlight on Nutrition in Older People can be accessed here.
Innovative plAnt Protein fibre and Physical activity solutions to address poor appEtite and prevenT undernutrITion in oldEr adults – APPETITE - Dorothee Volkert, Clare A. Corish, Dominique Dardevet, Giuseppe De Vito, Christelle Guillet, Stephanie Bader-Mittermaier, Sian Robinson, Helen M. Roche, Avan A. Sayer, Marjolein Visser (2021) *OPEN ACCESS*
PROtein enriched MEDiterranean diet to combat undernutrition and promote healthy neuroCOGnitive ageing in older adults: The PROMED-COG consortium project - Roisin F. O'Neill, Lorraine Brennan, Federica Prinelli, Giuseppe Sergi, Caterina Trevisan, Lisette C. P. G. M. De Groot, Dorothee Volkert, Stefania Maggi, Marianna Noale, Silvia Conti, Fulvio Adorni, Jayne V. Woodside, Michelle C. McKinley, Bernadette McGuinness, Chris Cardwell, Claire T. McEvoy (2022) *OPEN ACCESS*
Associations among social engagement, meal-related behaviour, satisfaction with food-related life and wellbeing in Danish older adults living alone - Ilona Faber, Thomas Bjørner, Tine Buch-Andersen, Federico J. A. Perez-Cueto (2022)
A daily dose of fish oil increased the omega-3 index in older adults and reduced their heart rate during a walking activity: A pilot study - Ryan Anthony, Marc A. Brown, Karen L. Walton, Peter L. McLennan, Gregory E. Peoples (2021) *OPEN ACCESS*
UK Nutrition Research Partnership workshop: Nutrition and frailty—opportunities for prevention and treatment - Mary Ni Lochlainn, Sian Robinson (2022) *OPEN ACCESS*
Personalising nutrition for older adults: The InCluSilver project - D. G. A. Burton, C. Wilmot, H. R. Griffiths (2018) *OPEN ACCESS*
Phenyl-γ-valerolactones and healthy ageing: Linking dietary factors, nutrient biomarkers, metabolic status and inflammation with cognition in older adults (the VALID project) - D. Angelino, A. Caffrey, K. Moore, E. Laird, A. J. Moore, C. I. R. Gill, P. Mena, K. Westley, B. Pucci, K. Boyd, B. Mullen, K. McCarroll, M. Ward, J. J. Strain, C. Cunningham, A. M. Molloy, H. McNulty, D. Del Rio (2020)
Nutrition and physical activity countermeasures for sarcopenia: Time to get personal? - C. H. Murphy, H. M. Roche (2018) *OPEN ACCESS*
The Food4Years Ageing Network: Improving foods and diets as a strategy for supporting quality of life, independence and healthspan in older adults - Miriam E. Clegg, Lisa Methven, Susan A. Lanham-New, Mark A. Green, Niharika A. Duggal, Marion M. Hetherington (2023) *FREE ACCESS*
The vital importance of prevention - Baroness Sally Greengross of Notting Hill OBE (2020)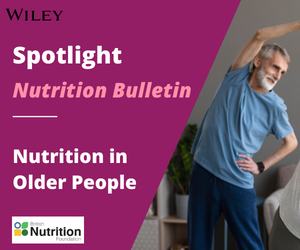 Help us improve
---
We'd love to hear your thoughts about this page below.
If you have a more general query, please contact us.
Please note that advice provided on our website about nutrition and health is general in nature. We do not provide any personal advice on prevention, treatment and management for patients or their family members.