Obesity - Risks and Management
While there has been much attention in recent years on the need for the prevention of obesity, particularly in children, the recent Covid-19 pandemic has highlighted again the equally pressing need to identify effective strategies for the management of existing obesity and the risks that it poses for increased morbidity.
Nutrition Bulletin published a Spotlight (October 2020) that brings together recent research published in Nutrition Bulletin looking at different weight loss strategies and at potential ways of ameliorating the consequences of obesity.

Brown and Leeds (2019) argue that low and very low formula energy diets are under-used in clinical practice and that they can be an effective treatment for obesity-related morbidities while Coe, Spiro, Lockyer and Stanner (2019) review the Slimming World weight management programme to assess whether it not only helps participants to achieve weight loss, but also helps people to meet key dietary recommendations for health. Flint (2019) calls for an end to weight stigma and discrimination which can exacerbate the effects of obesity and urges more training on the complex causes of obesity for health care professionals. The effectiveness of some community-wide approaches in contributing to reductions in childhood obesity in some areas, particularly amongst deprived groups, are examined in a paper by Lockyer and Spiro (2019). The spotlight also includes new research exploring the progressive nature of the risks associated with obesity including mechanisms underlying the effects of nutrition, adiposity and physical activity on colorectal cancer risk (Malcomson 2018). Finally, Johnson (2018) discusses how changes in body weight over time might explain some of the heterogeneity seen in the cardio-metabolic risk associated with obesity and whether certain factors might offer resilience to obesity.
The Nutrition Bulletin Spotlight on 'Obesity - Risks and Management' can be accessed here.
Very low-energy and low-energy formula diets: Effects on weight loss, obesity co-morbidities and type 2 diabetes remission – an update on the evidence for their use in clinical practice - A. Brown, A. R. Leeds *OPEN ACCESS*
Ensuring a healthy approach to long-term weight management: Review of the Slimming World programme - S. Coe, A. Spiro, S. Lockyer, S. Stanner
Weight stigma and discrimination: Time for change! - S. W. Flint
Socio-economic inequalities in childhood obesity: Can community level interventions help to reduce the gap? - S. Lockyer, A. Spiro
Body size trajectories and cardio-metabolic resilience to obesity - W. Johnson *OPEN ACCESS*
Mechanisms underlying the effects of nutrition, adiposity and physical activity on colorectal cancer risk - F. C. Malcomson *OPEN ACCESS*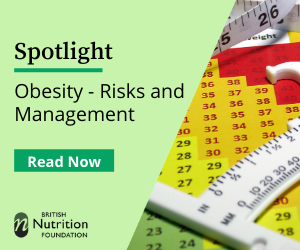 Help us improve
---
We'd love to hear your thoughts about this page below.
If you have a more general query, please contact us.
Please note that advice provided on our website about nutrition and health is general in nature. We do not provide any personal advice on prevention, treatment and management for patients or their family members.