The need for healthier and more environmentally sustainable diets is becoming accepted. However, while the broad changes required of eating fewer animal foods and more plant-derived foods such as vegetables, fruit, pulses and wholegrains are widely recognised, the magnitude of the changes necessary for different foods is still the subject of much debate.
Nutrition Bulletin published a Spotlight (February 2021) on Sustainable Eating that brings together six papers, published recently in Nutrition Bulletin, which address different aspects of this topic. Steenson and Buttriss (2020) discuss the challenges of defining a healthy and sustainable diet and the risks and benefits associated with different dietary changes. The challenge of achieving dietary change is considered by both McClements (2020), who looks at future developments in food technology to produce a healthier and more sustainable food supply, and Stubbs et al. (2018), who consider behavioural approaches to help consumers modify their dietary habits. Pettinger (2018) argues that nutrition professionals need to be better educated in the evidence for sustainable, healthy diets to better help people change their diets, while Taibjee and Woodley (2020) describe a workplace toolkit to help employees make lifestyle changes. Finally, White and Lockyer (2020) address the issue of food waste and the impact of removing plastic packaging from fresh produce.
The Nutrition Bulletin Spotlight on Sustainable Eating can be accessed here.
Encouraging sustainable action in a food company: Impacting environmentally sustainable dietary and lifestyle behaviours using an in‐house Sustainability Toolkit and Challenge - H. Taibjee L. Woodley
Future foods: Is it possible to design a healthier and more sustainable food supply? - D. J. McClements
The challenges of defining a healthy and 'sustainable' diet - S. Steenson J. L. Buttriss
Removing plastic packaging from fresh produce – what's the impact? - A. White S. Lockyer
Sustainable eating: Opportunities for nutrition professionals - C. Pettinger
Responding to food, environment and health challenges by changing meat consumption behaviours in consumers - R. J. Stubbs S. E. Scott C. Duarte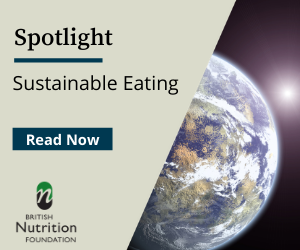 Help us improve
---
We'd love to hear your thoughts about this page below.
If you have a more general query, please contact us.
Please note that advice provided on our website about nutrition and health is general in nature. We do not provide any personal advice on prevention, treatment and management for patients or their family members.