Transforming Food Systems
Food systems constitute the many and diverse activities that get food from the farm to the table and include the production, processing, distribution, preparation, consumption and disposal of food. A systems approach incorporates the drivers of change in the system as a whole and recognises the feedback loops that may reinforce or undermine change. It is increasingly recognised that food systems need to be transformed to stay within planetary boundaries and to make them both more inclusive and more resilient, efficient and sustainable.
This Spotlight brings together recent articles published in Nutrition Bulletin describing new research looking at the different ways food systems can be transformed and what might be the likely outcomes of doing so. Kennedy et al. (2021) discuss the role that the food industry can play toward achieving this goal through innovation and reformulation of food products to provide more affordable, nutrient dense foods for all. Baungaard et al. (2021) describe the tools for transformation and the formation of a sustainable food systems network to facilitate food systems transformation developed as part of the FIT4FOOD2030 project. The lessons to be learnt from the COVID-19 pandemic in terms of the resilience of food systems are discussed in the paper by Rivington et al. (2021), while Jackson et al. (2021) outline a new research project, funded by the BBSRC's Transforming Food Systems programme, which aims to develop novel growing technologies with reduced environmental impact. Another project funded by the same research programme is the Fix our Food project, described in Doherty et al. (2021), which aims to change the Yorkshire food system to a more regenerative system and to use the learnings from that to inform change in other parts of the UK.
The Nutrition Bulletin Spotlight on Transforming Food Systems can be accessed here.
Future of food: Innovating towards sustainable healthy diets - E.T. Kennedy, J.L. Buttriss, I. Bureau-Franz, P. Klassen Wigger, A. Drewnowski (2021)
FIT4FOOD2030: Future-proofing Europe's Food Systems with Tools for Transformation and a Sustainable Food Systems Network - C. Baungaard, K.P.W. Kok, A.C.L. den Boer, C. Brierley, M.G. van der Meij, M. Dahl Gjefsen, J. Wenink, P. Wagner, R. Gemen, B.J. Regeer, J.E.W. Broerse (2021)
UK food and nutrition security during and after the COVID-19 pandemic - M. Rivington, R. King, D. Duckett, P. Iannetta, T. G. Benton, P.J. Burgess, C. Hawes, L. Wellesley, J. G. Polhill, M. Aitkenhead, L.-M. Lozada-Ellison, G. Begg, A. G. Williams, A. Newton, A. Lorenzo-Arribas, R. Neilson, C. Watts, J. Harris, K. Loades, D. Stewart, D. Wardell-Johnson, G. Gandossi, E. Udugbezi, J.A. Hannam, C. Keay (2021)
Healthy soil, healthy food, healthy people: An outline of the H3 project - P. Jackson, D. Cameron, S. Rolfe, L.V. Dicks, J. Leake, S. Caton, L. Dye, W. Young, S. Choudhary, D. Evans, K. Adolphus, N. Boyle (2021)
Transformations to regenerative food systems—An outline of the FixOurFood project - B. Doherty, M. Bryant, K. Denby, I. Fazey, S. Bridle, C. Hawkes, M. Cain, S. Banwart, L. Collins, K. Pickett, M. Allen, P. Ball, G. Gardner, E. Carmen, M. Sinclair, A. Kluczkovski, U. Ehgartner, B. Morris, A. James, C. Yap, E.S. Om, A. Connolly (2021)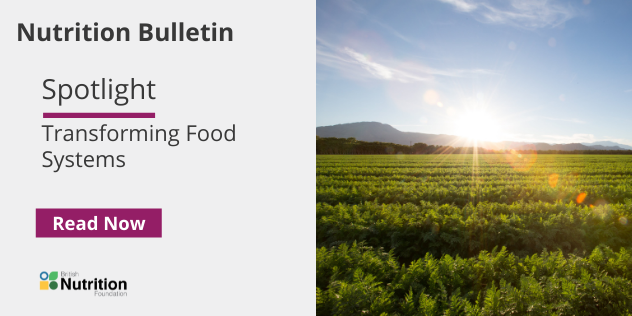 Help us improve
---
We'd love to hear your thoughts about this page below.
If you have a more general query, please contact us.
Please note that advice provided on our website about nutrition and health is general in nature. We do not provide any personal advice on prevention, treatment and management for patients or their family members.