Increased wholegrain consumption is included in the dietary recommendations of many countries around the world yet consumption remains low and there are many barriers to persuading people to eat more wholegrains.
Nutrition Bulletin published a Spotlight (April 2020) on Wholegrains that brings together a number of articles, recently published in Nutrition Bulletin, which address different aspects of this problem and highlight the need for a more harmonised message for the consumer. Robinson and Chambers (2018) discuss the challenge of increasing wholegrain intake in the UK while Kristek et al. (2018) review the benefits of wholegrain oats, particularly in relation to their effects on the gut microbiota and cardiovascular health. Lockyer, Spiro and Stanner (2016) ask what health professionals can do to raise awareness of the issue and encourage people to eat more fibre, and Nugent and Thielecke (2019) address the concern that increased wholegrain consumption could also lead to increased intakes of a number of contaminants, such as mycotoxins and heavy metals. Lockyer and Spiro (2020) discuss the role of bread in the UK diet and its contribution to whole grain and macro- and micronutrient intakes. The paper also explores the variety of fibre types in bread such as arabinoxylan, oligosaccharides and resistant starch, as well as other bioactives including polyphenols, which are an area of emerging interest in relation to nutrition and health.
The Nutrition Bulletin Spotlight on Wholegrains can be accessed here.
The challenge of increasing wholegrain intake in the UK - E. Robinson, L. Chambers
Wholegrains and health: Many benefits but do contaminants pose any risk? A. P. Nugent, F. Thielecke
The gut microbiota and cardiovascular health benefits: A focus on wholegrain oats - A. Kristek, M. Y. Schär, G. Soycan, S. Alsharif, G. G. C. Kuhnle, G. Walton, J. P. E. Spencer *OPEN ACCESS*
Dietary fibre and the prevention of chronic disease – should health professionals be doing more to raise awareness? - S. Lockyer, A. Spiro, S. Stanner *OPEN ACCESS*
The role of bread in the UK diet: An update - S. Lockyer, A. Spiro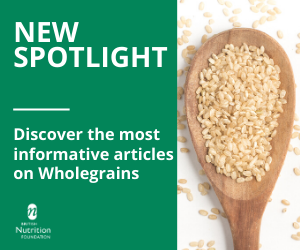 Help us improve
---
We'd love to hear your thoughts about this page below.
If you have a more general query, please contact us.
Please note that advice provided on our website about nutrition and health is general in nature. We do not provide any personal advice on prevention, treatment and management for patients or their family members.