Food - a fact of life: Celebrating 30 years of food and nutrition education in schools
The British Nutrition Foundation's Food - a fact of life programme was launched in 1991. Nutrition Bulletin has published (September 2021) a Virtual Issue that brings together articles highlighting how the programme has evolved and expanded over the last 30 years and illustrates the British Nutrition Foundation's ongoing commitment to take food education seriously.
To access the Virtual Issue, please visit the Nutrition Bulletin website here.
Food education – let's go back to the future - R. Ballam *FREE ACCESS*
Food — a fact of life (1992) - G. Fine
Food — a fact of life (1993) - G. Fine
A new resource for the BNF/MAFF 'Food - a fact of life' programme - G. Fine
Diet and Health and Food Technology units launched - S. Valentine
Food – a fact of life http://www.foodafactoflife.org.uk - C. Theobald
Once upon a website . . . the story of Food – a fact of life - C. Theobald, M. Rowcliffe
Diet, nutrition and schoolchildren: An update - E. Weichselbaum, J. L. Buttriss *FREE ACCESS*
Development and evaluation of food and nutrition teaching kits for teachers of primary schoolchildren - E. Schneider, C. Theobald
The Food Teacher Professional Portfolio – a personal and professional development programme for secondary food teachers - F. Meek
Where next for food education? - R Ballam *FREE ACCESS*
Who's teaching our teachers? - R. Ballam *FREE ACCESS*
Food for thought: Does the Food—a fact of life website benefit food and nutrition teaching in the UK? - A. White *FREE ACCESS*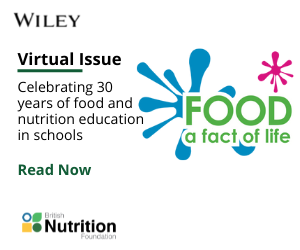 Help us improve
---
We'd love to hear your thoughts about this page below.
If you have a more general query, please contact us.
Please note that advice provided on our website about nutrition and health is general in nature. We do not provide any personal advice on prevention, treatment and management for patients or their family members.