Chrono-nutrition - how important is when you eat?
Modern lifestyles disrupt our natural circadian rhythm through prolonged exposure to artificial light, erratic eating patterns and shift work. Nutrition Bulletin has published (June 2021) a Virtual Issue on chrono-nutrition, an emerging area of research looking at the effects of meal timing on metabolic health and chronic disease risk.
To access the Virtual Issue, please visit the Nutrition Bulletin website here.
Editorial: Chrono-nutrition – an emerging, modifiable risk factor for chronic disease? - G. K. Pot *FREE ACCESS*
Early versus late time-restricted feeding in adults at increased risk of developing type 2 diabetes: Is there an optimal time to eat for metabolic health? - S. Lynch, J. D. Johnston, M. D. Robertson *OPEN ACCESS*
Optimising intermittent fasting: Evaluating the behavioural and metabolic effects of extended morning and evening fasting - D. J. Clayton, W. J. A. Mode, T. Slater *OPEN ACCESS*
Sleep matters: Can a good night's sleep help tackle the obesity crisis? - H. Gibson-Moore, L. Chambers
Working hours and cardiometabolic health – an emerging area of nutritional research - R. Gibson
The Big Breakfast Study: Chrono-nutrition influence on energy expenditure and bodyweight - L. C. Ruddick-Collins, J. D. Johnston, P. J. Morgan, A. M. Johnstone *OPEN ACCESS*
Concordant and divergent strategies to improve postprandial glucose and lipid metabolism - R. M. Edinburgh, J. A. Betts, S. F. Burns, J. T. Gonzalez
Sleep patterns in relation to dietary patterns and cardio-metabolic risk: An update from Drummond Pump Priming Award recipients - J. Darzi, H. Al Khatib, G. K. Pot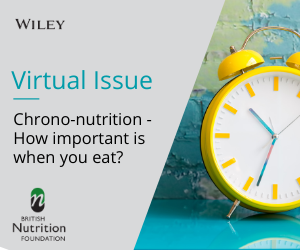 Help us improve
---
We'd love to hear your thoughts about this page below.
If you have a more general query, please contact us.
Please note that advice provided on our website about nutrition and health is general in nature. We do not provide any personal advice on prevention, treatment and management for patients or their family members.