Nutrition Bulletin has published (January 2018) a Virtual Issue on dietary fats in anticipation of the draft report on saturated fat and health by the UK Scientific Advisory Committee on Nutrition (SACN) that was published for consultation in 2018. This collection of 13 papers by leading scientists explores the often complex relationships between different types of fat in the diet and health outcomes, such as cardiovascular disease, and overweight and obesity.
To access the Virtual Issue, please visit the Nutrition Bulletin website here.
Editorial: The big fat debate - A-M Minihane *FREE ACCESS*
Saturated fats, dairy foods and health: A curious paradox? - D.I. Givens *OPEN ACCESS*
Serum low-density lipoprotein as a dietary responsive biomarker of cardiovascular disease risk: Consensus and confusion – B. Griffin 
Omega-3: The good oil - P. Calder 
What are interesterified fats and should we be worried about them in our diet? - C. E. Mills, W. L. Hall and S. E. E. Berry *OPEN ACCESS*
Living with lipids: Reflections of a fat physiologist - K. N. Frayn *FREE ACCESS*
Coconut oil – a nutty idea? - S. Lockyer and S. Stanner *FREE ACCESS*
Questioning current recommendations on fatty acids and their role in heart health - E. Papadopoulou and S. Stanner 
Dairy and cardiovascular health: Friend or foe? - O. Markey, D. Vasilopoulou, D. I. Givens and J. A. Lovegrove *OPEN ACCESS*
UK recommendations for dietary fat: Should they be reassessed in light of the recent joint FAO/WHO recommendations? - S. Schenker 
The role of fat in the diet – quantity, quality and sustainability - T. A. B. Sanders  
Saturated fatty acid consumption: outlining the scale of the problem and assessing the solutions - P. Mason, S. C. Porter, S. E. Berry, P. Stillman, C. Steele, A. Kirby, B. A. Griffin and A. M. Minihane 
Briefing paper: Culinary oils and their health effects - R. Foster, C.S. Williamson and J. Lunn *FREE ACCESS*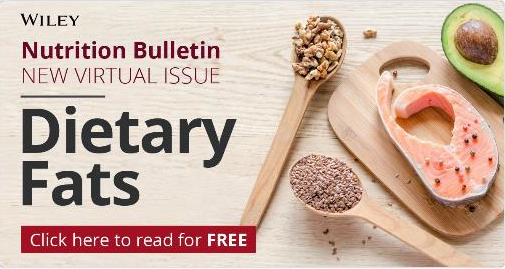 Help us improve
---
We'd love to hear your thoughts about this page below.
If you have a more general query, please contact us.
Please note that advice provided on our website about nutrition and health is general in nature. We do not provide any personal advice on prevention, treatment and management for patients or their family members.