This Virtual Issue on Food Labelling brings together ten papers recently published in Nutrition Bulletin discussing different aspects of food and nutrition labelling, including nutrient profiling models, food composition data, health claims, eco labels and consumer understanding of nutrition labels. 
To access the Virtual Issue, please visit the Nutrition Bulletin website here.
Bridging gaps in food labelling - M. De Bauw, L. Vranken, C. Matthys *FREE ACCESS*
Restricting promotions of 'less healthy' foods and beverages by price and location: A big data application of UK Nutrient Profiling Models to a retail product dataset - V. Jenneson, Dr D. C. Greenwood, Prof G. P. Clarke, N. Hancock, Prof J. E. Cade, Dr M. A. Morris *OPEN ACCESS*
Data considerations for the success of policy to restrict in-store food promotions: A commentary from a food industry nutritionist consultation - V. Jenneson, M. A. Morris *OPEN ACCESS*
A comparison of four different Nutritional Profile models in their scoring of critical nutrient levels in food products targeted at Brazilian children - Alessandro Rangel Carolino Sales Silva, Luiza Vargas Mascarenhas Braga, Lucilene Rezende Anastácio
Proceedings of a roundtable event 'Is communicating the concept of nutrient density important?' - S. Lockyer, J. Cade, N. Darmon, M. Flynn, S. Gatenby, A. Govindji, B. Quick, M. Raats, M. Rayner, M. Sokolović, A. Spiro, N. Sritharan, S. Stanner, J. L. Buttriss
Maintaining and updating food composition datasets for multiple users and novel technologies: Current challenges from a UK perspective - M. H. Traka, J. Plumb, R. Berry, H. Pinchen, P. M. Finglas *OPEN ACCESS*
Developing a digital toolkit to enhance the communication of health claims: The Health Claims Unpacked project - S. Lockyer, C. Ryder, S. Jaworska, B. Benelam, R. Jones
Evolution not revolution – what might the future hold for front-of-pack nutrition labelling in the UK?: A British Nutrition Foundation roundtable - Helena Gibson-Moore, Ayela Spiro
Can the concept of nutrient density be useful in helping consumers make informed and healthier food choices? A mixed-method exploratory approach - A. Spiro, V. Wood *OPEN ACCESS*
Increasing food labelling awareness through a massive open online course (MOOC) - N. Mansilla, V. Stancu, L. Stickel, S. Grasso
Prevalence of missing nutrition label and ingredients list information on e-shops of major chain supermarkets in Hong Kong - A. I. Chio, T. Davies, J. H. Y. Wu, J. Chun Yu Louie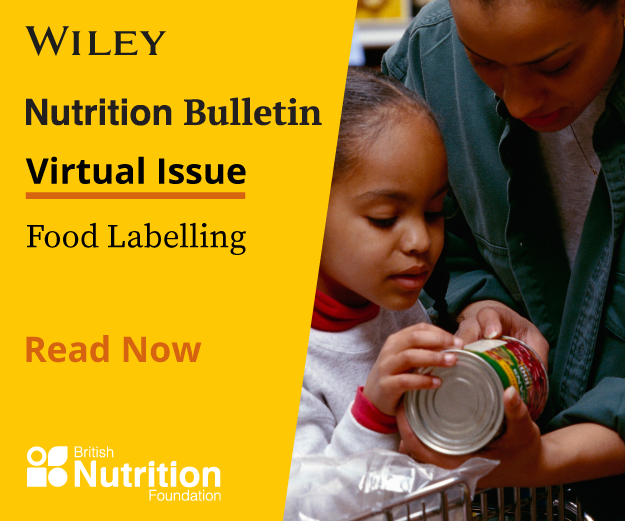 Help us improve
---
We'd love to hear your thoughts about this page below.
If you have a more general query, please contact us.
Please note that advice provided on our website about nutrition and health is general in nature. We do not provide any personal advice on prevention, treatment and management for patients or their family members.