Nutrition and the Brain: Across the life course
Nutrition Bulletin has published (December 2020) a Virtual Issue on nutrition and brain health across the life course. This collection of eight papers highlights the extent of ongoing research in the area of nutrition and brain development and function. 
To access the Virtual Issue, please visit the Nutrition Bulletin website here.
Editorial: Nutrition and brain health - A-M Minihane *FREE ACCESS*
The Ageing Gut–Brain study: Exploring the role of the gut microbiota in dementia - A. M. Johnstone, A. I. C. Donaldson, K. P. Scott, P. K. Myint
NuBrain: UK consortium for optimal nutrition for healthy brain ageing - E. J. Stevenson, O. M. Shannon, A. M. Minihane, A. Adamson, A. Burns, T. Hill, F. Sniehotta, G. Muniz-Terrera, C. W. Ritchie *OPEN ACCESS*
The Mouth-Gut-Brain model: An interdisciplinary approach to facilitate reformulation of reduced fat products - M. R. Yeomans, X. Zhou, P. Wilde, A. Thomas, B. Linter, A. Beri, J. A. Lovegrove, C. M. Williams, L. Methven
The neonatal period: A missed opportunity for the prevention of iron deficiency and its associated neurological consequences? - E. K. McCarthy, M. E. Kiely
Diet, exercise and dementia: The potential impact of a Mediterranean diet pattern and physical activity on cognitive health in a UK population - R. Bundy, A. M. Minihane
Phenyl-γ-valerolactones and healthy ageing: Linking dietary factors, nutrient biomarkers, metabolic status and inflammation with cognition in older adults (the VALID project) - D. Angelino, A. Caffrey, K. Moore, E. Laird, A. J. Moore, C. I. R. Gill, P. Mena, K. Westley, B. Pucci, K. Boyd, B. Mullen, K. McCarroll, M. Ward, J. J. Strain, C. Cunningham, A. M. Molloy, H. McNulty, D. Del Rio *OPEN ACCESS*
Nutrition and depression: Summary of findings from the EU-funded MooDFOOD depression prevention randomised controlled trial and a critical review of the literature - M. Owens, E. Watkins, M. Bot, I. A. Brouwer, M. Roca, E. Kohls, B. W. J. H. Penninx, G. van Grootheest, U. Hegerl, M. Gili, M. Visser, on behalf of the MooDFOOD Prevention Trial Investigators *OPEN ACCESS*
The Mediterranean diet and depression – can a healthier dietary pattern reduce the risk of depression? - S. Steenson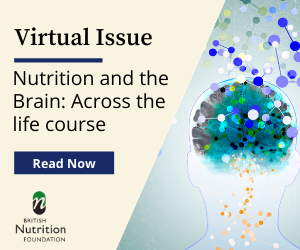 Help us improve
---
We'd love to hear your thoughts about this page below.
If you have a more general query, please contact us.
Please note that advice provided on our website about nutrition and health is general in nature. We do not provide any personal advice on prevention, treatment and management for patients or their family members.