Priorities for Nutrition Research in the UK
This Virtual Issue on Priorities for Nutrition Research in the UK brings together papers recently published in Nutrition Bulletin that summarise a number of MRC-funded Nutrition Hot Topic Workshops designed to encourage new thinking on important challenges in the nutrition field.
To access the Virtual Issue, please visit the Nutrition Bulletin website here.
Please note that the paper, Lanham-New, S.A., Buttriss, J.L., Gibson-Moore, H., Staines, K., Webb, A.R., Cashman, K.D. et al. (2022) Vitamin D – a multi-disciplinary approach to: (1) elucidate its role in human health; (2) develop strategies to improve vitamin D status in the UK population. Nutrition Bulletin, will be added to this Virtual Issue as soon as it is online.
First steps towards transforming nutrition and health research in the UK - J. C. Mathers
MRC Hot Topic workshop report: Reshaping the food environment – applying interdisciplinary perspectives in appetite research - A. M. Johnstone, A. Brown
UK Nutrition Research Partnership (NRP) workshop: Forum on advancing dietary intake assessment - A. de la Hunty, J. Buttriss, J. Draper, H. Roche, G. Levey, A. Florescu, N. Penfold, G. Frost
UK Nutrition Research Partnership (NRP) workshop: Improving our understanding of the metabolic interplay between nutrition and physical activity (IN-PACT) - G. A. Wallis, E. S. Chambers
Medical Research Council Hot Topic workshop report: Planning a UK Nutrition and Healthy Life Expectancy Trial - J. Carter, J. Mathers, S. Fairweather-Tait, S. Jebb, N. Sattar, A. Jennings, A-M Minihane
UK Nutrition Research Partnership workshop: Nutrition and frailty—opportunities for prevention and treatment - M. Ni Lochlainn, S. Robinson
UK Nutrition Research Partnership 'Hot Topic' workshop report: A 'game changer' for dietary health – addressing the implications of sport sponsorship by food businesses through an innovative interdisciplinary collaboration - N. Gokani, A. Garde, M. Philpott, R. Ireland, R. Owens, E. Boyland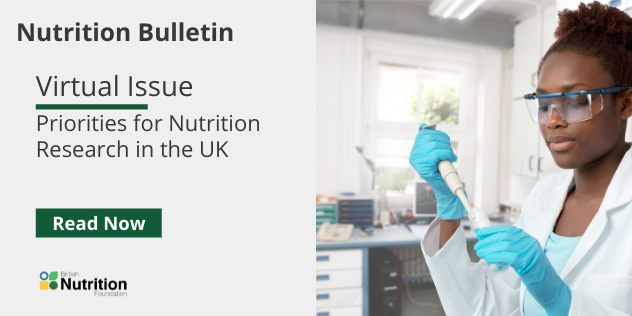 Help us improve
---
We'd love to hear your thoughts about this page below.
If you have a more general query, please contact us.
Please note that advice provided on our website about nutrition and health is general in nature. We do not provide any personal advice on prevention, treatment and management for patients or their family members.