Vitamin D: 100 years of research - 1922-2022
The connection between sunlight and what came to be called vitamin D was first made 100 years ago this year. This Virtual Issue celebrates the centenary of this discovery by bringing together recently published articles in Nutrition Bulletin on current vitamin D research.
Access the Virtual Issue on the Nutrition Bulletin website.
Editorial - Vitamin D: One hundred years on. JL Buttriss and Lanham-New SA *FREE ACCESS
Vitamin D2 vs. vitamin D3: Are they one and the same? L. Tripkovic *FREE ACCESS*
Update of the vitamin D content of fortified foods and supplements in the UK National Diet and Nutrition Survey Nutrient Databank. R. E. Allen, A. D. Dangour, A. E. Tedstone *FREE ACCESS*
Vitamin D: An overview of vitamin D status and intake in Europe. A. Spiro, J. L. Buttriss *OPEN ACCESS*
Vitamin D during childhood and adolescence: Evidence-based dietary requirements for adequacy and implications for bone health. T. J. Smith, K. H. Hart
Vitamin D2 vs. vitamin D3: They are not one and the same. L. Tripkovic, L. R. Wilson, S. A. Lanham-New *FREE ACCESS*
Vitamin D status in the tropics: Is sunlight exposure the main determinant? M. M. Mendes, K. H. Hart, P. B. Botelho, S. A. Lanham-New *OPEN ACCESS*
Mobilising vitamin D from adipose tissue: The potential impact of exercise. A. Hengist, O. Perkin, J. T. Gonzalez, J. A. Betts, M. Hewison, K. N. Manolopoulos, K. S. Jones, A. Koulman, D. Thompson *OPEN ACCESS*
Food fortification and biofortification as potential strategies for prevention of vitamin D deficiency
J. Guo, J. A. Lovegrove, D. I. Givens.
Effects of vitamin D on health outcomes and sporting performance: Implications for elite and recreational athletes. S. L. Wilson-Barnes, J. E. A. Hunt, S. A. Lanham-New, R. J. F. Manders *OPEN ACCESS*
Is a vitamin D fortification strategy needed? J. L. Buttriss, S. A. Lanham-New *FREE ACCESS*
Vitamin D: What's new a year on from the COVID-19 outbreak? Helena Gibson-Moore
Egg enrichment with vitamin D: The Sunshine Eggs projects. Adam Clark, Sharron Kuznesof, Sarah Davies, Anthony Waller, Avril Ritchie, Simon Wilson, Lance Harbord, Tom Hill *OPEN ACCESS*
UK Nutrition Research Partnership (UK NRP) 'Hot Topics' Virtual Workshop on Vitamin D. Vitamin D – a multi-disciplinary approach to: (1) elucidate its role in human health; (2) develop strategies to improve vitamin D status in the UK population. Susan A. Lanham-New, Judith L. Buttriss, Helena Gibson-Moore, K Staines, Ann R. Webb, Kevin D. Cashman, Martin Hewison, Adrian Martineau, Colin P. Smith, Guillaume Butler-Laporte, and Roger Bouillon.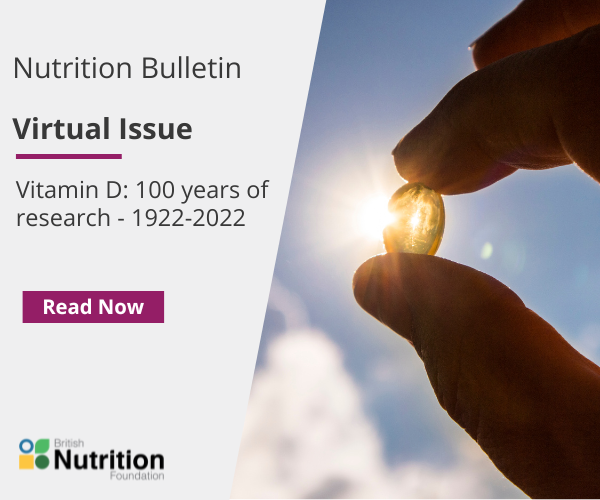 Help us improve
---
We'd love to hear your thoughts about this page below.
If you have a more general query, please contact us.
Please note that advice provided on our website about nutrition and health is general in nature. We do not provide any personal advice on prevention, treatment and management for patients or their family members.