Looking at labels
In this article, you can find information on food labels in the UK. The article looks at:
Key messages
The laws around nutrition labelling in the UK outline what information must be provided to you, as a consumer, when buying food, and how that information must be presented. The majority of pre-packed products by law must provide a nutrition label on the back of pack.
Front-of-pack labelling in the UK is voluntary but most of the major supermarkets and many food manufacturers provide this and use the government's recommended format - red, amber, green colour-coding and percentage reference intakes (RIs) - or as you may better recognise it - traffic light labelling.
They will allow you to make comparisons between products that are high, medium or low in fat, saturated, salt and sugar.
Looking at the nutrition information on food labels can help you make healthier choices.
Allergens will be listed and emphasised in the ingredients list.
What are food labels and why use them?
Food labels provide a lot of useful information about what foods and drinks contain, provided you know where to find the information you're looking for.
The laws around food labelling in the UK have largely been retained from European Union (EU) legislation on the provision of food information to consumers. They outline what information must be provided to you, as a consumer, when buying food, and how that information must be presented. Food labelling is required to be clear, easy to read and not misleading, so that you can be better informed about the foods and drinks you are going to buy.
Most prepacked foods in the UK must provide nutritional information on the label.
  NOTE: The nutrition labelling rules do not apply to:  
Food supplements
Natural mineral waters
Using these food labels when shopping can help you make healthier choices, for example, by choosing foods and drinks that are:
lower in saturated fat
lower in sugar
lower in salt
lower in calories
The majority of pre-packed products (by law) provide a nutrition label on the back of pack.
| | |
| --- | --- |
|  By law back of pack nutrition labels must include:          |  This will be displayed:                        |
|  Energy | …in calories (kcal) and kilojoules (kJ) |
|  Fat content | …in grams (g) |
|  Saturated fat content | …in grams (g)                  |
|  Carbohydrate content | …in grams (g) |
|  Sugar content | …in grams (g) |
|  Protein content | …in grams (g) |
|  Salt content | …in grams (g) |
This back-of-pack information must be displayed as per 100g or 100ml of the product, but may also be additionally displayed as per portion. Generally, this information will be displayed like the example below:
| | | |
| --- | --- | --- |
| Typical values | 100g contains | Each slice (typically 44g) contains |
| Energy | 985kJ | 435kJ |
|   | 235kcal | 105kcal |
| Fat | 1.5g | 0.7g |
| of which saturates | 0.3g | 0.1g |
| Carbohydrate | 45.5g | 20.0g |
| of which sugars | 3.8g | 1.7g |
| Protein | 7.7g | 3.4g |
| Salt | 1.0  | 0.4g |
On top of the above seven values that must be on a nutrition label by law, you might also see extra voluntary information on:
fibre
starch
mono/polyunsaturated fats
polyols (used as sweeteners)
any vitamins or minerals.
Nutrition labelling terms explained
'Energy' – the amount of energy in a food or drink is measured in calories. Knowing the calorie content can help you keep an eye on the amount of energy you are eating and drinking, to make sure you're not having too much. You'll see on labels, the calorie content is given in kcal and kJ, which are short for kilocalories and kilojoules. Kilocalorie is another word for the well know 'calorie'. Kilojoules are the metric measurement of calories (the calorie figure multiplied by 4.2).
'Carbohydrates'– this includes both starch that you find in bread, pasta, rice and potatoes, and sugars. This includes the sugar you add to coffee, that has been added to food/drinks products by the manufacturer and that found naturally in honey, syrup and fruit juice (free sugars), and the sugars found naturally in fruit and milk.
'Sugars' – 'of which sugars' refers to how much of the carbohydrate content of the food or drink comes from sugars (the rest being from starch).  'Total sugars' is declared on food labels. However, government dietary recommendations are based on 'free sugars' which are those added by the manufacturer and those naturally present in honey, syrups and unsweetened fruit juices. Total sugars include both the sugars naturally present in whole fruit and milk, and free sugars. For example, looking at a plain yogurt, it may state it contains 9.9g of total sugars. However, none of these are 'free sugars' as they all come naturally from the milk.   
'Fat'–this includes different kinds of fat - both saturated fat and unsaturated fat. BUT, by looking at the 'saturates' content, you can work out how much of the fat in the product is 'saturated' (the fat we should be cutting down on) and 'unsaturated' (the fat we should be replacing saturated fat with). It is particularly important not to eat too much saturated fat as this can increase the level of cholesterol in your blood, and having high cholesterol can increase your risk of heart disease and stroke. For more information see our page on fat.
'Protein' – this is the total protein content of the food. The body needs protein to grow and repair itself. Most adults in the UK get more than enough protein for their needs.
'Salt' - the term 'salt' on food labels includes all the sodium in a food. While most sodium comes from salt (sodium chloride), some can be naturally occurring in food. It can also come from raising agents and additives.
In the UK, repeating nutritional information on the front of pre-packaged foods and drinks is voluntary (under the Food Information Regulation) but most of the major supermarkets and many food manufacturers provide this.

The information has to be displayed as either:
Energy (kJ and kcal) only
or
Energy (kJ and kcal)
Fat
Saturated fat
Sugars (total sugars)
Salt
This information will be written per 100g/100ml, per portion or both.
The government's recommended format is red, amber, green colour-coding and percentage reference intakes (RIs), or as you may better recognise it - traffic light labelling!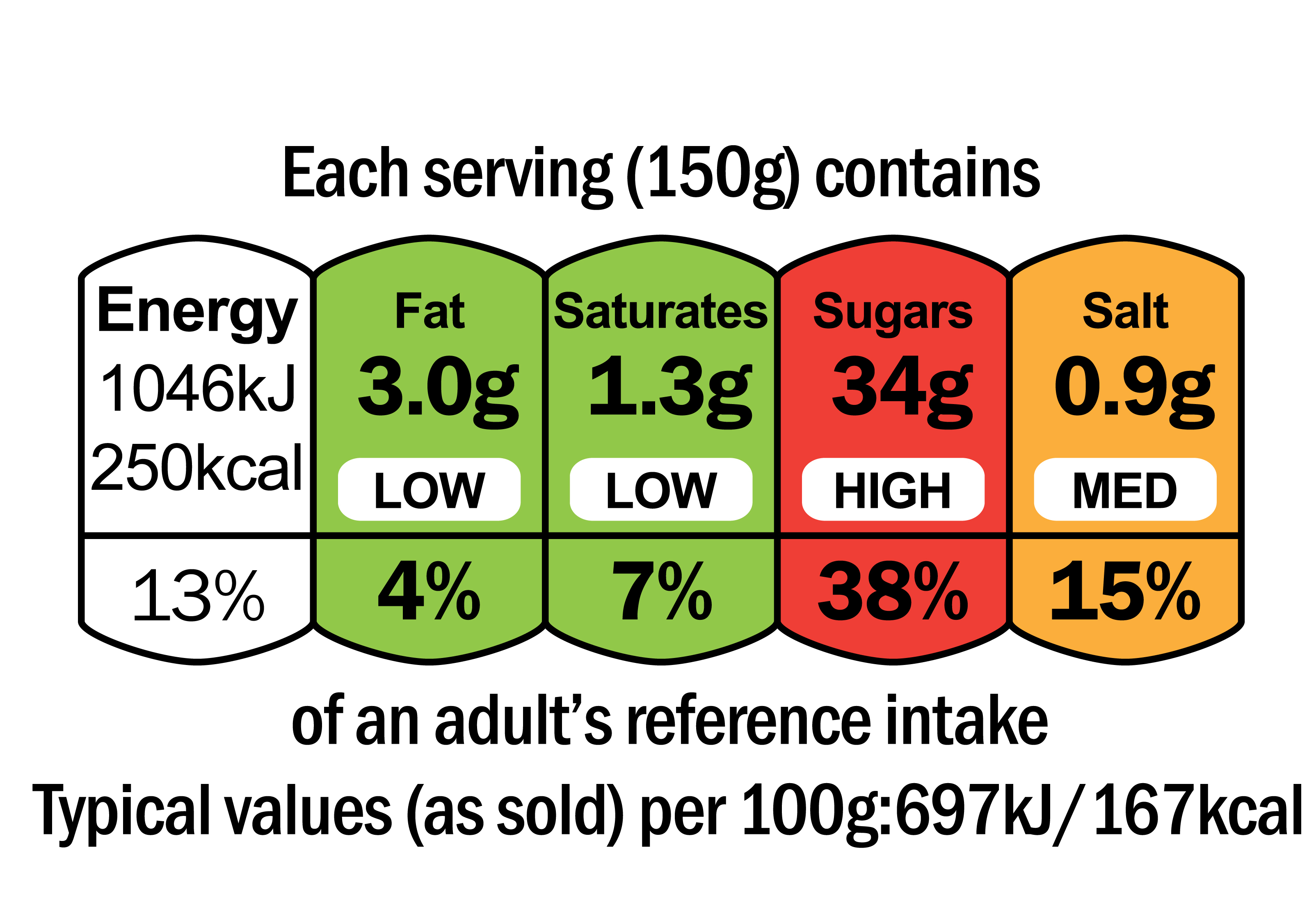 Using front-of-pack labels is really useful when you want to quickly compare different food products.  
Using the government scheme, a combination of colour coding (traffic lights) and nutritional information is used to show, at a glance, whether a product is high (red), medium (amber) or low (green) in fat, saturated fat, salt and sugars, and how much energy (calories and kilojoules) it provides. This can help you make comparisons between foods to allow you to make a healthier choice; for example selecting a sandwich for lunch.
Top tips about traffic light labelling
          What does green

 

mean?
    What does amber

 

mean?                                 
              What does 

red 

mean?
If there is mostly green on the label, then this is telling you straight away it is low in that nutrient and a healthier choice!

This means the product is neither high nor low in the specific nutrient.

You can eat foods with all or mostly amber on the label most of the time.                                      

Red does not mean you cannot eat the product, but means the food is high in fat, saturated fat, salt or sugar.

We should be cutting down on foods with lots of red on the label, or if they are eaten, to have less often and in small amounts.

          So when choosing between similar products, try to opt for more greens and ambers, and fewer reds!
Alongside these traffic lights, the label generally shows the amount of these nutrients in a portion of the food or drink and the percentage of your reference intake (RI) a portion of the product provides. In some cases, where there isn't much room on the label, just energy values will be displayed but the full nutrition information will be available on the back of pack.
What are the guidelines for high, medium and low on a front-of-pack label?
The table below shows how high, medium and low levels of fat, saturates, total sugars and salt in foods are classified for front of pack labels (there are different levels for drinks). These levels have been decided by the UK government. The 'per portion' in red is used where portions are 250g or more.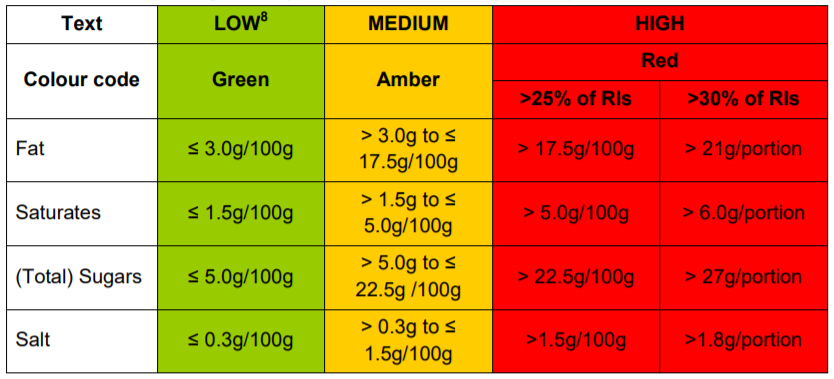 Reference intakes (RIs) replaced Guideline Daily Amounts, which used to appear on food labels. These have been set by European law and are based on an average sized woman doing an average amount of physical activity.
RIs are not targets for people to consume, as they are often for nutrients that we consume too much of like saturates or sugars, but more a guideline or benchmark to help you make healthy dietary choices and balance your daily intake.
Although the traffic light colour coding provides useful information at a glance, the % RI on the label gives you a little more information about how much of an average adult's daily intake limit of each nutrient is in a portion and will help you put it in the context of a healthy, balanced diet.
As part of a healthy, balanced diet, an adult's RIs for a day are:
| | |
| --- | --- |
|  Energy or Nutrient |  Reference Intake  |
|  Energy | 8400kJ/2000kcal |
|  Fat | 70g |
|  Saturates | 20g |
| Carbohydrate | 260g |
| Sugars | 90g* |
| Protein | 50g |
| Salt | 6g |
 *this figure is for total sugars which include free sugars, plus sugars from milk and sugars contained in fruit. Remember, as adults we should be consuming no more than 30g of free sugars per day.
Example: If a portion of food states that it provides 50% RI for saturated fat, this means that the serving contains half of your daily maximum amount of saturated fat, and over the rest of the day, options lower in saturated fat should be chosen.
What about fibre?
You may have noticed that there isn't a RI for fibre. This doesn't mean it isn't important – most people in the UK need to eat more fibre – 30g each day to be exact! Fibre can still be included in nutrition labels on the back of packs and you may see labels like 'source of fibre' or 'high in fibre' on foods that provide significant amounts. For more information, read our page on dietary fibre.
It is really important that people with food allergies have all the information they need to quickly and easily decide whether a food is suitable for them to eat.
To ensure this is the case, there are labelling laws in place to make it easier for you to check what's in products.
Some food allergies are more common than others. However, there are 14 common allergens (the food or ingredient that can cause allergic reactions) which, when present in a pre-packed product, must be emphasised clearly in the ingredients list, so it stands out from the other ingredients. They can be emphasised by highlighting, underlining, using bold or italics, different colours or CAPITAL LETTERS.
If it isn't obvious whether an ingredient contains an allergen, this must be made clear, for example, tofu is made from soya beans, so if a product contained tofu they must emphasise that it will contain soya: 'tofu (soya)'.
Contains box
Previously food packs used to provide a box listing all the allergens the food contained. However, under current law, this isn't allowed. This is to make sure that people always check the ingredients list to be certain the food is safe for them to eat. Some companies are adding a statement to direct consumers to the ingredients list when checking for allergies, for example:
Allergy Advice:
For allergens, see ingredients in bold.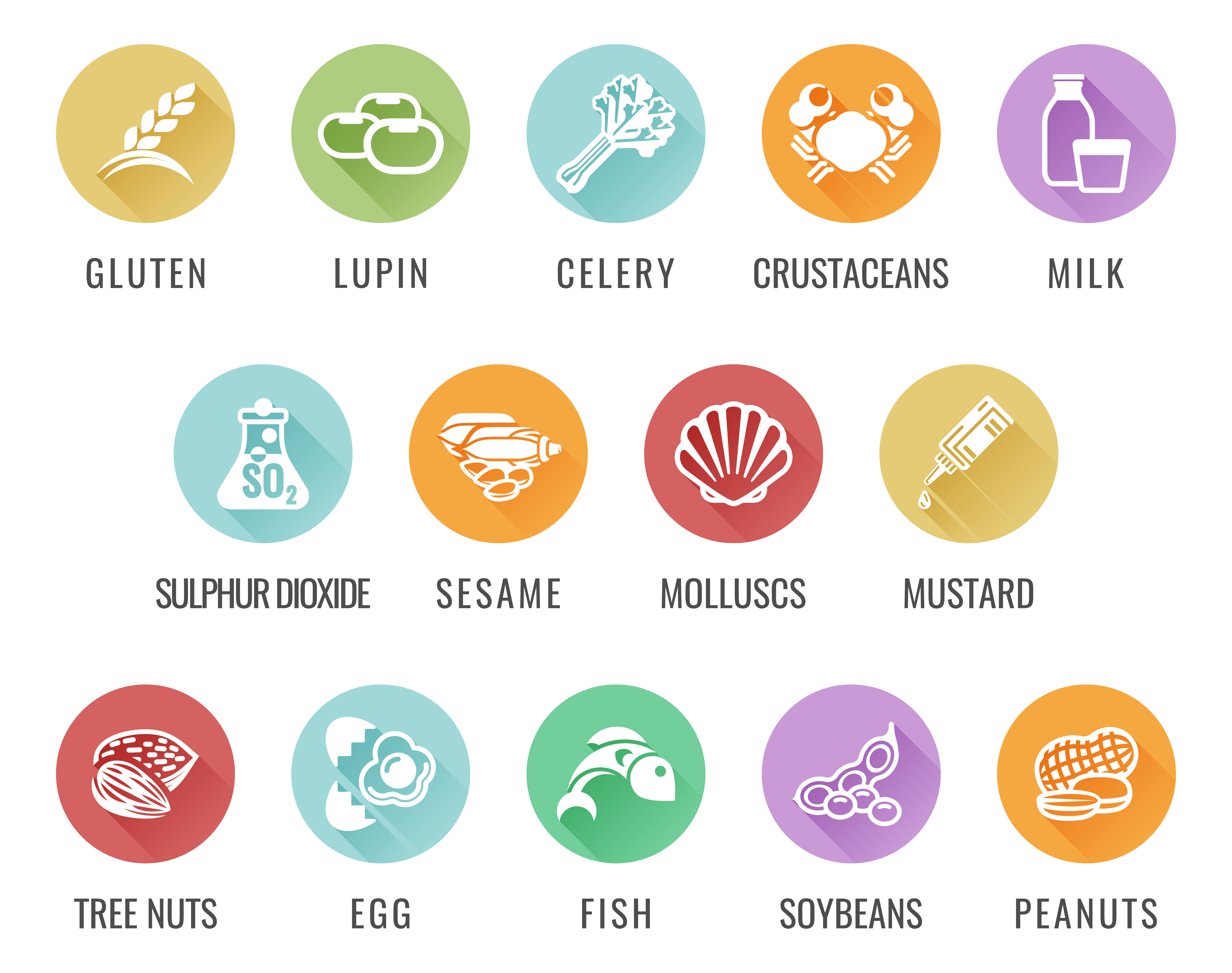 May contain
Some products also state that they 'may contain' nuts or seeds. This is because, even though nuts or seeds were not included deliberately as ingredients, there may be traces of them present due to use of nuts or seeds where the food was produced. For some people, even traces of nuts can still trigger a serious allergic reaction. So people with nut or seed allergies should avoid products with 'may contain' labelling, to be on the safe side.
Here is an example of what you may see on a food label:
 Ingredients
Dried and sweetened dried fruit (25%) [sultanas, sweetened dried pineapple (10%) (sugar, pineapple, acid: citric acid, preservative: sulphur dioxide), dates, raisins], barley flakes, oat flakes, wheat flakes, toasted and malted wheat flakes (wheat, barley malt extract).
Allergy advice
For allergens, see ingredients in bold. May also contain nuts and milk. 
The regulations also ensure that allergy information is provided on non-prepacked food in restaurants and cafes, either displayed on menus or available on request, as well as for any loose food items that you might buy in places such as a bakery, butcher, or delicatessen.
'Natasha's Law'
From 1 October 2021, changes to allergen labelling requirements, also known as Natasha's Law, came into force for food that is prepacked for direct sale (food which is packaged at the same place it is offered or sold to consumers and is in this packaging before it is ordered or selected, such as sandwiches, bakery products and fast food). Prepacked for direct sale food must have a label that displays the name of the food and a full ingredients list, with allergenic ingredients emphasised within it, to help people make safer choices.
What are nutrition and health claims?
Nutrition claims: these relate to what a product does or doesn't contain, or contains in a higher or lower amount. For example:
'Sugar free' (must contain less than 0.5g sugars per 100g)
'Low fat' (must contain less than 3g fat per 100g)
'High in fibre' (must contain at least 6g fibre per 100g)
'Source of vitamin D' (must contain at least 15% of the RI for vitamin D per 100g)
If interested, you can have a look at the full list of Nutrition Claims permitted for use on foods sold within GB on the UK government website here.
Health Claims: these are claims that states or suggests there is a relationship between a product and health. For example:
"Calcium is needed for the maintenance of normal bones"
"Potassium contributes to the maintenance of normal blood pressure"
"Vitamin C contributes to the reduction of tiredness  and fatigue"
"Folate contributes to maternal tissue growth during pregnancy"
Health claims on food labels are not allowed to state that the food can prevent, treat or cure any disease or medical condition, neither are they allowed to make reference to a rate or amount of weight loss.
Extra info: Before a company can make a health claim, the claim is reviewed by a panel of experts (the UK Nutrition and Health Claims Committee on behalf of GB and the European Food Safety Authority on behalf of the EU) who assess whether the claim is supported by all the scientific evidence. The UK government and devolved administrations or the EC, respectively, then decide whether to authorise the claim and how it should be worded.
Other information on food labels
As well as nutritional information, food labels also provide other information about foods and drinks.
List of ingredients
If a food or drink product has two or more ingredients (including any additives), they must all be listed. These ingredients are listed in descending order of weight, so the main ingredients in the packaged food will always be displayed first. This can help you to make healthier choices too, as if the first few ingredients in a food or drink product are 'sugar' or 'butter', you will know that they are the main ingredients, and therefore is a relatively high-fat or high-sugar product.
Food additives
 E numbers - An 'e number' shows that a food additive has been safety tested according to the rules set out by the European Commission and has been approved for use in foods.        
Different kinds of food additives are used in foods:
Antioxidants - such as vitamin E (E307) are often used in foods containing fat, to stop the fat going off (becoming rancid). Other commonly used antioxidants in foods include vitamin C, also known as ascorbic acid or E300.
Preservatives – these are used to stop food going off and to keep it safer for longer (extend its shelf life). For example, sulphur dioxide (E220) is added to dried fruit to stop mould growing on it and meats like bacon and ham are often cured with nitrates (E252) to prevent bacteria growing.
Colours- not surprisingly, these are added to provide colour and make food appear attractive. Some food colourings come from natural sources such as curcumin from turmeric (E100), while others like sunset yellow (E110) are artificial.
If your child shows signs of hyperactivity or attention deficit hyperactivity disorder (ADHD), eliminating some colours from their diet might have beneficial effects on their behaviour.
These colours include:
sunset yellow (E110)
quinoline yellow (E104)
carmoisine (E122)
allura red (E129)
tartrazine (E102)
ponceau 4R (E124)
These colours are used in a number of foods, including soft drinks, sweets, cakes and ice cream, but now several retailers and manufacturers have removed these colours from their product ranges. If any of the six colours listed above are in food or drink, the food label must also have a specific warning saying that the colour 'may have an adverse effect on activity and attention in children'.
Flavour enhancers - these are used to enhance or 'boost' flavour in a food but do not provide flavour themselves. Monosodium glutamate (MSG – E621) is a very common flavour enhancer. Whilst flavour enhancers have E numbers, flavourings do not and instead 'flavouring' will be listed on the ingredients.
Sweeteners – these are often used to add a sweet taste in low calorie products like drinks or yoghurts. Common sweeteners include aspartame (E951), saccharin (E954) and acesulfame-K (E950).
Emulsifiers – these allow fat and water to mix, when naturally they would separate, e.g. in mayonnaise. A common emulsifier is Lecithin (E322), which is found naturally in many foods. Stabilisers such as locust bean gum (E410) made from carob beans, help to keep these mixtures from separating again.
Gelling agents - such as pectin (E440), which is a type of soluble fibre present in fruit such as apples, provide texture to a product, and thickeners add body to products such as sauces and soups.
Did you know? - The use of additives can be a controversial issue, as many people do not like to have substances they do not recognise added to their food. But many are in fact natural substances found in plants, or even essential nutrients, used as ingredients in processed foods because of the particular functional properties they possess. All additives used in the EU must have undergone rigorous safety testing. Concerns about the safety of additives in food and drink are generally not supported by scientific studies.
Nevertheless, given the concerns that some people may have, increasingly manufacturers are removing additives from foods (especially children's foods) or replacing artificial additives with natural ones. However, this can reduce the shelf life or affect the appearance of some foods (e.g. those requiring emulsifiers). Indeed, in some cases it is simply not safe to remove all additives (e.g. those that are present as preservatives or additives) as they are there to keep the food safe and their removal might be considered irresponsible.
If you would like to avoid all food additives, the best way to do this is to prepare your food yourself from scratch.        
Contains public sector information licensed under the Open Government Licence v3.0
Last reviewed September 2021. Revised February 2022.
The British Nutrition Foundation has developed resources about understanding food labels that can be downloaded below.
Know your labels: Nutrition and Health claims
Find out more about nutrition and health claims on labels.
Quick facts
Consumer
Health professional
Looking at nutrition labels
A quick guide to understanding nutrition information on labels.
Quick facts
Consumer
Health professional
Help us improve
---
We'd love to hear your thoughts about this page below.
If you have a more general query, please contact us.
Please note that advice provided on our website about nutrition and health is general in nature. We do not provide any personal advice on prevention, treatment and management for patients or their family members.