Autumn is the time of year where it's back to school for some and off to university for others, with Halloween and Bonfire Night following shortly after! So in this section you will find:
Happy autumn!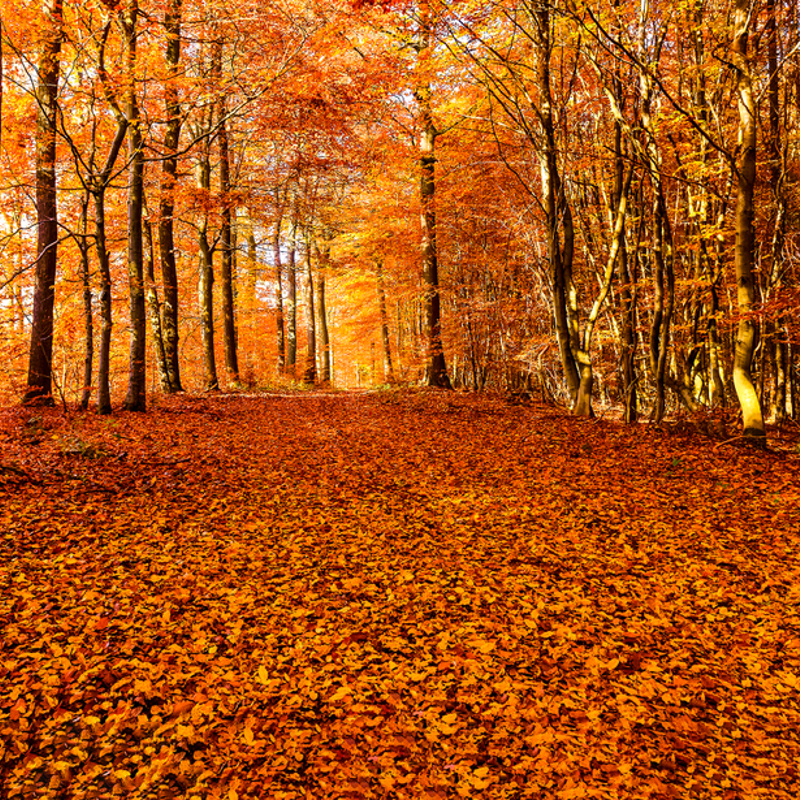 Why is it good to eat fruit and veg when they are in season?
Eating seasonally is something that is discussed a lot when it comes to fruit and vegetables and sustainability. Although there is no set definition for what 'seasonally' is in this context, and seasonality of fruit and veg may vary between different countries, for what is in season here, to what is in season on the other side of the world! 
But the consensus is that eating seasonal field grown UK products: 
is better for the environment, because it is likely that if the produce is in season, it can be cultivated without additional heating or protection (like pesticides)
taste better as it is the time of year that the food is at its best, and are typically cheaper to buy
can support the local economy
What about autumn?
There are many great fruit and vegetables said to be in season at this time of year, perfect for hearty dinners – and they all reflect the gorgeous, autumnal colours! Don't forget they provide vitamins, minerals and fibre to our diet.
Don't forget the humble spud! Potatoes are also in season in the Autumn. Why not cook a baked potato and fill with a warm bean chilli con carne, or use mash for a cottage or fish pie? Leave the skin on potatoes for extra fibre!
Get started with our hearty autumnal soup recipe below that combines several of autumns best seasonal veg.
Hearty autumnal soup
2tbsp olive oil
2tsp ground cumin
2 onions, finely chopped
1 stick of celery 
2 garlic cloves, crushed
1 carrot, chopped
1kg pumpkin or butternut squash
700ml vegetable stock
In a large saucepan, heat the olive oil and cook the onions and garlic for 5 mins on a low heat until soft – be careful not to burn! About halfway through, add the cumin and continue to stir.
Peel and deseed the pumpkin or squash and cut into chunks. Add to the pan along with the carrot and celery, and continue cooking for 8-10 mins, stirring occasionally until it starts to soften and turn golden.
Add the vegetable stock to the mixture and season with salt and pepper. Bring to the boil, and then simmer for 10 mins until the pumpkin/squash is very soft.
Lastly, purée with a hand blender. If you wanted an extra smooth consistency, pour the soup through a fine sieve. If you plan to only eat a couple of portions straight away, divide into portions and freeze!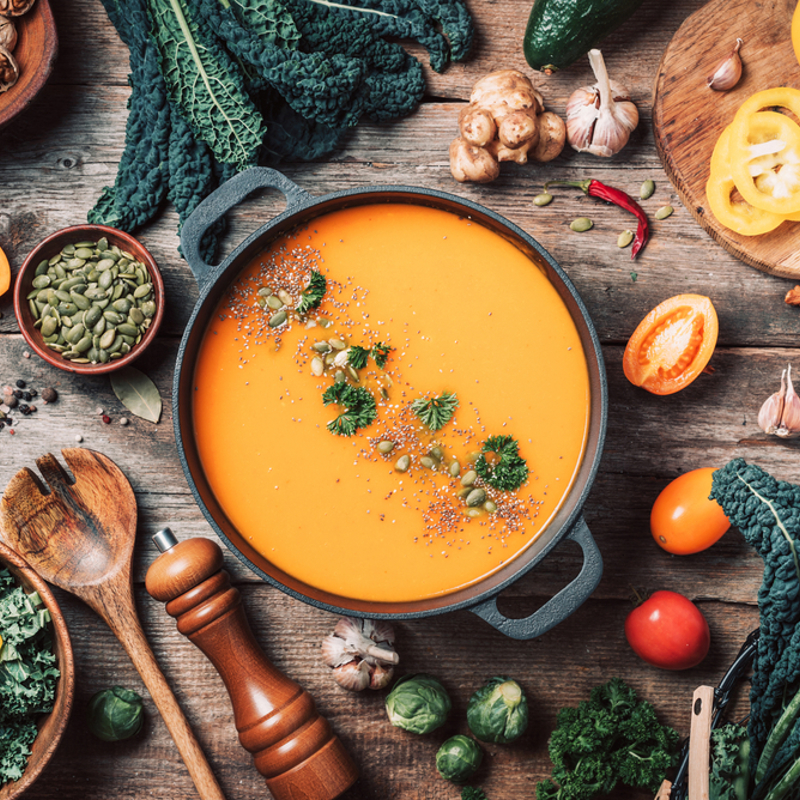 Halloween
Try our mixed bean goulash for a hearty Halloween dinner, perfect for warming the kids up when they get back from trick or treating. It contains fibre and is full of beans and vegetables to help on your way to 5 A DAY!
Ghoulish goulash
2tbsp olive oil
1 large onion
200g of mushrooms
1 clove garlic
1 red pepper
1-2tsp smoked paprika
1 can baked beans (choose lower sugar version if possible)
1 can mixed beans (drained)
400g can chopped tomatoes
Dice the onion, crush the garlic, and slice the mushrooms and pepper.
Heat the oil in a saucepan on a medium heat. Add the veggies and cook until soft and the onions are translucent (5-10 minutes)
Add in the smoked paprika and cook for a couple of minutes, then add the chopped tomatoes. Simmer for around 15 minutes until the sauce has thickened.
Add the baked beans (and sauce) and drained mixed beans and season with pepper. Simmer for another five minutes.
Sprinkle with parsley, add a dollop of natural yogurt or low-fat crème fraiche and serve with brown rice and salsa. If you don't fancy rice – it'll be great with wholemeal tortilla wraps or toasted bread.
Pulses – why should we eat them?
Beans and other pulses, including chickpeas, kidney beans, lentils, peas, butter beans, baked beans, haricot beans, flageolet beans and soya beans, can play an important part of a healthy, balanced diet. They are all plant-based sources of protein, and we should be trying to incorporate more of these types of food into our diets.
Cooking with pulses
Pulses can be good alternatives to meat as they are inexpensive, but also naturally low in fat, as well as being a great source of protein, fibre and lots of vitamins and minerals. 
Canned beans (look for those canned in water) are a quick way of incorporating beans into recipes. Alternatively, you can use dried beans and pulses. Most of these (apart from red lentils) require soaking overnight, but they are likely to be cheaper.
As they are a good source of protein, pulses can be a great alternative for those people who don't eat meat, fish or dairy products and can be more sustainable than animal proteins.
Pulses are also a healthy choice for meat eaters. To enjoy your favourite red meat recipes and cut down on the saturated fat content, reduce the red meat content and bulk up your recipes with pulses. Why not replace half the mince in a chilli with kidney beans, or half the mince in a bolognese with lentils, or half the meat in your favourite curry with chickpeas!
One portion (80g), which is around three heaped tablespoons, will also count towards one of our 5 A DAY!
Read more about beans and other pulses on our page on protein.
Bonfire Night
What's better than coming in from watching the fireworks to a warm sausage supper. This recipe makes the most of autumnal apples and butternut squash for a delicious dinner.
Bonfire bangers (serves 4)
2 large carrots
2 apples
2 medium red onions, peeled and quartered
1kg (2lb) butternut squash
8 large sausages
3 sprigs sage
2tbsp olive oil
Set your oven to 200ºC or 180ºC fan oven.
While that's heating up chop your carrots, apples, onion and squash into large chunks and arrange in a roasting tray with the sausages.
Drizzle everything with the olive oil and add a sprinkle of black pepper and the sage leaves. Shake up the tray so that everything's coated.
Pop in the oven for 40 minutes to an hour until everything's golden. Serve with steamed cabbage and mash potato for the perfect bonfire night bangers!
Just to note: The government recommends that we try not to consume over 500g of red or processed meat per week. As this recipe does contain sausages, just be sure to watch your processed meat intake for the rest of the week!
Back to school - liven up your lunchbox!
At the start of a new school term you may need plenty of inspiration to make your kids lunchboxes healthy and fun to eat. Packed lunches can make an important contribution to energy and nutrient intakes for children, so it is important to get the right balance.
Healthy lunchbox tips
Variety and getting the right balance of foods is key for good health and for providing children with all the nutrients they need to stay healthy. It is also important to understand what children would like to eat – some may like dips, some may be sensitive about certain smells, and some may prefer a pasta salad instead of a sandwich!
Autumn marks the start of a new university term, and many young people all around the country will be heading off to live away from home. This is a fantastic opportunity to learn about food, cooking and budgeting – with many cooking for the first time. As well as academic education, these life skills are also a key part of the university journey.
Although the temptation may be to eat out or buy takeaways or ready meals rather than just cooking for one, preparing food in your accommodation can have lots of benefits:
it can work out much cheaper
you will know exactly what you are eating
you could have meals organised for a whole week in advance
learning to cook can help you feel more independent
To make healthy eating and cooking at university enjoyable and easier, try the following tips:
Plan and budget
Plan your meals and shop for the week
Work out how much money you have per week and allocate some to the food shop. This will mean that you can plan and budget for your food all term, rather than having steak in week one, and plain pasta in week ten!
Being prepared will allow you to buy ingredients that you can use in a few dishes and having the food at home may help you to resist the temptation (and save the money) of a takeaway on the way home from lectures.
Buy packed lunch ingredients for cheaper meals on the go – buying lunch out can really add up!
Take note
Before you leave to go to university, write down the recipes of some of your favourite home classics - you can ask whoever cooks them to give you a lesson or two. Being able to make a few simple recipes from home will build your confidence in the kitchen and hopefully keep homesickness at bay! You may also find by sharing ideas and favourite foods with your house/flatmates you learn about different foods – again one of the exciting learning opportunities at university!
Be a savvy shopper
Firstly, the reduced section – this may well become your new favourite place. This section in your local supermarket often has some great deals on a variety of foods particularly towards the end of the day – it's always worth a check first!
If you have two food shops near you, it may be worth comparing prices, online or in store, between the two to see which is cheaper. Supermarkets usually offer discounts for the first order online, so check these out too. They sometimes have a minimum spend, but if it's more than you were planning to spend why not go in with a friend and share the discount?
It also may be worth checking out your local butcher, as they often offer good value meat compared to the supermarket – and you will be supporting your local business community!
As money may be tight, buying fruit and vegetables that are in season can be cheaper, as is buying loose produce or fruit and vegetables from local markets. You can also save money by peeling and chopping vegetables yourself rather than buying ready prepared produce. Frozen and canned fruit and vegetables are also good options and still count towards your 5 A DAY and can be stored until needed. If choosing canned fruit or vegetables, try to go for versions without added salt or sugar.
Start a supper club - pick a day and take it in turns with your housemates to cook for each other. If there are four of you in the house, you'll only have to cook once a month to be guaranteed a homemade meal at least once a week!
Waste less and help the environment
Do you know that food waste is a big environmental concern?
In the UK, it is estimated that 10 million tonnes of food and drink waste arises each year, 60% of which could be avoided. This has serious economic, environmental and social implications and impacts.
So we should all try to reduce our food waste. Here are some tips:
1) Understanding the dates on food labels
Best before = quality of the food, rather than the safety. Meaning the food will be safe to eat after the date but may have deteriorated in quality a little. 
Use-by = safety of the food. Foods should not be eaten after this date (even if it looks or smells okay) BUT a good tip to extend the life of the food is to freeze it before the date, and when needed, defrost and use within 24 hours!
2) Freeze, don't waste
Individually bag a larger pack of chicken breasts or freeze your loaf of bread, taking out individual slices when you need to use them.
Cook larger portions and freeze the leftovers. Chilli con carne and casseroles will taste just as good on baked potatoes.
Use any leftover meats or vegetables in sandwiches, soups, risottos and stir fries. If you are stuck for ideas, a quick search online will help your leftover inspiration!
You can read more about how to reduce food waste on the Love Food Hate Waste website.
For more tips on eating healthily at university read our page on students.
For more tips read our page on healthy eating on a budget.
Help us improve
---
We'd love to hear your thoughts about this page below.
If you have a more general query, please contact us.
Please note that advice provided on our website about nutrition and health is general in nature. We do not provide any personal advice on prevention, treatment and management for patients or their family members.