Breakfast in bed celebrating those who care for us
Whether it's our mothers, fathers, grandparents or carers, let's show how much we appreciate them with breakfast in bed!
Throughout the year there are a number of days dedicated to celebrating members of our family. One of the best known is Mother's Day. Originally a religious festival where people return home to their 'mother' church the middle of Lent, for those who did so the day often turned into a family reunion and a chance for children working away from home – often young domestic servants - to spend time with their mothers. Nowadays, it's also a time to celebrate mums as well as other maternal figures whether it's a grandmother, stepmother, mother-in-law or female guardian. But celebrating anybody that you care about can be done at any time of year.
People chose to celebrate in different ways. You can show your appreciation for someone with a simple 'thank you' or a hug, or by spending time with them, giving a gift or doing something nice for them like breakfast in bed.  Whichever feels right to you!
Breakfast for someone you love (serve in bed for extra brownie points!)
It's great to start children cooking and breakfast recipes can be a great way to start introducing young children to making food.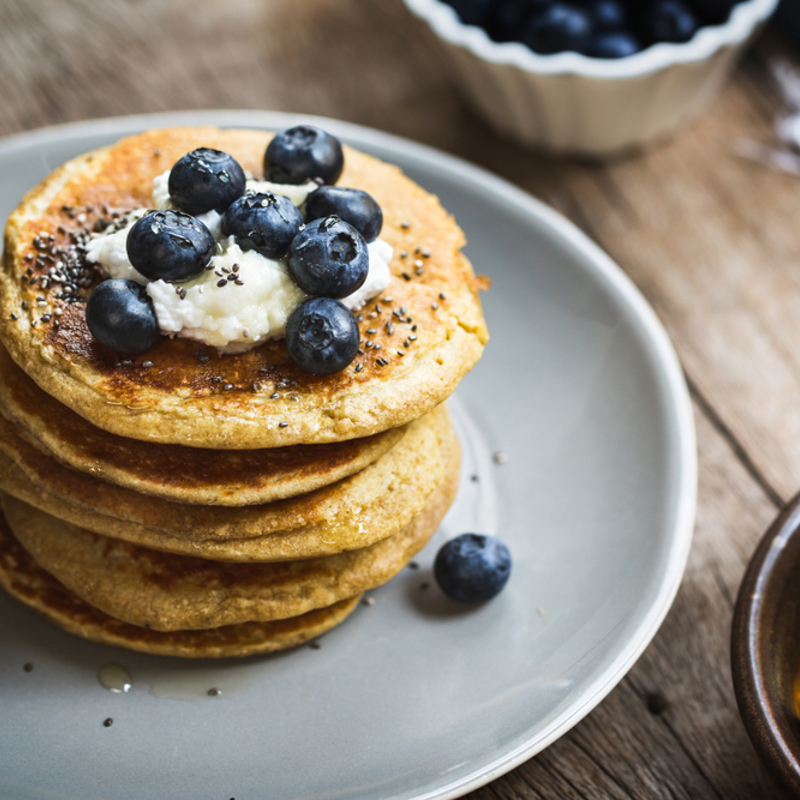 Breakfast recipes
Banana pancakes with yogurt and blueberries
This must be the simplest pancakes recipe ever - it's made with just egg and banana and is super quick.
Combine one ripe, very well mashed banana with two beaten eggs and cook in small batches in a pan with a bit of oil.
Serve topped with low-fat natural yogurt and a handful of blueberries (or other fruit of your choice).
The British Nutrition Foundation says: This breakfast is simple, easy and contains two of your 5 A DAY.
Adding an extra touch – why not add some cinnamon or vanilla to the mix? You may also find a pinch of baking powder helps.
Berry Pink porridge
Put half a cup of porridge oats into a saucepan, with 1 cup of milk. Bring to the boil and then cook over a low heat, stirring frequently for 5 minutes. As it is cooking add some frozen berries - the juice from the berries will turn the porridge pink!
The British Nutrition Foundation says: Porridge is a great choice for breakfast. It is a good source of fibre, which can help to fill you up for longer.
Adding an extra touch - a drizzle of honey, flaked almonds and low-fat fromage frais.
Poached eggs on wholegrain toast with mushrooms, tomato and spinach
In a little unsaturated oil (like olive or rapeseed oil), cook sliced mushrooms, tomatoes and spinach together until soft. Crack an egg into a small bowl. In a separate saucepan, bring water to a simmer. Add a splash of white vinegar and, into swirling water, add the egg to the pan. Turn the heat down and cook for about 3 minutes. Whilst the eggs are cooking, toast a slice of wholemeal bread under the grill or in a toaster. Spread toast with a scraping of butter or low-fat spread and top with the eggs (try to drain as much water from the eggs as possible by removing from the pan with a slotted spoon). Serve the vegetables on the side.
The British Nutrition Foundation says: A tasty and healthy cooked breakfast can be a treat as carers can often be too busy to make one for themselves.
Smoked salmon and scrambled eggs on wholemeal bagel
Whisk together two eggs with a little milk and some black pepper. Add the mixture to a saucepan and cook over a medium heat until cooked through, mixing occasionally. In the meantime, toast a wholemeal bagel and spread thinly with butter or low-fat spread. Top the toasted bagel halves with scrambled egg and top with some slices of smoked salmon.
The British Nutrition Foundation says: Smoked salmon is an oily fish, so is a great source of omega-3 fats and vitamin D.
Adding an extra touch - squeeze some lemon juice over the salmon or add fresh chives or spring onions to the scrambled egg mixture.
But remember it doesn't have to be a fancy breakfast - even just bringing her a cup of tea or coffee, a bowl of cereal or some toast is a nice thought!
Last reviewed March 2018.
Help us improve
---
We'd love to hear your thoughts about this page below.
If you have a more general query, please contact us.
Please note that advice provided on our website about nutrition and health is general in nature. We do not provide any personal advice on prevention, treatment and management for patients or their family members.