Your pancakes, your way
Whether you're celebrating Shrove Tuesday, 'Fastnacht' ('Eve of the Fast' in Germany), 'Mardi Gas' ('Fat Tuesday' in France) or 'Sprengidagur' ('Bursting Day' in Iceland), make your pancakes your way with some savoury and sweet suggestions from our Nutrition Scientists.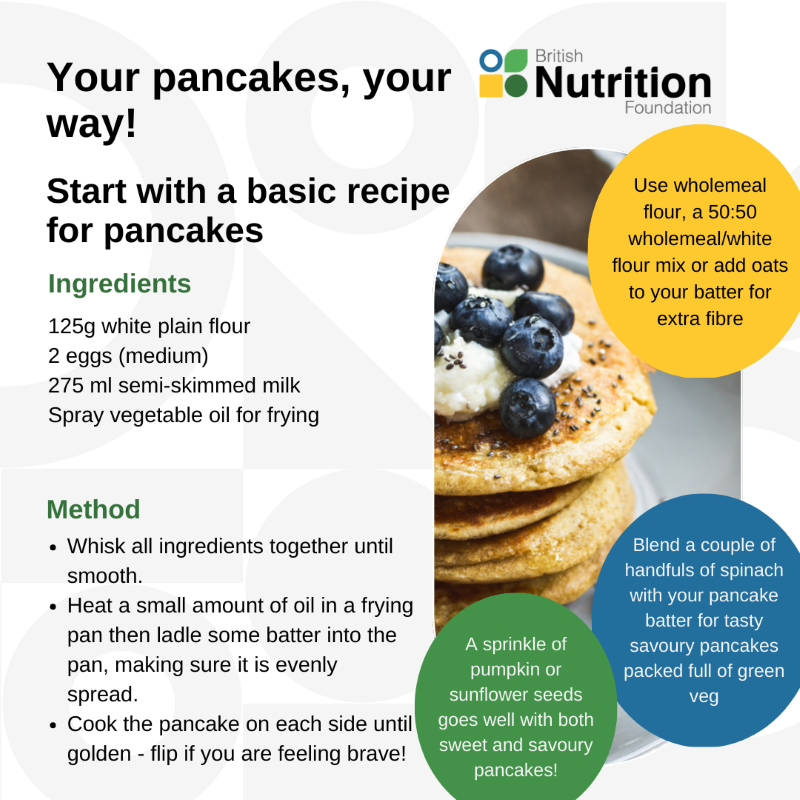 If you can't have dairy, then replace the milk with a calcium-fortified dairy alternative.
Savoury? Try some of our Nutrition Scientists' favourite toppings!
Smoked salmon, low-fat soft cheese, lemon, black pepper
Poached egg, mushrooms, spinach and lower fat crème fraiche
Lean sliced ham and grated hard cheese like Parmesan or Gruyere – leave to melt in the pan! Serve with salad
Brunch pancakes – add sweetcorn to pancake batter and serve with avocado, poached egg, spring onion, chilli flakes and a squeeze of lime juice
Sweet? Try some of our Nutrition Scientists' favourite toppings!
Mixed berries (or berry compote) and grated dark chocolate
Your favourite fruit and 1 tbsp of nut butter
Low-fat Greek-style yogurt, sliced banana, chopped nuts and a drizzle of honey
Fruity tropical pancakes – add desiccated coconut to pancake batter and top with pineapple, mango and coconut yogurt
And remember, pancakes are not just for Shrove Tuesday!
Pancakes make a great weekend breakfast and can be fun to cook together with children!
Top your breakfast pancakes with:
A sprinkle of nuts and/or seeds for fibre, protein and unsaturated fats
Fruit like berries, sliced banana, pear or figs for fibre, vitamin C, folate and potassium
You can even make super easy banana pancakes with just a few ingredients! Don't worry if these pancakes have a slightly different texture to other pancakes you might have made before. Children can help mash the banana and add the toppings.
Combine one ripe, well-mashed large banana with two beaten medium eggs and cook in small batches in a pan with some oil.
Serve topped with low-fat natural yogurt and a handful of blueberries (or other fruit of your choice).
Fun pancake facts from around the world
In Sweden, eating pea soup and pancakes every Thursday is a long-standing tradition many Swedes have grown up with – the Swedish Armed Forces have upheld this tradition since World War II!
In Poland, Shrove Tuesday is also Sledziowka (Herring Night) when herrings are served with 'zur', fermented cereals such as rye, wheat, oatmeal or sourdough used to make soups.
In Spain, people celebrate 'El Dia de la Tortilla' (the day of the Tortilla) on Shrove Tuesday, gathering with family and friends to eat Spanish omelettes.
On Vastlapäev in Estonia, pancakes are eaten with split pea soup made with dried yellow peas, pearly barley and pork belly.
Shrove Tuesday in Finland is Laskiainen when people also enjoy soup, made from ham, onions and mustard, accompanied by dark Finnish rye bread.
Help us improve
---
We'd love to hear your thoughts about this page below.
If you have a more general query, please contact us.
Please note that advice provided on our website about nutrition and health is general in nature. We do not provide any personal advice on prevention, treatment and management for patients or their family members.