The science of fibre
This article is for people who are interested in nutrition science and the evidence base for fibre intake and health. This article looks at:
Key points
Dietary fibre comprises a group of different substances in plant foods which cannot be completely broken down by human digestive enzymes.
A high fibre intake has been associated with reduced risk of several conditions including constipation, heart disease, type 2 diabetes and colorectal cancer. It is a common feature of healthier dietary patterns.
Dietary fibres have different properties (solubility, viscosity and fermentability) which vary greatly depending on origin and processing and influence their effects on health.  
Some dietary fibres are fermented by gut bacteria and dietary fibre consumption may affect the gut microbiota.
Adults in the UK are recommended to consumer 30g of fibre a day but are currently consuming about 20g a day on average. Children are also eating less fibre than recommended.
Summary
Dietary fibre refers to a complex group of substances in plant foods which cannot be completely broken down by human digestive enzymes and so pass through to the colon.
Sources of less fermentable fibre can act as bulking (laxative) agents and help prevent constipation. For fibre to have the best effect on preventing constipation, an increase in fibre intake should be accompanied by an increase in fluid intake. Some oligosaccharides (a type of fibre with a shorter carbon chain length) can be fermented by gut bacteria and may have a beneficial effect on gut flora.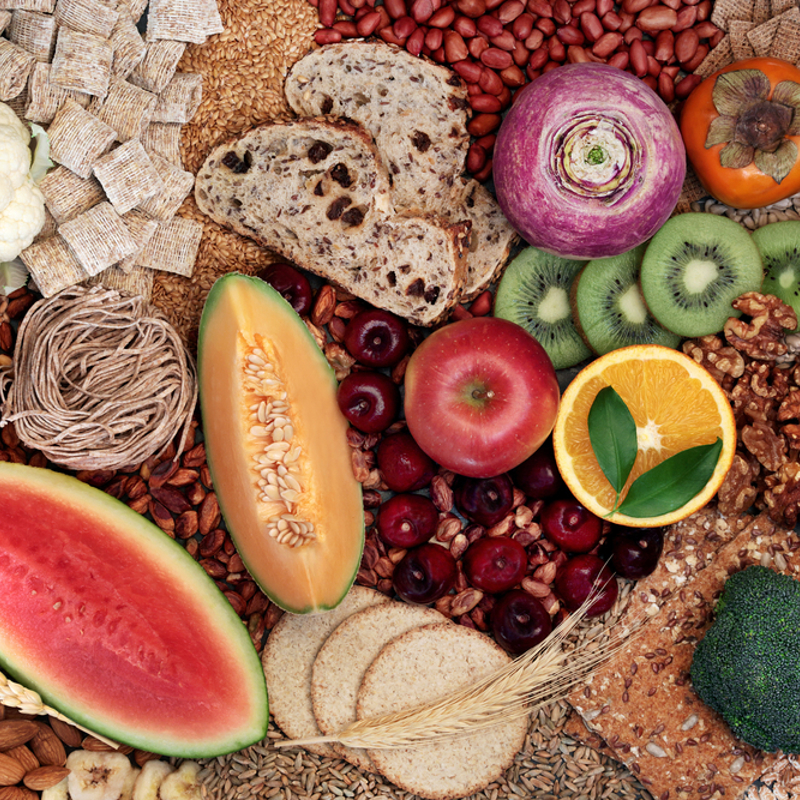 The evidence for the links between dietary fibre and health was reviewed in 2015 by the Scientific Advisory Committee on Nutrition (SACN), which found that there is strong evidence that diets rich in fibre, particularly cereal fibre and wholegrains, are associated with a lower risk of many health conditions, including cardiovascular disease, coronary events, stroke, type 2 diabetes and colorectal cancer.
Based on its review of the evidence, SACN recommended a new daily intake of dietary fibre for adults of 30g with proportionally lower recommended intakes for children. But most people in the UK do not eat enough dietary fibre. A low fibre intake is associated with constipation and gut diseases such as diverticulitis and bowel cancer. Average intakes of dietary fibre in adults are 20g fibre per day.
It is important to eat a variety of fibre-containing foods, which include wholegrain and high-fibre starchy carbohydrates like wholewheat pasta, brown rice, wholegrain breakfast cereals; fruit and vegetables; potatoes with skin; pulses; and nuts and seeds. In the UK, most dietary fibre in the average adult's diet comes from vegetables, pasta and rice, white bread, fruit and chips and other potato products. In children (aged 4-10 years) and teenagers, the biggest contributors to fibre intake are fruit, vegetables, white bread, pasta and rice and high-fibre breakfast cereals.
More information on fibre
Easy changes you can make to your diet to increase your fibre intake.
Quick facts
Consumer
Health professional
What is resistant starch?
Watch a talk on resistant starch by Dr Stacey Lockyer, British Nutrition Foun...
Exploring the effects of resistant starch on blood sugar and feeling full
Watch a talk on resistant starch and health by Dr Stacey Lockyer, British Nut...
Help us improve
---
We'd love to hear your thoughts about this page below.
If you have a more general query, please contact us.
Please note that advice provided on our website about nutrition and health is general in nature. We do not provide any personal advice on prevention, treatment and management for patients or their family members.