Nutrients and supplements
This article has information about important nutrients to think about for healthy ageing and advice on supplements, including:
Reducing your salt intake
Salt (sodium chloride) is the main source of sodium in our diet. While some sodium in the diet is necessary for health, it can raise blood pressure (raised blood pressure is a major risk factor for stroke and heart disease). Adults should eat less than 6g of salt per day. The food industry are reducing the amount of salt in many foods, but a lot of the salt we eat is already added to the foods we buy, and it is important to look at the labels to select lower salt options. For more information on labels, click here.
A decreasing sense of taste as we age can encourage us to add more salt to meals for flavour. Watch the amount you add at the table, and try to use herbs, spices and a variety of different foods to flavour meals instead of adding salt.
Reducing salt in the diet can be easy. It just involves making a few small changes to the foods you choose and the methods you use to cook them. Try these ideas:
Be careful of foods that may be high in salt such as bacon, pickles, smoked fish, anchovies, soy sauce, bottled sauces, gravy, stock cubes, cured meats, and some packet soups.
Always check the labels and choose reduced salt or 'no added salt' versions of products where possible.
For foods high in salt, opt for smaller portions of these foods and don't eat them too often.
When choosing canned vegetables, pulses and fish, pick those that say no added salt or are canned in water.
Use herbs and spices, such as garlic, ginger, chilli, lemon or lime, to flavour meals rather than adding salt.
Leave the salt cellar off the table. This will remove the temptation to add it to your plate.
Gradually cut down on the salt you are eating. Your taste buds will slowly adapt to eating food that is less salty.
If you do add salt to your cooking or meals, then you may want to try buying a reduced sodium salt, although check with your GP before making the switch, especially if you have a health condition such as diabetes, or are taking any medications.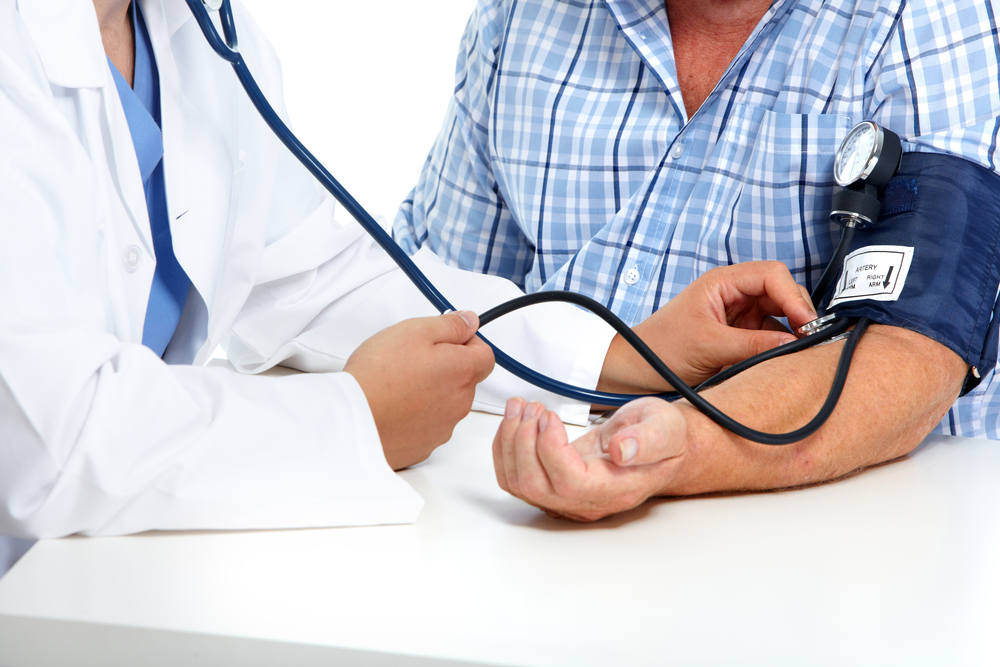 Did you know...
Sea salt contains as much sodium as table salt. It doesn't matter how expensive salt is, where it is from, or whether it comes in grains, crystals or flakes - it still contains sodium. It's the sodium in salt that can raise your blood pressure and increase your risk of suffering from heart disease.
Eating calcium-rich foods
Calcium is important for the development and maintenance of bones. We lose bone mass as we age, so it is important that we consume plenty of calcium. After the menopause, women are at a higher risk of osteoporosis (thinning of the bones) and reduced bone density. This is because the hormone oestrogen has a protective effect over bone breakdown and after the menopause, less oestrogen is produced.
As a result, it is particularly important that older women get plenty of calcium from their diet to minimise bone loss. Milk, cheese and yogurt are rich in calcium, but other sources include fish with edible bones (e.g. salmon, sardines), some green leafy vegetables like kale, calcium fortified soy products (e.g. soya drink, tofu), white bread and fortified breakfast cereals. You should be able to get all the calcium you need from your diet, but if you do take calcium supplements, be careful not to take too much – stick to less than 1500mg (milligrams) per day.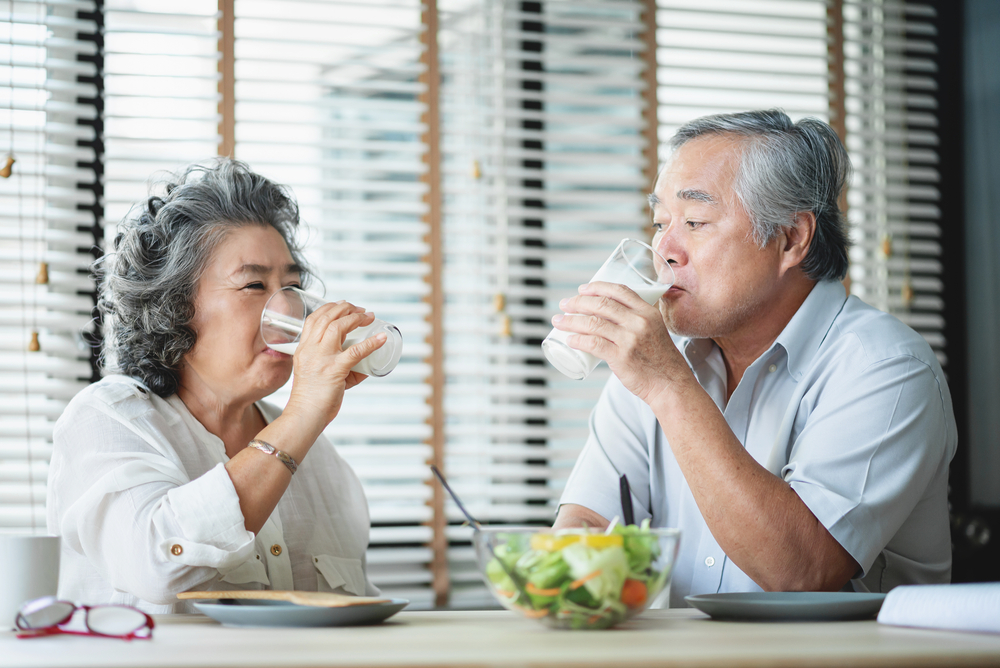 B vitamins have a range of important functions in the body, including contributing to healthy red blood cells, releasing energy from the foods we eat, normal nerve function and vision, healthy skin, and reducing tiredness.
Sources of B vitamins in the diet include:
Folate/Folic acid: some green vegetables, and fortified grains and grain products
Vitamin B6: fortified cereals, peanuts, pork, poultry, fish, milk and vegetables
Vitamin B12: animal products (such as fish, meat, eggs, or dairy); fortified breakfast cereals and other fortified foods such as soya drink.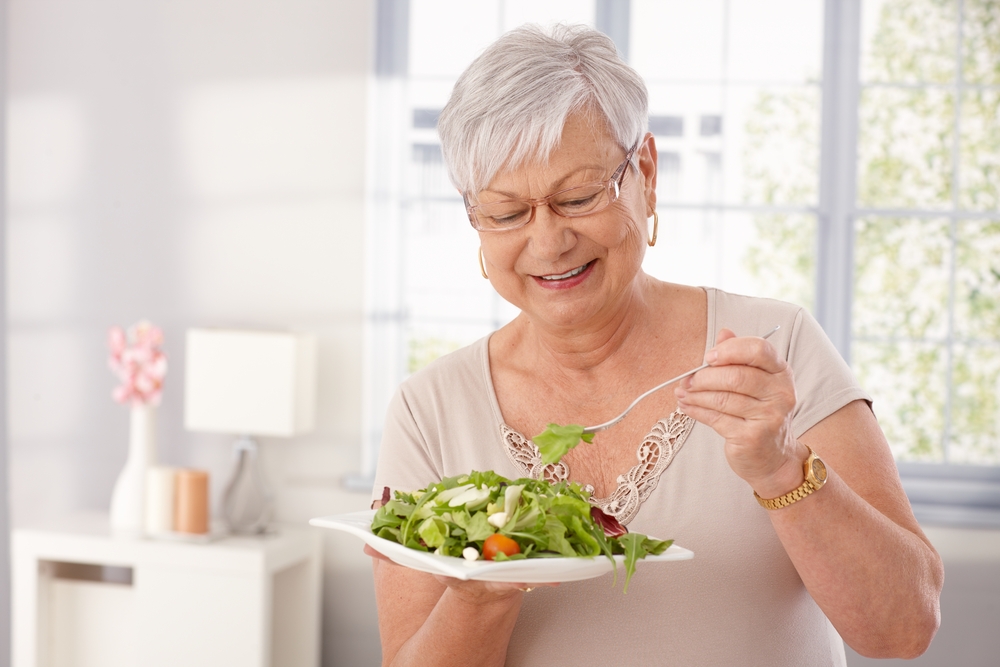 The Department of Health and Social Care recommends that people aged 65 years and over should take a supplement containing 10µg (micrograms) of vitamin D during the autumn and winter months (between late March/early April to the end of September) to protect bone and muscle health. This is because it can be difficult for us to get enough vitamin D from our diet alone, as there are only a limited number of foods that provide vitamin D in our diets (e.g. oily fish, eggs, and fortified breakfast cereals, fat spreads and dairy products). Also, during the autumn and winter months, we can't make enough vitamin D in our skin naturally through the action of sunlight. 
However, it is recommended that you take a daily 10 microgram vitamin D supplement throughout the year if you:
Do not often go outdoors (for example if you live in a care home or are housebound)
Cover your skin while outside
If you have have dark skin - for example, if you have an African, African-Caribbean or south Asian background - then you should consider taking a daily supplement containing 10 micrograms of vitamin D throughout the year.
Vitamin D plays an important role in bone health (it is needed by the body to absorb calcium) and muscle function. Because vitamin D is needed for increased bone and muscle strength, low levels of vitamin D can increase the risk of falls and fracture.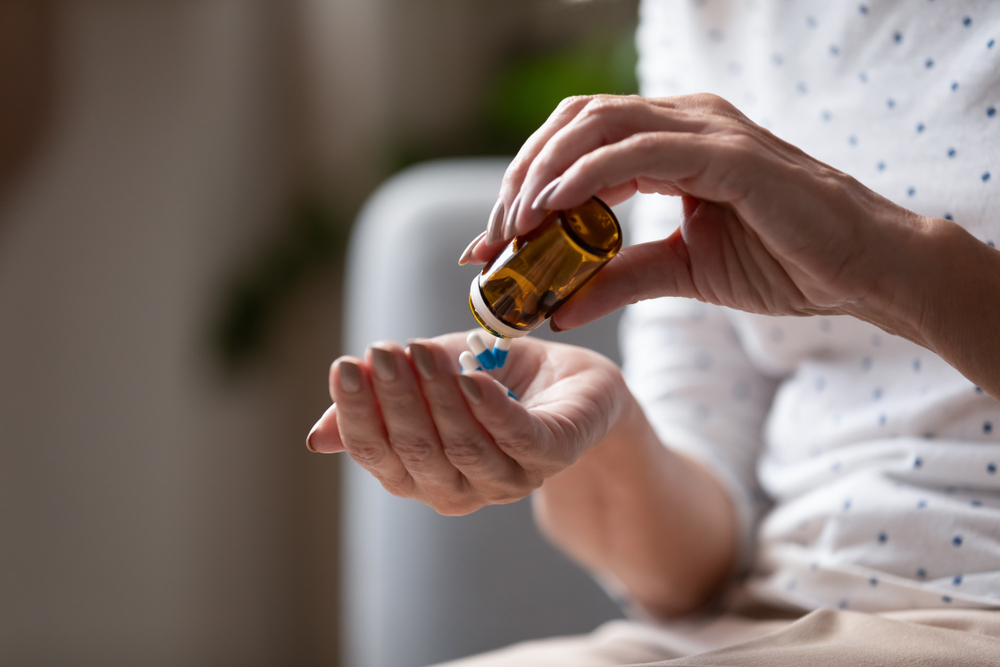 Supplements and functional foods should not replace a healthy diet
There are some people that will be prescribed supplements, for example iron for iron deficiency anaemia. Some people choose to take other supplements because they believe they will benefit their health but there is not enough strong evidence that currently supports their use.
If you do decide to take supplements, it's important to remember that supplements will not replace a balanced diet! It is also important to remember that taken in excess, supplements may be harmful.
For example, according to some research, having more than an average of 1.5mg a day of vitamin A over many years may affect your bones, making them more likely to fracture. As a precaution, it may be advisable for people at increased risk of osteoporosis, such as postmenopausal women and older people, not to consume vitamin A at intakes greater than 1.5 mg/day. This could be achieved by ensuring that supplements containing vitamin A are limited (including those containing fish liver oil), particularly if you eat liver, as liver and its products like pate are particularly high in vitamin A.
'Functional food' is a term used to describe a food modified in some way that may provide health benefits over and above the nutritional value of the food. For example, plant stanols and sterols found in some fat spreads and dairy products can help lower cholesterol.
Fortified foods can play a role in a healthy diet. For example, fortified soya drinks can be fortified with calcium, which is important for those who do not consume dairy products, the major source of calcium in the UK diet. As vitamin B12 is predominantly found in foods of animal origin, fortified foods are an important source of vitamin B12 for vegans.
Fat spreads are important sources of vitamins A and D in the UK diet because of voluntary fortification. White and brown flour (not wholemeal) are also fortified by law with iron, calcium thiamin and niacin.
Information reviewed February 2016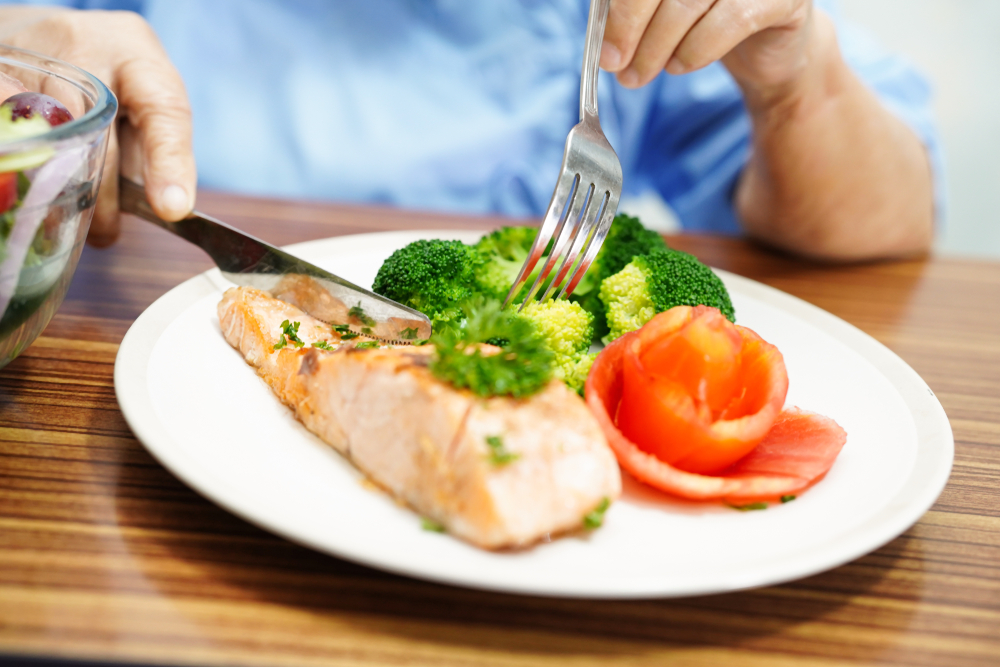 Help us improve
---
We'd love to hear your thoughts about this page below.
If you have a more general query, please contact us.
Please note that advice provided on our website about nutrition and health is general in nature. We do not provide any personal advice on prevention, treatment and management for patients or their family members.