Oral Nutritional Supplements (ONS)
Are Oral Nutritional Supplements for Dementia Helpful?
In mixed patient groups oral nutritional supplements (ONS), sometimes referred to as sip feeds, have been shown to be effective in improving weight. But do we know whether this is true specifically in people with dementia and should particular consideration be given to people with dementia when prescribed supplements?
Clearly, ONS can only be effective if consumed, and although short-term compliance in people with dementia has been reported to be satisfactory, figures as low as 8.5% have been reported in longer-term trials. In addition, the high dropout rates in some ONS studies, which may have introduced considerable bias, have led to some questioning of the effectiveness of ONS for people with dementia at risk of, or with, malnutrition.
It is important to consider why the person with dementia may be losing weight. If the reason is related to their lack of ability to feed themselves, then providing additional ONS without supporting their eating and drinking abilities is unlikely to lead to an increased intake. This reinforces the need to not only screen for risk of malnutrition, but to adequately assess individual nutrition needs, including the assistance required with eating as part of the prescription decision. There is also some evidence suggesting that people with dementia and with a low Body Mass Index (BMI) may eat less when prescribed ONS, and may therefore, decrease overall food intake and continue to lose weight.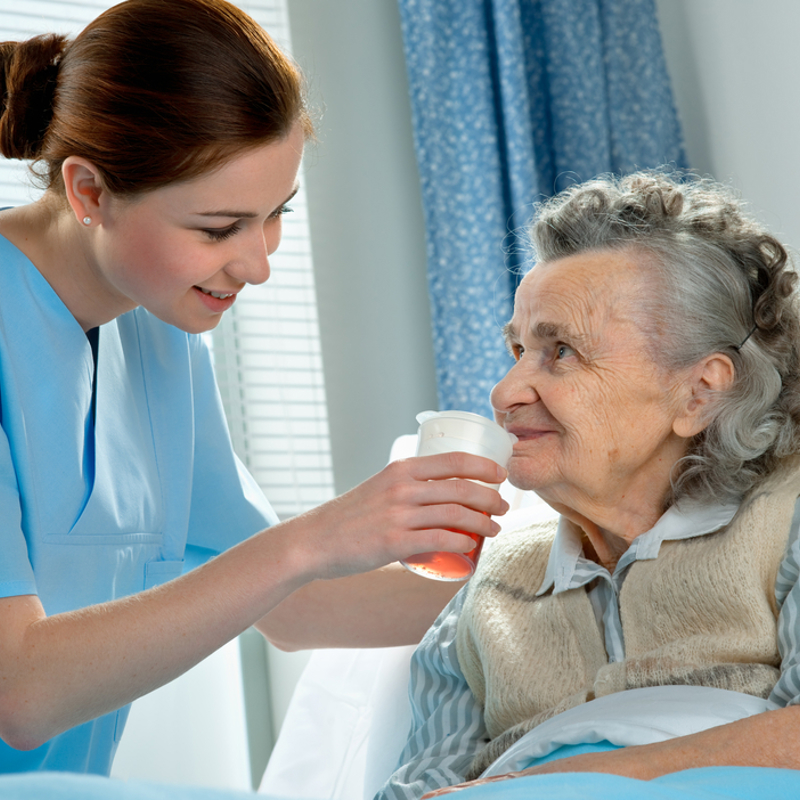 It is also worth noting that people with dementia who have a low BMI are more likely to have later stage dementia and are also more likely to have reduced mealtime abilities. Monitoring is important. One way of monitoring that has been shown to be useful is a two-day trial of ONS alongside a detailed recording of oral food intake.
For someone living with dementia where mealtimes will be one of their few opportunities for social interactions, a decrease in food intake is unwanted from both a nutritional and quality-of-life aspect. Fundamentally ONS should be a supplement to the diet and not become a meal replacement. Providing assistance with eating and drinking can be seen as a labour-intensive, caring task and be problematic in instances of inadequate staffing levels. ONS may be helpful, but strategies to improve mealtime abilities and eating environments to promote food intake should not be ignored when they are prescribed.
Oral nutritional supplements – are they always being prescribed appropriately?
Malnutrition, characterised by low bodyweight and weight loss is both a cause and consequence of poor health and older people are particularly vulnerable. Oral nutritional supplements (ONS) can improve nutrient intake, including energy and protein, improve weight (or lessen weight loss) and be of clinical benefit and cost-effective as a treatment when prescribed appropriately. However, ONS may represent a significant waste of resources if they are inappropriately prescribed or poorly monitored.
ONS (sometimes referred to as sip feeds) are designated as foods for special medical purposes, and as such are regulated by European legislation and must comply with compositional standards. They can supplement a normal diet to help provide the essential nutrients individuals need when food alone is insufficient to meet daily need. There are a wide range of ONS styles (milk, juice, yogurt, savoury), formats (liquid, powder, pudding, pre-thickened), types (high protein, fibre containing, low volume) available to suit a wide range of needs, and most provide a full range of vitamins and minerals per serving. ONS should usually be taken between meals, and not as a meal replacement, to avoid spoiling appetite. Additionally, Initial offerings could include a range of products to establish individual preferences and reduce waste. For those requiring longer-term oral nutritional support it is likely that a variety of types of ONS and encouragement to comply with ONS would be beneficial.
It is though important to recognise that good nutrition care encompasses far more than the provision of ONS alone. It starts with ensuring that people have access to and/or are supported to consume food that not only meets nutritional, but also cultural and religious needs and preferences. Good nutritional care also includes ensuring that people who are malnourished or at risk of malnutrition are promptly identified through screening, that action is taken to ensure that they receive appropriate and timely nutritional support, and that nutrition care is regularly monitored.
ONS then are only one of a spectrum of nutritional support strategies that can be used to tackle malnutrition. Food should be first-line treatment for those at low to medium risk of malnutrition. However, a lack of adequate training, historical patterns of use and inconsistent messages may promote care home staff to regard ONS as the panacea for malnutrition. Thus, ONS can be prescribed in care homes without adequate assessment, goals or treatment plan defined, and before other recommended first-line methods, such as dietary counselling and simple food fortification, have been tried.
The use of ONS in dementia may be of particular interest to those involved in nursing home care. Limited research indicates some improvement in weight and cognition with ONS although not in function or mortality. Research has also highlighted that although ONS may be prescribed with good intentions – such as dealing with challenging food behaviours like food refusal, or simply to be acting positively to help nutrition care – this may not always be appropriate and highlights the importance of involving dietetic expertise in nutrition care where necessary.
Information reviewed August 2019
Help us improve
---
We'd love to hear your thoughts about this page below.
If you have a more general query, please contact us.
Please note that advice provided on our website about nutrition and health is general in nature. We do not provide any personal advice on prevention, treatment and management for patients or their family members.