Eating outside the home and obesity
This section is for people who want to find out more about healthy eating outside of the home. This will include food and drinks you may buy in your work lunch break, as well as eating out in a café, pub or restaurant, and takeaways.
It will help equip you with the knowledge you need to make healthier choices with foods eaten out of the home whether you are on the go, ordering fast food or takeaway meals or enjoying a sit down meal in a café or restaurant.
In the UK we are increasingly eating more food out of the home, and the easy availability and low cost of some of the higher fat, salt and sugars choices has been shown to contribute to overweight and obesity. Public Health England (PHE) estimated in 2014 that there were over 50,000 fast food and takeaway outlets, fast food delivery services, and fish and chip shops in England.
Of course there are some occasions when eating out is a special treat and an opportunity to include a more indulgent option but, if you eat out or buy takeaway food a lot, it's important to make healthier choices.
With healthier 'on the go' options for example now available in supermarkets, it may be easier to make healthier choices outside of the home,  but there are also many unhealthy options to be aware of.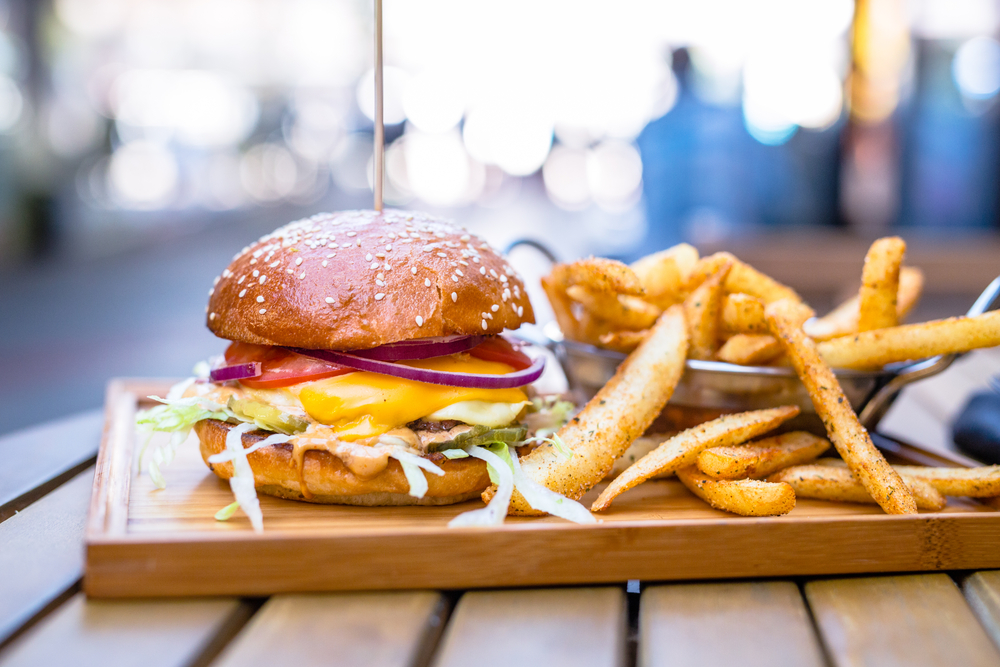 Eating out and your health: links with nutrient intake and obesity
On average in the UK one in four adults and one in five children eat meals out at least once a week.
The food we eat outside the home is an important part of our diet, and can make a large contribution to our calories (energy intake).
Compared with meals prepared and eaten at home, those eaten outside of home tend to:
have higher levels of:

and lower levels of:

fat
saturated fat
added sugars
salt

fruit and vegetables
vitamins and minerals
This means that the choices you make when eating out can have an impact on your health.
The increase in meals eaten outside of home, particularly the readily available cheap high fat, salt and sugar choices, has been shown as an important factor contributing to rising levels of overweight and obesity.
In England, one in three children in year 6 (aged 10-11) and about two in three adults are either overweight or obese, so being aware of how many calories we are consuming is important.
Nutrition information
When we're out and about it's easy to eat more than we should and on average we're eating an extra 200-300 calories every day! Public Health England (PHE) launched the One You campaign in March 2018, which suggests we aim for 400-600-600 to help stay on track when we're eating out of home. That's around 400 calories for breakfast, 600 calories for lunch and 600 for dinner – leaving room for a couple of healthy snacks and drinks.
On average women need 2000 kcal a day and men 2500 kcal. See the table below:
| | | | | |
| --- | --- | --- | --- | --- |
|   | Breakfast | Lunch | Dinner | Snacks and drinks |
| Recommended calories | 400kcal | 600kcal     | 600kcal   | 400kcal |
Increasingly, fast food restaurants, large chain pubs and restaurants, coffee shops and sandwich bars are displaying calorie information, so you could make use of this to choose options with fewer calories. It's always worth looking on the food outlet's website for nutrition information, if you know where you are eating beforehand.
You can also look at the descriptions of dishes to help you make healthier choices (see earlier section Top tips on eating out of home).
Key references for healthy eating outside of home
PHE (2018) One You
For more information on the sources used in this text, please contact postbox@nutrition.org.uk
Last reviewed January 2018. Next due for review January 2021.
Help us improve
---
We'd love to hear your thoughts about this page below.
If you have a more general query, please contact us.
Please note that advice provided on our website about nutrition and health is general in nature. We do not provide any personal advice on prevention, treatment and management for patients or their family members.