Dining out
When dining out in restaurants there is usually more time to look over the menu to decide what to eat, compared to fast food places. Try to look out for a healthy, balanced meal – and remember it is always worth asking the server if a meal can be adapted to make it healthier for example replacing chips with salad, vegetables or new potatoes.
Good choices and choices to limit or avoid when choosing foods for different cuisines
It can be difficult to eat healthily when eating out of home, especially when there are lots of options to choose from. Find some tips below to help you to look for better choices when eating out at different establishments.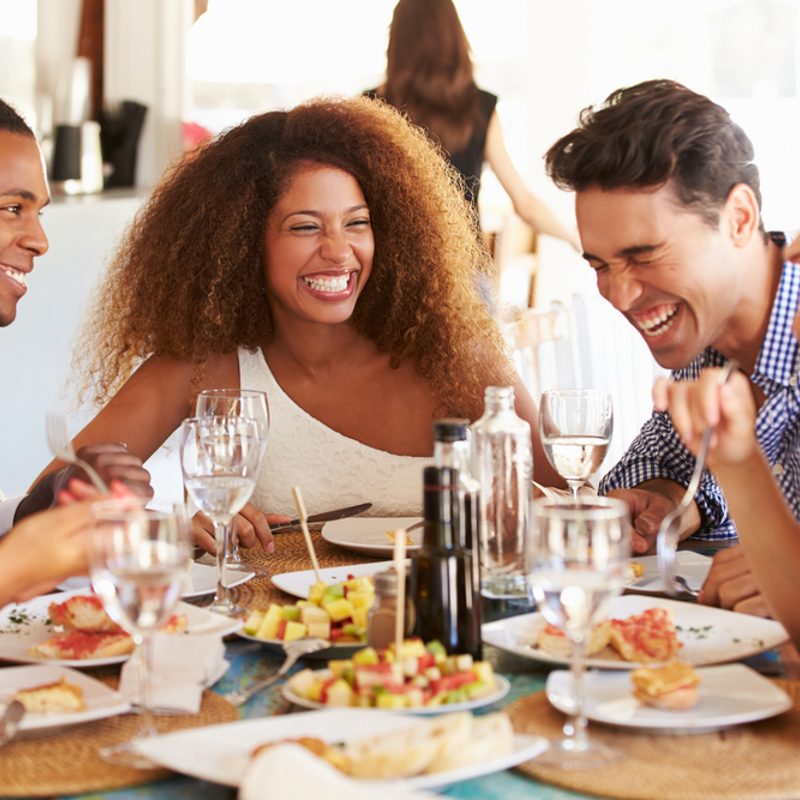 South East Asian including curries
Better choices
Limit or avoid...

Starters

Chicken/crab and sweetcorn soup

Tom yum (clear soup)

Papaya salad

Steamed dumplings

Chicken/prawn/salmon tikka or tandoori

Chicken chaat

Grilled Satay skewers with peanut dipping sauce on the side

Starters

Prawn crackers, pancake/spring rolls, fishcakes, sesame prawn toast and sweet and sour battered balls

Poppadums, parathas, samosa, onion bhajis (fried)

Mains

Stir-fried dishes with lots of vegetables like chow mein or chop suey with beef, chicken, prawn or steamed fish/tofu

Soup noodles with a clear broth and plenty of vegetables

Tandoori chicken or other meat or fish, tikka dishes (cooked on a skewer without sauce), madras (or other dry curries cooked with tomatoes), vegetable curries, dahl (lentils) or channa dahl (chickpeas)

Mains

Curries using coconut cream

Dishes cooked with ghee

Sweet and sour dishes

Sides

Steamed vegetables/tofu/fish/seafood dishes

Sichuan prawns

Tarka dahl (lentils), chana masala (chickpeas)

Sag aloo (spinach & potatoes), aloo gobi (potatoes & cauliflower), broccoli/sag (spinach)/bhindi (okra)/cauliflower/mushroom bhaji

Plain boiled/steamed rice or noodles

Chapatti/roti breads

Salad condiments (onion /tomato salad)

Sides

Special/egg-fried rice and fried noodle dishes

Fried/pilau rice

Naan bread

Sauces

Raita

Tomato-based sauces

Sauces

Soya sauce in large amounts (it's very high in salt)

Sweet chilli sauce

Chutneys and pickles

Cream or coconut-based sauces

Desserts

Fruit sorbet, if available

Desserts

Banana/pineapple fritters
Pasta and pizza restaurants
Better choices
Starters
A salad bowl with low-calorie dressing
Bruschetta (Italian bread topped with chopped tomatoes, garlic and herbs)
Mains
Pasta with a tomato sauce and lean meat or fish
Small thin crust pizza, with reduced fat mozzarella (or ask for half the cheese), lean meat/fish/egg and plenty of veggie toppings
Desserts
Fruit-based puddings such as fruit salad, or a scoop of fruit sorbet/dairy ice cream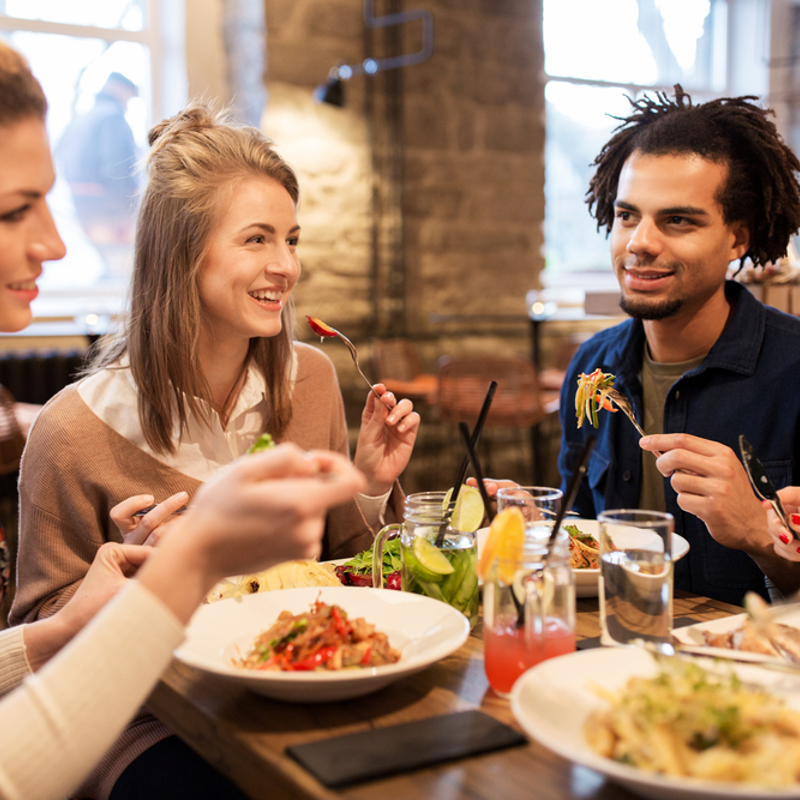 Limit or avoid...
Starters
Salads with lots of croutons and creamy dressings
Garlic bread/dough balls
Mains
Creamy sauces on pasta
Stuffed crust and deep pan pizza
Extra cheese, pepperoni or salami pizza toppings
Desserts
Cheesecake
Brownies
Desserts with cream
Fish and chip shops
Better choices

Limit or avoid…

Small fish

Mushy peas/baked beans

Small portion of chips (limit salt) – or try sharing

Pies and pasties

Battered sausage type products

Onion rings

Large portion of chips

TIP: Watch out for soggy batter and chips – this is often a sign the oil was not hot enough, so more fat has been absorbed.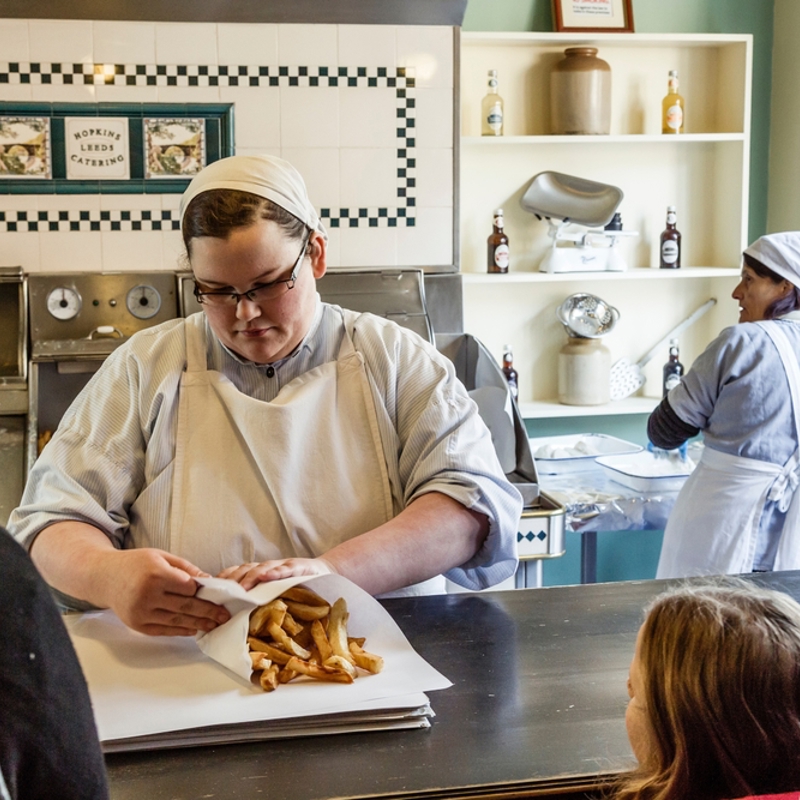 Fast food burger bars and kebabs
Better choices

Limit or avoid…

Standard size plain grilled burgers rather than large or supersize options

Shish kebab (skewer with whole cuts of meat or fish and usually grilled) with pitta bread and salad

Houmous in pitta bread and salad

Small portion of chips with no salt – or try sharing

Extra salad on the side

Fruit or vegetable bag for kids, if available

Water or sugar-free soft drinks

Large doner kebab or burgers (such as those with two patties) with mayonnaise and no salad

French fries

Extra cheese, bacon or mayonnaise

Breaded or battered chicken or fish patties/burgers/nuggets or other battered items such as onion rings

Mayonnaise or sour cream dips

Milkshakes

Refillable sugary drinks

Burger restaurants (sit down)

Better choices

Limit or avoid…

A plain burger (with or without a bun) with salad

Deli sandwiches (check ingredients), grilled chicken and salads, if available

Baked potato wedges or small portion of thick cut chips

Dressings and sauces on the side

As above in Fast food burger bars and kebabs
A word on fast food and fried chicken outlets
There are a considerable number of fast food outlets and fried chicken shops
In general, fast food outlets provide quick, accessible and affordable food.
Four in five fast food outlets are independent outlets (rather than large chain) and many are 'chicken shops' selling mainly or exclusively fried chicken and chips (with typical prices between £1.50 and £3.00).
To be able to sell cheap food and still make a profit, fast food outlets may sell cheaper cuts of meat and low-cost chips. The welfare of the chicken is not usually considered, and they often use economy cooking oil, which can contain trans fat and higher levels of saturated fat.
Fast food outlets can be clustered around schools. Some local councils have now implemented policies that will not give planning permission to new hot food takeaways if they are 400 metres or less from a school, youth facility or park.
Try to avoid or limit the number of times you visit these types of fast food outlets.
If your or your friend's children or other members of your family do eat at chicken shops, then try and encourage them to make healthier choices and remember to limit portion sizes:
Better choices

Limit or avoid…

Look for a chicken shop that has a varied menu, so you can choose a healthier dish such as:

Grilled chicken (on its own or in a wrap/pitta)

Corn on the cob

Baked beans

Salad

Meal deals and size up deals

Large portions of fried chicken

Chicken burgers/nuggets

French fries

Deep-fried sides like chicken wings and onion rings

Creamy sauces and dips like mayonnaise, burger sauce/thousand island or sour cream.
Cooked breakfast in a café
Better choices

Limit or avoid…

Poached, boiled or scrambled eggs

Baked beans

Grilled or canned tomatoes

Grilled mushrooms

Wholemeal toast (with a small amount of spread)

Fried bread

Hash browns

Large portions of chips

Bacon and sausages

Black pudding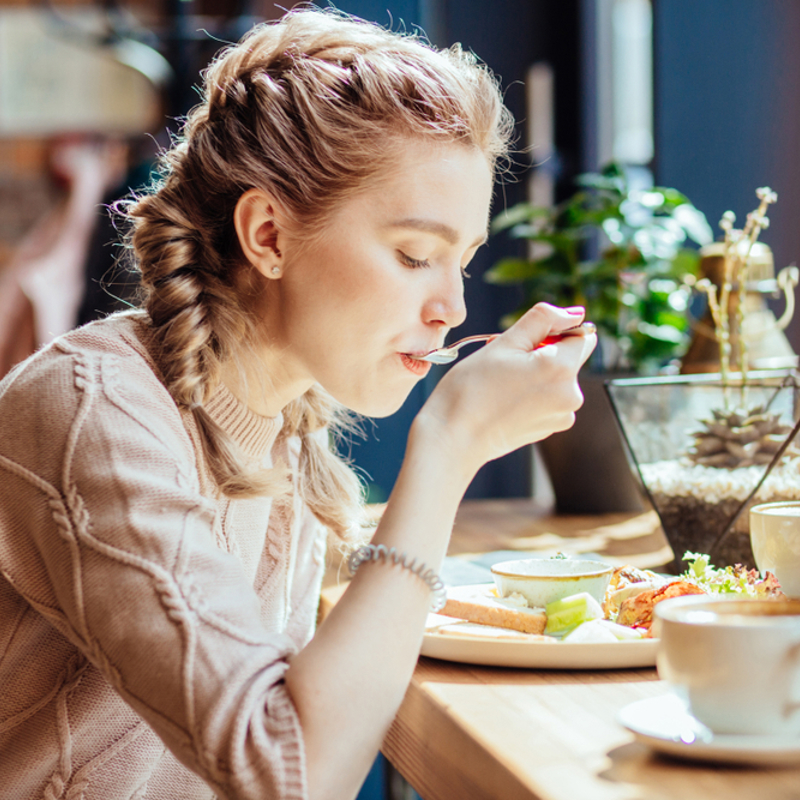 At the cinema
There are lots of tempting snack options available to munch on when you are watching a film, and many are available in large portions. Look at the table below to choose better options:
Better choices

Limit or avoid…

Small carton of popcorn to share

Bottle of water or no added sugars drink

Tea or coffee

A scoop of fruit sorbet or dairy ice cream in a tub without toppings

Large cartons of popcorn

Toffee coated popcorn

Pick and mix sweets

Chocolate bars or sharing bags of chocolate/crisps

Nachos

Hot dogs

Large sugary drinks
Drinks and alcohol
Water is a great choice – order tap water with ice – it's free! If you fancy a change, you could try sparkling water with a slice of lemon or lime.
Fruit juices and smoothies can count towards your 5 A DAY but they contain free sugars, so it is recommended to drink no more than a combined total of 150ml per day. You could top fruit juice up with sparkling water to make it last longer. For more on free sugars see our page on sugars.
Opt for no added sugars soft drinks, rather than those containing added sugars. Remember though that these drinks are not suitable for very young children.
Avoid large sized sugary drinks, especially refillable ones.
Tea or coffee can be a good choice to round off a meal instead of a dessert. You could try some of the herbal infusions or a fresh mint tea. If you drink tea or coffee with sugar or have flavoured syrups in your coffee shop drinks, try sweetening with artificial sweeteners or no added sugars syrups.
If you do fancy an alcoholic drink, then remember to drink responsibly. The UK Chief Medical Officers' advice is not to drink more than 14 units a week on a regular basis. If you regularly drink as much as 14 units per week, it's best to spread your drinking evenly over three or more days and to have several drink-free days each week.  Alcohol should be avoided during pregnancy.
One unit is:

half a pint of normal-strength lager
a single measure (25ml) of spirits

A small glass (125ml) of wine has about 1.5 units of alcohol.
For more information on healthy hydration see our pages on hydration.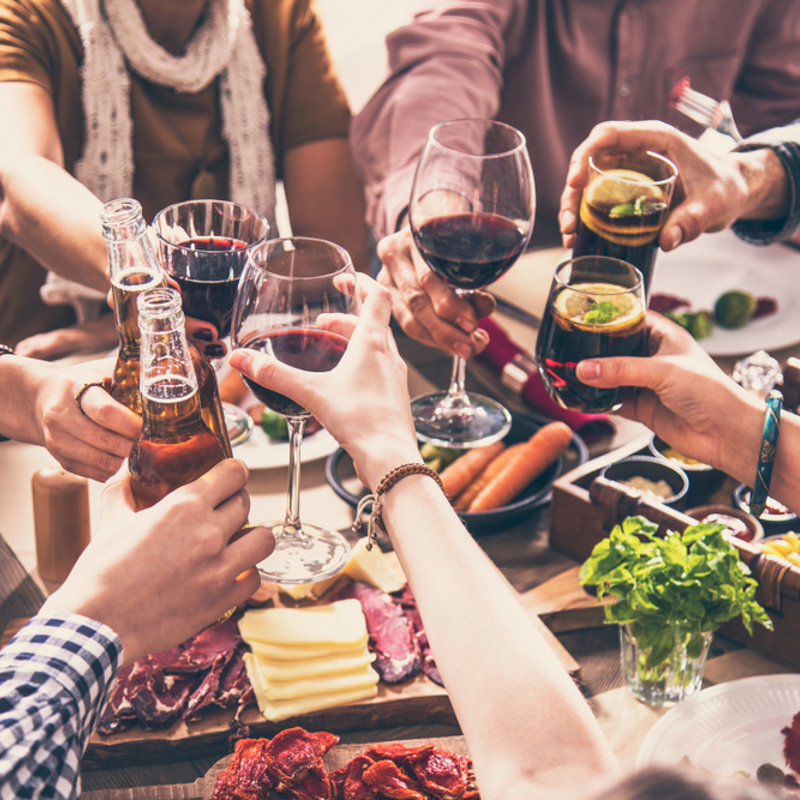 information reviewed January 2018. 
Help us improve
---
We'd love to hear your thoughts about this page below.
If you have a more general query, please contact us.
Please note that advice provided on our website about nutrition and health is general in nature. We do not provide any personal advice on prevention, treatment and management for patients or their family members.