There are many occasions when you may buy food on the go, for example when at a train station, airport or petrol station, or simply because you're pushed for time, so you need to grab something in your lunch break or on your way to or from work.
Whatever the occasion, when buying 'food on the go' try to choose carefully.
A healthy breakfast is important to not only provide you with energy to kick start your day, but it also can help provide essential nutrients, such as fibre, vitamins and key minerals including calcium and iron. However, if you're pushed for time in the morning and find yourself grabbing something on the way to work then try these healthier options:
Choose a café or sandwich shop that has healthier choices like wholegrain toast or breakfast cereals, porridge, low-fat yogurts, 100% fruit juices or smoothies with low-fat milk (150ml maximum a day for fruit juice and smoothies) and fresh fruit salads.
Keep pastries, sweet muffins and croissants as an occasional treat rather than an everyday choice, as they tend to be high in sugars, saturated fat and calories.
If you like bacon/sausage style rolls or sandwiches, you can make some healthier choices. If possible, choose a food outlet that grill or bake the meat. If you have these only occasionally and enjoy white bread it's ok once and a while, but if you have these more often, then choose wholemeal bread, and ask for no butter and a small amount of spread.
Did you know we should be aware of how much processed meat like bacon and sausages we eat?
High consumers of red and processed meats (over 90g per day) should be limiting their intake and consuming no more than 70g per day on average.
A cooked breakfast containing two typical British sausages and two rashers of bacon is equivalent to 130g.
Sandwiches and salads on the go
Whether you buy your sandwiches and salads pre-packed from a shop, get them made freshly for you in a café (or other food outlet), or select a salad from a salad bar, here are some tips to help you make healthier choices.
Most large retailers have their own healthier ranges of foods and drinks and highlight these on pack, but you can also read the nutrition information on the label, to check how much total fat, saturated fat, sugars and salt they contain. For more information read our page on looking at labels.
If the healthier options are not easy to identify, then here are some tips:
Choose sandwich options with wholegrain or wholemeal breads – try a variety of different breads like wraps, pitta or rolls.
Check the ingredients list on pre-packed sandwiches for reduced fat spreads or mayonnaise or ask for these if it is being made for you. If the filling is moist, like tuna with reduced fat mayonnaise, then ask for no spread or butter. For drier fillings like chicken breast you could always opt for salsa/mustard, or a small amount of guacamole instead.
Choose reduced fat hard or cream cheeses or those naturally lower in fat such as mozzarella and cottage cheese.
Opt for healthier protein sources for sandwich fillings and salads like oily fish, lean red meat, turkey and chicken without the skin, eggs or pulses (such as houmous), and plenty of beans and pulses in salads.
Select those that include generous portions of salad and vegetables – ask for extra if the sandwich is being made for you or add plenty to your salad if you are at a salad bar.
For salads, look for dressings based on yogurt or unsaturated oils such as olive or rapeseed oils (see table below for calorie content of some dressings), but remember to use sparingly, as all oils are high in fat. Many pre-packed salads and food outlets provide the dressing separately so you can add just a little or none to keep the calorie count down.
Watch out for salads that have lots of mayonnaise or salad cream. These include coleslaw, potato salads and some pasta salads – choose reduced fat options that have a lower saturated fat content instead, if available. If you are at a salad bar then avoid adding croutons – opt for nuts and seeds to add a crunchy texture instead, if available.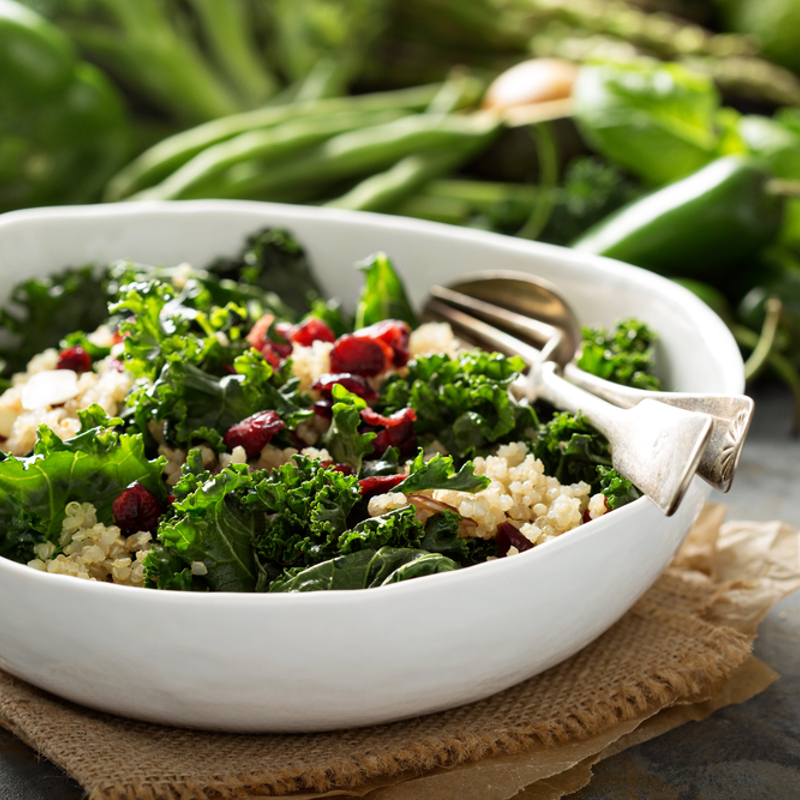 Examples of the calorie content of oils and salad dressings
| | |
| --- | --- |
| Dressings | kcal per 15ml serving  |
| Olive oil/rapeseed oil | 135 |
| Caesar dressing |  64 |
| Blue cheese dressing |  55 |
| French dressing |  50 |
| Honey and mustard dressing |  26 |
| Balsamic vinaigrette |  21 |
| Lemon juice |  1 |
Source: McCance and Widdowson (2014) Food tables
Meal deal offers
'Meal deal offers' may look like good value for money, but if you only set out to buy a sandwich and are then tempted by the extras offered in the meal deal, particularly those high in saturated fats and sugars, you may end up eating more food and calories than you planned to.
Meal deal offers usually include a main meal (like a sandwich or salad), a snack (such as fruit, vegetable sticks, yogurt, crisps or chocolate) and a drink. For healthier options choose the following:
Main meal – healthier range sandwich, sushi (check for green or amber for salt content as some may be high [red] in salt) OR salad
Snack – fruit/vegetable option, low-fat yogurt OR baked savoury snack
Drink – bottle of water or no added sugars soft drink.
TIP: You could always save the snack to eat at another time.
Here are some tips for good choices for hot snacks and meals on the go:
Baked potatoes can be a healthy choice, especially if you eat the skin and if it comes with a side salad but limit the butter or spread. Avoid fillings that have lots of mayonnaise and go easy on the cheese.
Healthier fillings include:
baked beans (ask for reduced sugar and salt versions if available)
cottage cheese
mixed bean chilli
tuna and sweetcorn with reduced fat mayonnaise
Pasta can be a healthy choice but avoid options with a creamy or cheesy sauce. Choose wholemeal pasta, if available, with tomato- or vegetable-based sauces and if you are having cheese on top watch your portion size.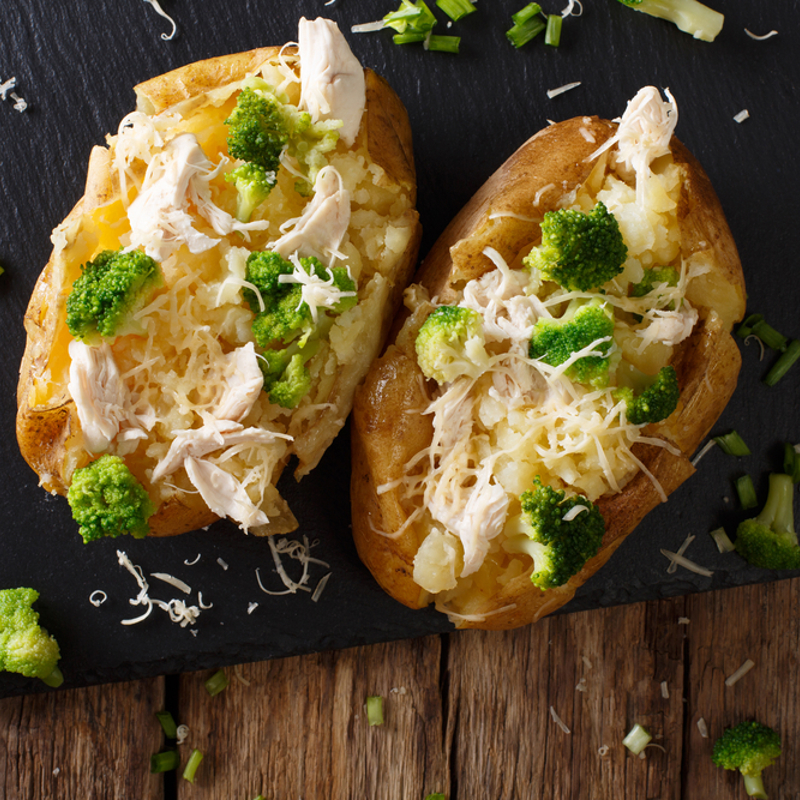 Soups containing vegetables can help count towards your 5 A DAY (although avoid those containing cream). Vegetable-based soups typically have a low energy density. In other words they provide fewer calories per gram of food – this means that you can have a satisfying portion with a relatively low calorie content. Add a wholemeal bread roll, to make it a more substantial meal.
Try to avoid the following hot snacks as these are often high in saturated fat:
samosas
pies
sausage rolls
pasties and patties
other savoury bakes made with pastry.
Sweet foods and desserts on the go
There are lots of confectionery items and dessert options available but many of these are high in sugars, saturated fat and calories. If you do fancy something sweet after your meal or as a snack here are some tips to help you choose healthier options:
Fruit is always a good choice and counts towards your 5 A DAY. Many food outlets offer fruit salad pots with different fruit combinations so vary the fruits you choose to help increase the variety in your diet.
Opt for a low-fat yogurt – check the label, if shown, to look at the sugars content and look for lower sugar versions.
Watch out for pastries, flapjacks, cakes, shortbread biscuits and sweet muffins as these can have up to 500kcal each.  If you do buy these as an occasional treat opt for ones with fruit and seeds, or that use wholemeal flour or oats, if available, as these will have more fibre. Why not share one between two – halving the portion you eat means half the calories.
Although they are not needed in your diet chocolate bars and sweets are popular choices. Many are now available in smaller portion sizes so if you do buy them go for the smallest size and have only occasionally.
Water (and low-fat milk) are healthy options, but if you do fancy a soft drink then choose one with no added sugars.
Large sized milky drinks made with whole milk and added sugars with whipped cream on the top can contain a lot of calories, as can the ice blended milky drinks available in many high street outlets. For example a large latte made with whole milk and a syrup shot can have up to nearly 400kcal.
Go for smaller sizes and ask for skimmed milks and sugar-free syrup shots, if you like these.
If you take sugar in your tea or coffee, try to gradually reduce the amount you add until you can cut it out altogether, or try swapping to sweeteners instead.
Why not try a fruit or herbal infusion for a change?
See the table below for the calorie content of some popular drinks:
| | |
| --- | --- |
|  Drink |  kcal |
| Large latte with whole milk |  291 |
| Large latte with skimmed milk |  158 |
| Small latte with whole milk |  131 |
| Small latte with skimmed milk |  71 |
| Large latte with whole milk and flavour syrup |  364 |
| Large latte with skimmed milk and sugar free syrup |  141 |
| Large hot chocolate with whole milk, marshmallows and whipped cream |  679 |
| Large hot chocolate with skimmed milk, no extras | 497 |
| Large iced latte with whole milk, with flavour syrup shot and whipped cream  | 345 |
| Large iced coffee with skimmed milk with no extras | 134 |
| Large iced coffee mocha with whole milk and whipped cream | 453 |
Source: calculated as an average of two high street coffee shops
Last reviewed January 2018.
Help us improve
---
We'd love to hear your thoughts about this page below.
If you have a more general query, please contact us.
Please note that advice provided on our website about nutrition and health is general in nature. We do not provide any personal advice on prevention, treatment and management for patients or their family members.